4 Methods to Transfer Data from One iPhone to Another iPhone 14
A situation such as replacing your old iPhone with a new one will require you to transfer data from one iPhone to another iPhone 14. It is inevitable, especially when you need essential files to acquire from the old device. Several solutions, such as iCloud, can transfer files, but many reviews found issues. So, this guideline shows how to transfer everything from one iPhone to another.
Part 1: Use AnyRec to Transfer Data Between iOS Devices
AnyRec PhoneMover is an excellent Windows desktop tool that transfers data from an iPhone to another. It makes the process easier by allowing users to connect devices with a compatible USB cable. You can also transfer data from a smartphone to iOS, Android, and PC. Moreover, it is also an excellent use to manage files by deleting duplicates and saving up device storage space. Download AnyRec PhoneMover to get to export files without trouble!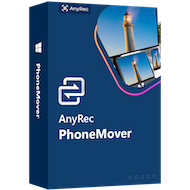 AnyRec PhoneMover
A powerful tool to transfer data from an iPhone to another iPhone 14 via a QR code, lighting cable, or Wi-Fi network.
Support exporting media files, including pictures, contacts, messages, music, videos, and others.
Enable one-click transfer for bulk exportation and large file sizes without delaying the process.
Excellent alternative for managing files on iPhone and iPad without needing iTunes.
Step 1.Download and install AnyRec PhoneMover on a computer. After that, launch the software and connect your iPhone with a compatible USB cable. Alternatively, install MobieSync on your smartphone to scan the QR code from the desktop tool.
Step 2.You will see your phone's information on the software's window once you connect it successfully. Proceed to the Photo, Music, or Videos tabs to choose the files you need to export. Use and tick the checkboxes to create multiple selections.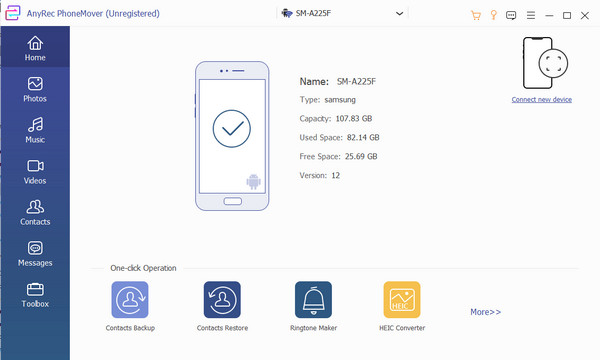 Step 3.Click the Connect New Device button for the receiving smartphone. Once you have scanned the QR code, the transfer process will automatically proceed. Afterward, explore the tool to see features such as the HEIC converter and Ringtone Maker.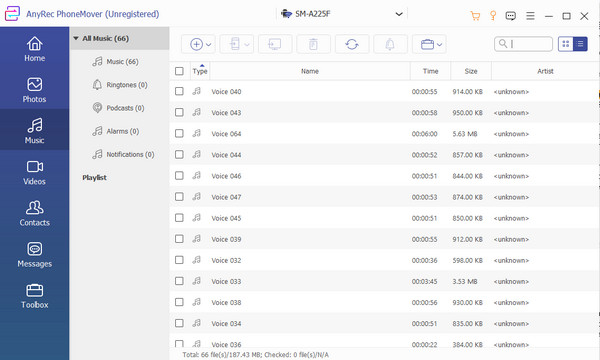 Part 2: Back Up Your iPhone and Restore on Another
iCloud is the first method to transfer data from an iPhone to another iPhone 14, and you can use it to back up and restore files. This method is for you if you have another iPhone to export files. Unfortunately, it is not recommendable for Android devices because it does not support the operating system.
Step 1.First, connect the source device to a WiFi network. Then, go to the phone's settings and tap your name from the top part. Go to the iCloud menu and select the Back Up Now button. Wait until the process is done.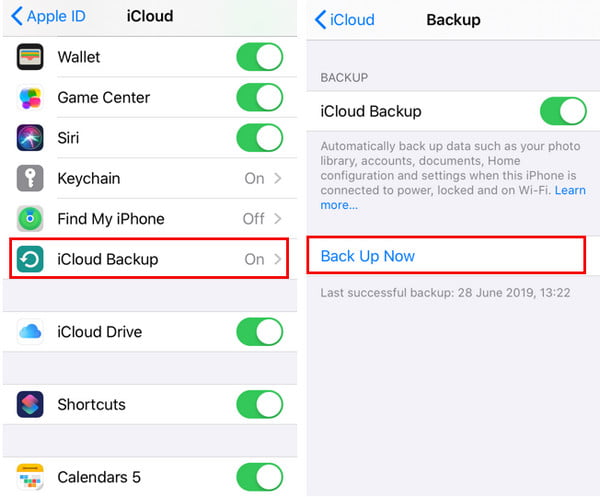 Step 2.Turn on the new iPhone and set up the device. When you reach the Apps & Data stage, tap Restore from iCloud Backup and sign in with the Apple ID. Wait until the restoration is finished. Proceed to complete the prompts.
Part 3: Use Quick Start to Send Files to the New iPhone 14
Quick Start is a procedure when you first open a new iPhone. It is only available for a new device or when it is reset. You can manually transfer data from an iPhone to another and even transfer apps to a new iPhone with Quick Start without iCloud. However, it will take some time to finish as it depends on the strength of your internet connection.
Step 1.Connect the source device to a Wi-Fi network and activate the Bluetooth. Proceed to follow the prompts to set up your new iPhone. Place the two devices near each other.
Step 2.After finishing the setup, connect the new iPhone to the Wi-Fi; proceed to set up the Face ID or Touch ID. You can choose iCloud or direct transfer from the old smartphone. Transfer time length may vary depending on network conditions or the number of migrated files.
Part 4: Use iTunes on Windows or Finder on Mac to Transfer Data
Another effective method to transfer data from an iPhone to another iPhone 14 is through your Mac. With the help of iTunes or Finder, you can export data such as HEIC images, video clips, and others. The only data it does not support is your health and activity files, especially if you haven't encrypted iTunes backup.
Step 1.Power up the new iPhone and follow the instructions on the screen. Once you reach the Apps & Data screen, tap Restore from Mac or PC. Connect the two devices, then proceed to the next step. Launch the iTunes app and choose the device.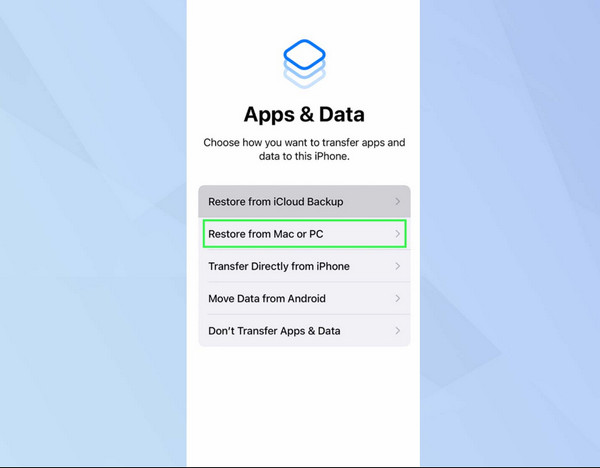 Step 2.Click the Restore Backup button. Choose the data you want to migrate to your new iPhone. Use the date and size aspects to pick specific backups. If the backups are encrypted, enter the correct password. Once the restoration is done, proceed to complete the setup on the new device.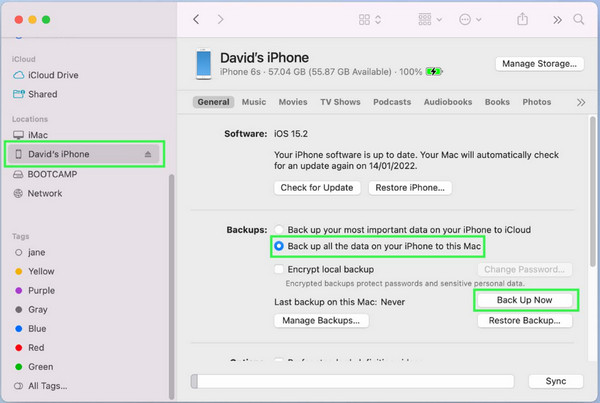 Part 5: FAQs about Transferring Data from One iPhone to Another
1. How to transfer data from one iPhone to an iPhone 14?

The transferring process for iPhone 14 is the same as with Mac, Quick Start, or a manual transfer. However, you may need to look for another solution to transfer data from an old iPhone to an upgraded one.

2. What is the best app to migrate files from Android to iPhone?

Apple developed the Move to iOS app to help you transfer data from Android to iPhone. You can freely download it from Google Play or App Store. However, you can only use this app once, and it's during the setup on the new device.

3. Can I transfer my contact list from an iPhone to another?

Yes. You can export or transfer the whole contact list from the old iPhone by using iCloud. Follow the procedure in this post and ensure that you select the contact option from the transfer option.
Conclusion
How do you transfer data from an iPhone to another? Although Apple devices have default ways to export files, the given solutions only work in a specific conditions. But with AnyRec PhoneMover, you can transfer all your files anytime with fast processing speed. And you can even move data from your Android to iPhone 14. Try the best software for exporting and importing files!
Related Articles: