AnyRec Phone Mirror
Screen Mirror iPhone and Android to PC via Wi-Fi or USB Connection Smoothly
6 Best Android Screen Mirroring Apps to Cast Phone on PC/TV
Sometimes, the Android phone screen could not meet the big screen requirement. So, many people are looking for mirror apps for Android to enjoy a big screen. They may want to use the big screen to watch videos and photos together or just need a bigger screen to have a phone game. No matter what you want to do, this post will give you 6 Android screen mirror apps. So you can cast your Android phone screen to the computer or TV.
Part 1: Top 6 Apps to Cast Your Android Screen
1. AnyRec Phone Mirror
The first mirror app for Android is AnyRec Phone Mirror. As the name suggests, you can see this software is a professional app for you to mirror your phone. This software focuses on Android screen mirroring to Windows, including the latest Android 12. Users can cast multiple mobile phone screen video and audio to a PC via Wi-Fi, USB connection, or QR code smoothly and stably.
So, if you want to use mirror cast apps for Android to throw videos, photos, or even games on the big screen, this is the perfect app for you. What's more, this is not only a mirror app for Android, you can also use it to cast your iOS device. So, do not worry about the platform limitation, you can use this AnyRec Phone Mirror to cast any system to a computer. And the screen recording features could also help you capture your phone screen on your computer.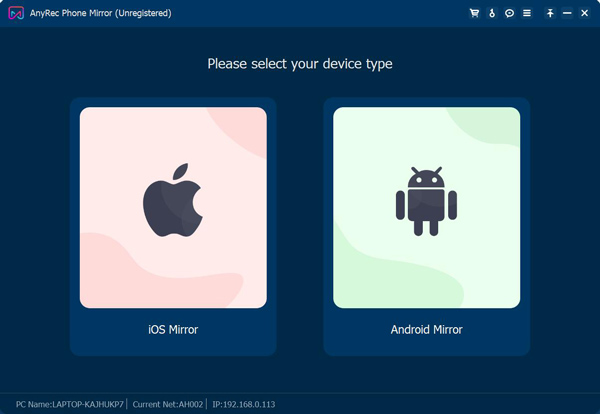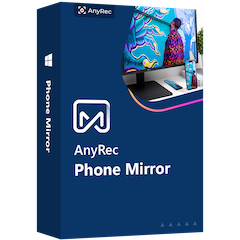 AnyRec Phone Mirror
Cast phone games to a PC screen to get a big-screen experience.
Mirror all apps and phone activities to your computer without lag.
Record your phone screen along with your computer with high quality.
stream media files, and more to all video platforms in real-time.
2. LetsView
LetsView is a free screen mirror app for Android, you can broadcast your desktop screen to a remote device, such as another desktop, laptop, or tablet, and share your computer's screen with others. It's highly compatible and works on Windows, Mac, Linux, Android, Chromebooks, etc.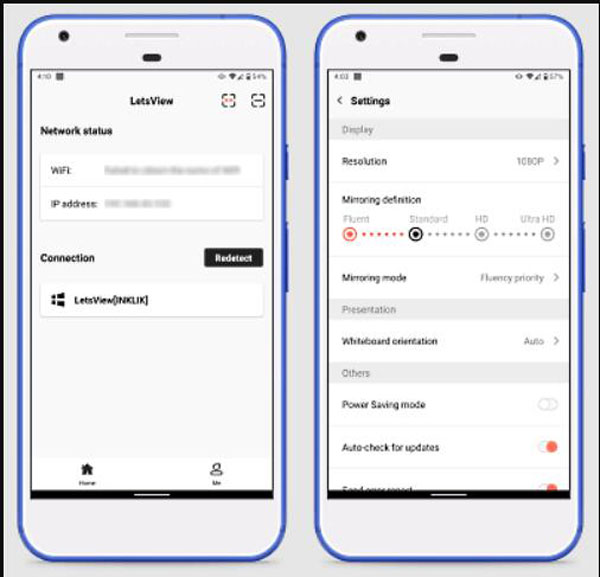 1. Offers screenshots and screen recording.
2. Support the wireless connection with phone and PC.
3. Act as a whiteboard for drawing on the computer.
3. MirrorTo
MirrorTo is the next best screen mirroring app for Android that also works best on iOS. This app helps you to effortlessly screen-share your Android or iOS devices to a PC. Thus, it offers you free control over your phone with a large screen from a computer.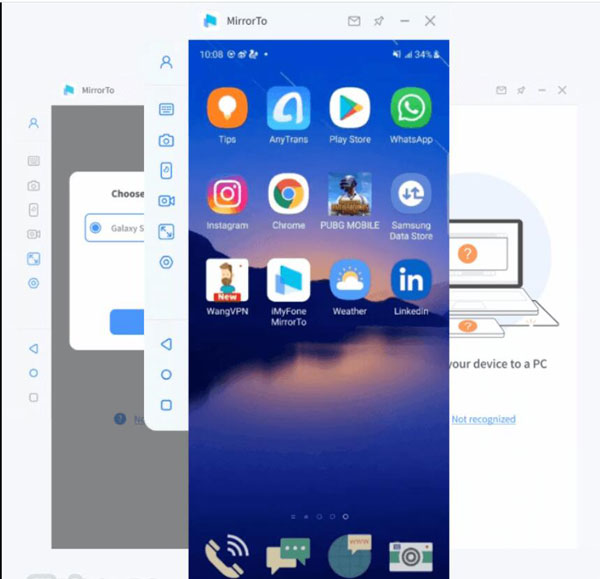 1. Cast live streaming to the computer.
2. Both Android and iOS compatibility.
3. Have the in-app displays and audio.
4. Google Home
Google Home is a Android mirror app that allows you to cast your screen to a larger screen and essentially turn any TV into a computer. Most of the use cases for streaming video or audio are better done on the Chromecast rather than screen mirroring. Still, if you want to use your phone's screen on television instead, this is an excellent app to make that happen.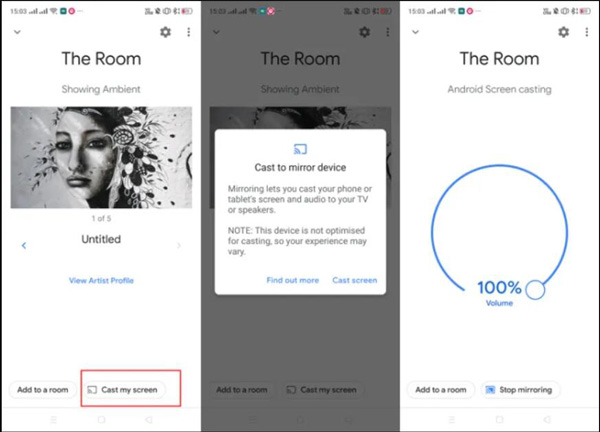 1. Cast your screen from your device to your TV.
2. Manage, and control other Google devices.
3. Stream live show on TV with Chromecast.
5. TeamViewer
TeamViewer facilitates communication between colleagues or clients as it is optimized to work with almost 10 different platforms, including macOS, Android, and iOS. It connects computers to share screens online remotely, and it allows network monitoring. It is especially popular for mobile screen sharing and remote access. So, you can totally use it as a mirror app for Android to do a presentation and record the meeting.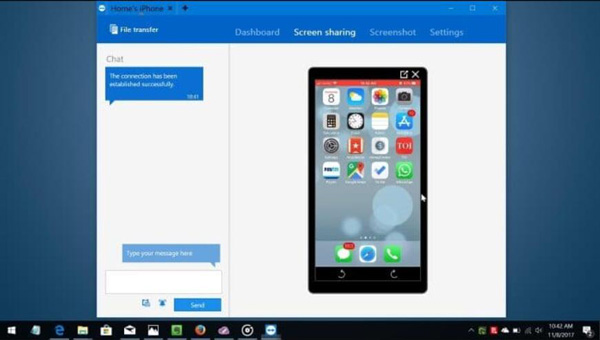 1. Leave sticky notes on remote computers.
2. All TeamViewer connections are end-to-end encrypted.
3. Deploy TeamViewer on hundreds of devices at once.
6. iMediaShare – Photos & Music
The iMediaShare app is probably the simplest mirror app for Android. It has a simple and easy-to-use interface of any of the apps on this list. The main screen mirroring app features large, prominent buttons that allow you to access the major options right from the get-go. There is a button for videos, one for photos, another for music, and even a dedicated button for Facebook.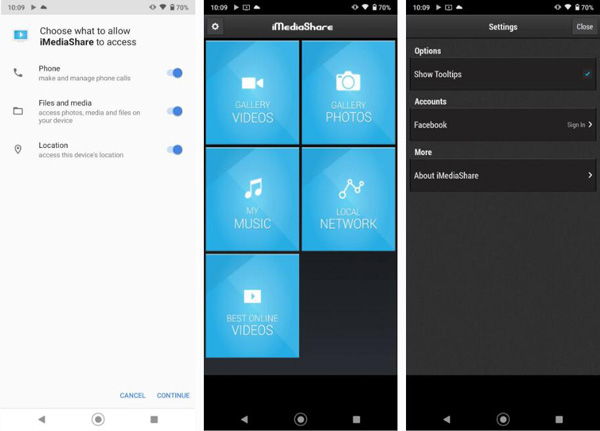 1. Have a simple and easy-to-use interface.
2. Support a fast connection when mirroring the phone.
3. Transfer files between the phone and PC.
Part 2: FAQs about Mirroring App for Android
Are mirroring apps safe?

There are three primary screen mirroring security risks that you should make sure to address when evaluating a wireless screen mirroring system for your business meeting and conference rooms: Corporate Network Security Concern. Unprotected Access by Transmitters and Receivers. Lack of Data Security.

How can I remotely access my Android phone?

If you'd rather directly manage and control your devices from a browser rather than a controller device or control your devices from another android device. Then download and install the AirDroid Personal Web Client.

Does mirroring use data?

Screen mirroring uses a network, but it doesn't need any data. For example, if you have connected your TV and your phone to the same network then there's no need to use the internet because it's just transmitting your phone's screen to your TV.
Conclusion
After you see these 6 mirror apps for Android, maybe you have your own thought about which one is suited for you. Google Home is the best app for people who want to cast their phone on TV. But if you want to mirror your phone to a computer, AnyRec Phone Mirror seems like the best choice. The multiple mirror features like screenshots or recordings could give you the best experience.
Related Article