Top 4 Apps to Slow Down Video for Better Slow Motion Effect on PC/Mobile
You may use a speed controller on some media player to change the video speed, but what if you want to slow down your own video? Many people want to use some apps to slow down their videos for better visual effects or shorten the video length. And luckily, this article will give you 4 good using slow-down video apps on PC and mobile for you to choose from.
Part 1: The Best Slow Down Video App on Windows/Mac
If you want to find an app to slow down your video on your PC, AnyRec Video Converter will be recommended to you. This software allows you to speed up or slow down a video from 0.125x to 8x. With this many options for speed for you to change, you do not even have to worry about the frame dropping issue after changing the video's speed. And there is no quality decreasing problem because it is also supported to upscale 720p to 1080p, 1080p to 4K, and higher resolutions. It is the best choice for slowing down the video app on your Windows and Mac computer.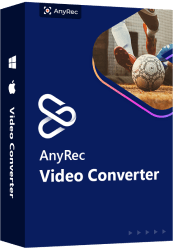 AnyRec Video Converter
Support multiple choice for speed changing and could only output audio files.
Delay the audio file if you want to make the audio more suitable for slow-motion video.
Improve video quality with AI to avoid frame-dropping issues after slowing down the video.
Output or convert many kinds of video formats in your need.
Pros

Convert large files with Blu-Hyper encoding technology.
Provide multiple video effects to edit the video.
Have Intuitive UI and hardware acceleration for video editing.
Cons

Can't deal with DVDs for now.
Part 2: Top 5 Slow Down Video Apps on Android/iPhone
There are also many apps to slow down a video on an Android phone or iPhone if you do not want to use a computer. But the biggest disadvantage of mobile apps is that they lack video editing functions, so if you want to have more tools to edit video for visual effects, it would be better to use desktop apps.
1. Lapse It
Lapse it is one of the best apps to slow down the video without compromising video quality. You can import DSLR camera files directly to the app. Its swift rendering engine creates stunning high-quality videos quickly. You can control the time-lapse speed up to 240x milliseconds and add music from its vast library.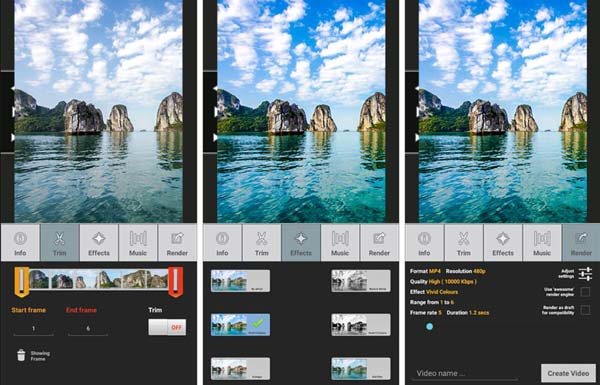 Key features:
◆ Choose music directly from your device or pick royalty-free music divided by mood, genre, and category.
◆ Give faster app performance by a powerful rendering engine.
◆ Share your video to social media platforms directly.
Pros

A neat and simple interface makes it easy to navigate around the app.
Capture intervals from one second.
Cons

The free version allows low-resolution video quality.
Battery support and disk space are limited during shooting video.
2. InShot
InShot is a popular video editing app and one of the best ones out there for being a slow-down video app. You can adjust the video speed easily with a slider. Apart from controlling video speed, you can trim, cut, and add text, stickers, music, transitions, and glitch effects. If you're an amateur and looking for an app to speed up video with loads of features, InShot is the right choice.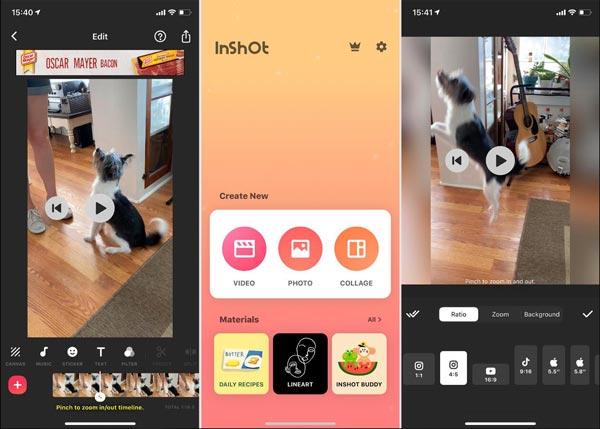 Key features:
◆ Create videos in multiple ratios according to the social media app you are sharing in.
◆ Countless filters, transitions, fonts, and colorful backgrounds.
◆ Adjust stickers, transitions, text, and according to the keyframes.
Pros

Detailed color correction for videos.
A wide choice of fonts, music, stickers, and effects.
Cons

No undo option to go to the previous edit version.
The free version has a lot of edits, making it tough to focus.
3. KineMaster
Kinemaster is a great slowing-down video app on mobile devices. You can speed your videos up to 16x and choose to mute your video to prevent audio distortion. It also has more than 2500 effects, transitions, filters, videos, and images. You can take advantage of unlimited exports in 4K resolutions with a premium subscription.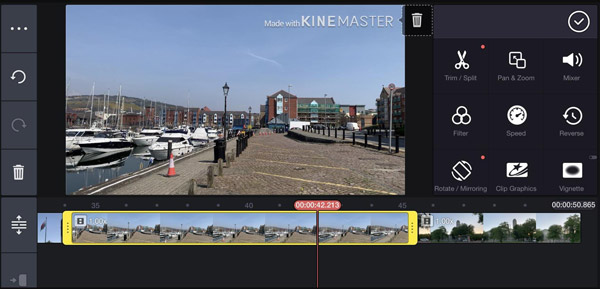 Key features:
◆ Multiple video layers with stickers, images, text, etc.
◆ Add voice-over, background music, and other sound effects.
◆ Add motion to the layers with keyframe animation.
Pros

Share videos directly to social media.
Add audio, green screen, chroma key, and more
Cons

Have a complicated interface making it challenging for newbies to get used to.
Operate only in horizontal mode.
Leave a watermark stamp in the free version.
Part 3: FAQS about Slowing Down Video App
How do you slow down a video on Instagram?

You can also use Instagram as a slowing-down video app. From the Stories camera, swipe right to enter Boomerang mode. Once there, tap Effect with the infinity symbol icon to reveal the effects. You will see several different effects available to you as well as the option to trim the video.

How do you change the speed of a video on iPhone?

To speed up a video on your iPhone, you can use iMovie to slow down the video or the Photos app. You can adjust the speed of a video in iMovie by using the Speed in the video editing toolbar. You can also speed up a slow-motion video in Photos by dragging the vertical bars below the frame viewer.

How do you slow down a video on TikTok?

It is very easy to operate to slow down a video on TikTok. In the recording mode, the first is tapping Speed given on the right side of the screen, along with other options. A speed dashboard will open up above the record button. You can go 0.5x or 0.3x slower on the video. Tap on either of the options for slowing down the video.
Conclusion
You can see there are many options for you to choose a slow-down video app. The mobile apps are convenient obviously. But if you want to keep the original quality or even increase the resolution of your video, and experience more professional video editing features, you should use AnyRec Video Converter to deal with this task.
Related Articles