5 Step-by-step Ways to Convert M4A to WAV in Batch Quickly
M4A, or also known as MPEG 4 Audio, is a file format developed for Apple-owned ones such as iTunes, iPad, iPhone, and many more. However, other devices and platforms such as Windows Media Player cannot support this file format. So, to make your audio file playable with Windows and other portable devices, you need to convert M4A to WAV format. That's because WAV format, also known as Waveform Audio File Format, is an audio format standard that many devices and computer systems support. It's also an uncompressed audio file that stores the raw data of uncompressed audio. So, it is your best choice to convert M4A audio to WAV files. Read more to learn the five methods on how to convert M4A to WAV.
Part 1: The Ultimate Method to Convert iTunes M4A to WAV on Windows/Mac
The best method to convert M4A to WAV files quickly is to rely on the professional software -AnyRec Video Converter, which is also compatible with both Windows and Mac. You can easily convert almost all supported and audio formats such as M4A, MP3, MP4, AAC, and many more. Moreover, you can also adjust the video parameters and quality while converting M4A to WAV.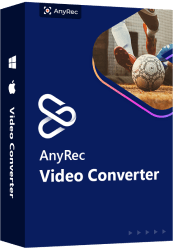 Other outstanding features of AnyRec Video Converter:
Convert iTunes M4V to WAV audio files easily with high quality.
Support M4A to WAV batch audio conversions with CPU acceleration.
Adjust the audio quality, sample rate, channel, and bitrate freely.
Adjust audio effects and trim/merge unwanted M4A audio clips before exporting to WAV format.
Detailed steps to convert M4A files to WAV:
Step 1Download and launch AnyRec Video Convert on your computer. Click the Add Files button or the Plus icon in the middle part of the pane to choose the M4A file you want to convert to WAV.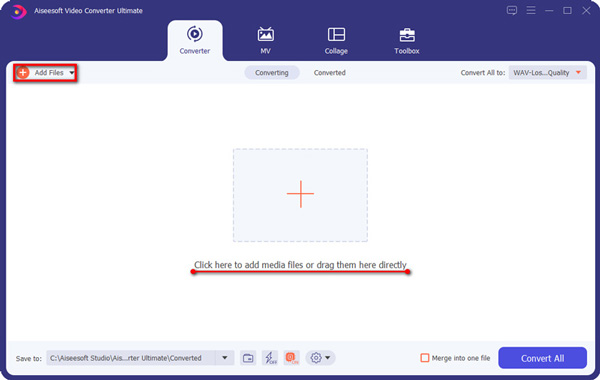 Step 2Once you have chosen the file, click the Convert All To button on the correct part. Then click the Audio option and select the WAV format. You can also click the Gear icon to adjust the audio quality, sample rate, and channel to keep the uncompressed quality.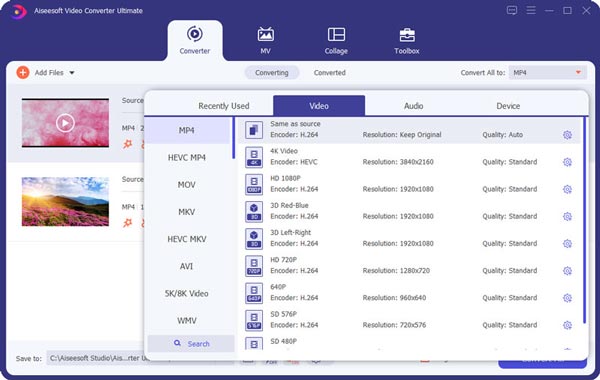 Step 3You can edit your file before converting it by clicking the Star Wand button or Scissors button. Here, you can increase the volume level up to 200%, delay, trim, and split the audio for more improvement.
Step 4Choose the storage path to save your file in a folder; just click the Save To option on the left part to browse the folder. Once done with editing and choosing a folder, click the Convert All button. Then it will automatically convert M4A files to WAV and save your file to the selected folder.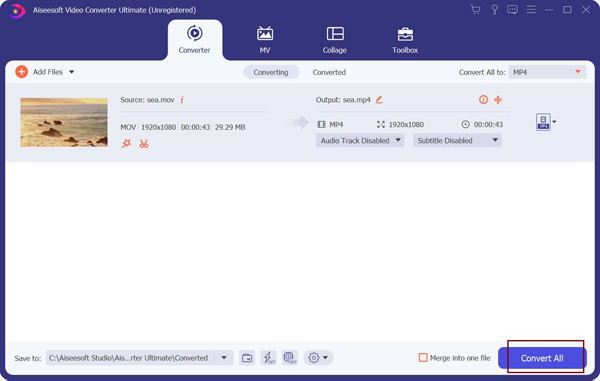 Part 2: How to Convert M4A to WAV with iTunes Directly
Other than being a fantastic music player, iTunes also can convert your M4A file to WAV. It's a bit complex to use, and you can't change detailed audio settings to keep high quality. To use iTunes to convert M4A to WAV, you need to set it up first. Follow the steps below:
Step 1The first thing to do is to change the settings from M4A to WAV encoder. Open iTunes, click the Edit menu and choose the Preferences option. Click the General button and Import Settings tab just below the pane.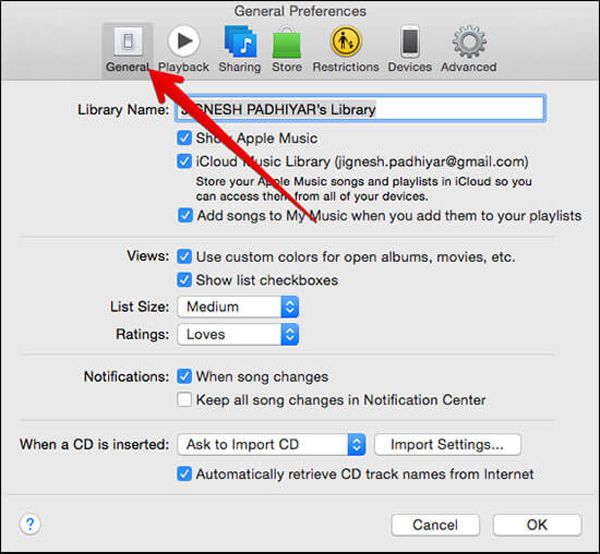 Step 2Choose the WAV encoder and click the OK button to save the settings. There are two methods for converting the M4A file to WAV. If the M4A file is on the iTunes Library, just click the File menu, then choose the Convert option, and Create WAV Version option. iTunes Library will display a WAV version of your file.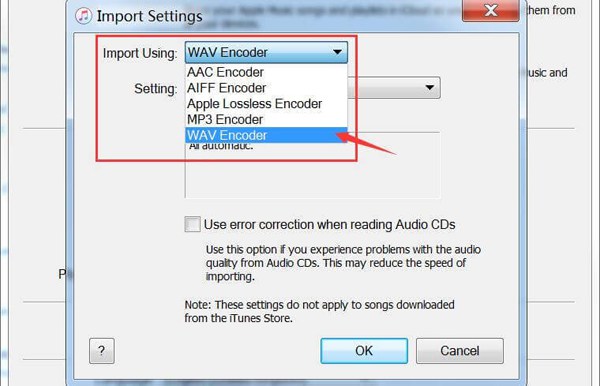 Step 3If the M4A file is not on the iTunes Library, press the Shift key on your keyboard, then click the File menu. After that, click the Convert tab, and then choose the Convert to the WAV option. It will ask you to locate and import the M4A file, select the desired file and click the Open button. After converting M4A to WAV, the WAV version will also be displayed on the iTunes Library.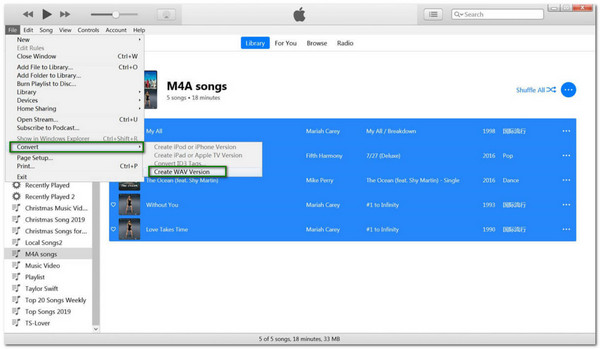 Part 3: How to Convert M4A to WAV via Audacity
If you have the Audacity program on your computer, this is good news for you. Audacity is not only a free recorder that offers advanced editing tools for audio but also a converter to convert your M4A file to WAV. Read below to learn how to convert M4A to WAV using Audacity:
Step 1Launch Audacity and click the File menu. Choose the Open tab, then you can choose the desired M4A audio files.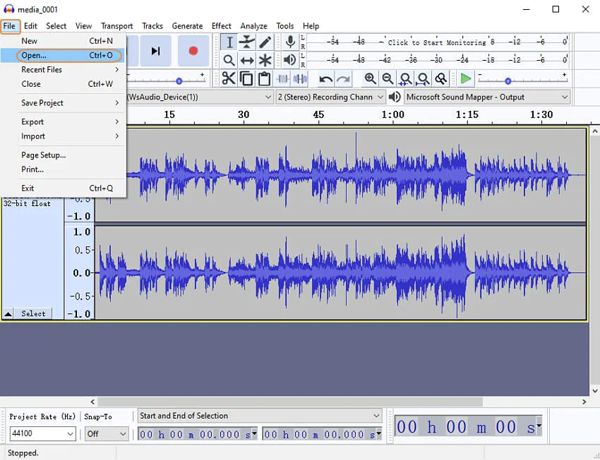 Step 2After adding the M4A file on the app, click the File menu again and choose the Export option. After that, select the Export as WAV option to change M4A to WAV.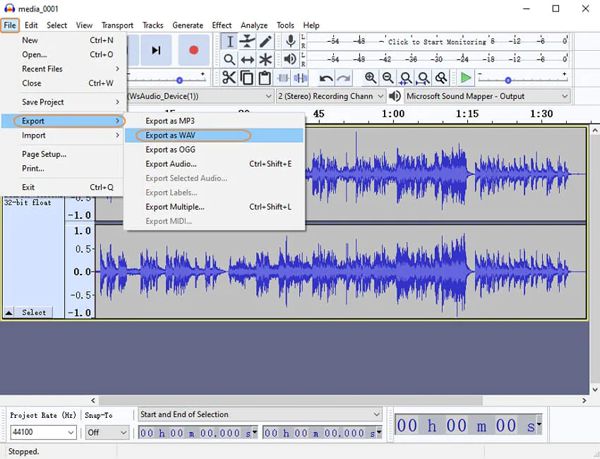 Step 3Before starting the conversion, choose a folder to which you want to save the file. Click the Save button to start converting. Now you can convert M4A to WAV with Audacity successfully.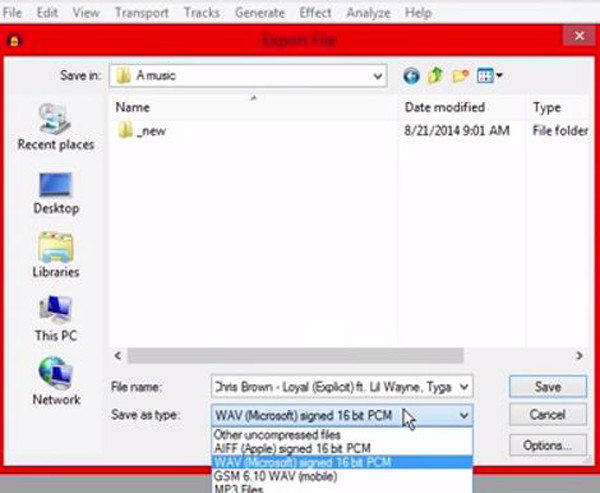 Part 4: 2 Methods to Convert M4A to WAV Online for Free
Other than installing and downloading an app, converting an M4A file to WAV online is also available. But has a limitation to the file size. Read more to know the 2 best online M4A to M4A converters.
1. FreeConvert
FreeConvert is an open-source online converter to convert the M4A file to WAV, M4V to MP4, etc. To make the conversion stays high-quality, FreeConvert provides advanced settings to give your file a fine-tune enhancement. Aside from this, you can rest assured as it protects the uploaded file and deletes them after 2 hours. However, it has a file size limitation of 1GB for the free version, and many ads will affect your conversion process.
How to convert M4A to WAV online using FreeConvert:
Step 1Go to your browser and search for FreeConvert. Scroll down and choose WAV format inside the Music Converters. Click the Choose Files button or click the down arrow beside the button to select a file through Google Drive, URL, and Dropbox.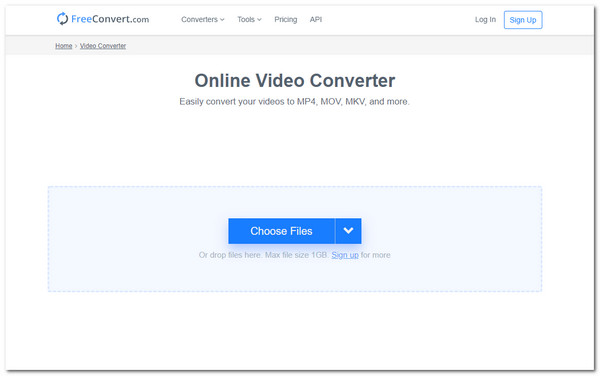 Step 2After choosing the desired file, you can see the file's name on the converter. You can also add another file to convert by clicking the Add More Files button. If you want to adjust the file's volume or trim it, you can find them along with other settings by clicking the Gear button.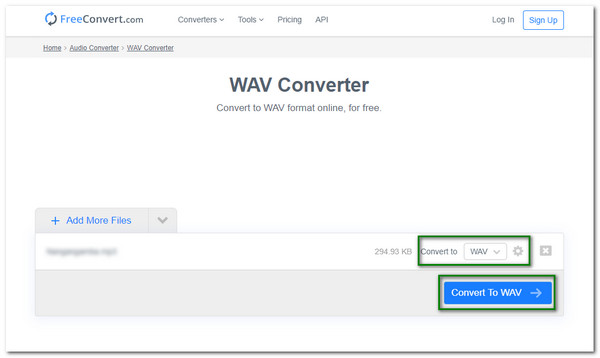 Step 3Once you are done with the changes, click the Convert To WAV button to convert M4A to WAV files. Once it is done converting, click the Download button to save it to your device. You also have the options to save it to Google Drive and Dropbox by clicking the down arrow beside the Download button.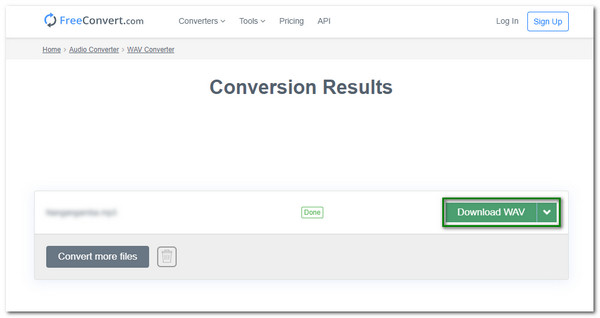 2. Convertio
Convertio is also an excellent alternative to convert your M4A file to WAV online. With its simple webpage, anyone can easily use it. And yet, it holds settings for codec, audio channels, and more to enhance your audio files. But this online converter only supports 60 formats to convert and cannot hold a batch conversion.
How to convert M4A to WAV online using Convertio:
Step 1Go to the official website of Convertio. To start converting, click the Choose Files button to select a file. You can also obtain files from Dropbox and Google Drive.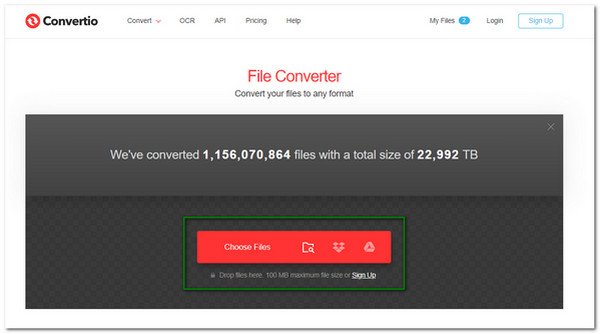 Step 2Once done choosing the file, you can edit the settings to adjust the frequency or select other audio channels. So, just click the Gear button for advanced settings to edit your audio file.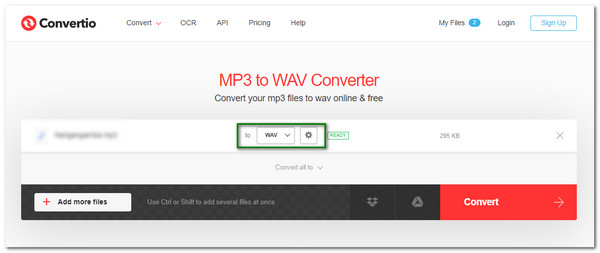 Step 3Once done with the setting, click the Convert button to start the process of converting M4A to WAV files. Once it's finished, click the Download button to save the file on your device.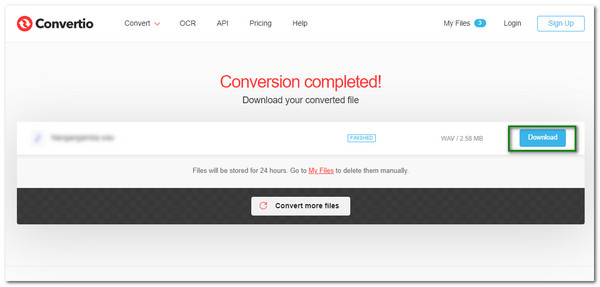 Part 5: FAQs about Converting M4A to WAV
1. Which is better: WAV or M4A?

M4A and WAV are both audio formats. WAV is more supported by almost all devices and it has the original audio waveform at the highest quality. As for M4A, it's always used by iTunes music, which can't be played by many devices.

2. Does Windows Media Player support playing M4A files?

No. By default, Windows Media Player does not support M4A file, so you can convert M4A to WAV for better playback. However, you can also download the latest version of Windows Media Player to play an M4A file. So you'd better convert M4A to MP3 or WAV.

3. Can I convert M4A to WAV through VLC?

Definitely yes. VLC is a well-known media player that offers many tools to enhance audio quality and converts files to another format. Although it converts M4A to WAV, you can not expect VLC to convert your file with good quality and only supports limited formats.
Conclusion
Now that you have learned the five best methods to convert the M4A file to WAV, you can directly finish this task through iTunes and Audacity or simply use online converters with file size limitations. And the recommended way is to free download AnyRec Video Converter to convert M4A to WAV format easily with customized settings, which will keep the high quality of uncompressed files. If you have a question or suggestion, feel free to drop it down in the comment section below.
Related Article