ClipDrop Image Upscaler Review and 5 Alternatives for You
Searching for an online photo editing tool? A ClipDrop Image Upscaler review can tell you whether it will be your best choice. It is an online editor that anyone can access. Its tools are mainly enjoyed by people working on projects that want creative design. This information doesn't give you the satisfaction of using ClipDrop; you may still wonder if it is worth using. So, this post will give you a complete review of ClipDrop AI Image Upscaler and its alternatives you can use. Check them all out now!
Honest Review of ClipDrop Image Upscaler
Let's start with getting to know more about ClipDrop Image Upscaler. ClipDrop is an effective online photo editing tool that provides users with a wide range of features for editing and enhancing images. It can be your desktop and mobile photo editor, which can be imported to many editing applications like Photoshop, Canva, Sketch, and more. In contrast with other online tools, ClipDrop AI supports advanced computer vision and learning, allowing you to capture images accurately. You won't have to worry if you don't have any editing skills because you can keep up with the editing process quickly with the help of its AI Technology.
What can you do with ClipDrop Image Upscaler? You can use its editing tools to crop, resize, customize, and more, allowing you to get your desired unique images with the editing platform. More than that, you can always go here when you need to remove the background, add text to an image, and exclusive photos.
Despite those great features, you can't do HD mode upscaling unless you pay for the premium version offered by the platform. See below some advantages and disadvantages when using the online editing tool.
Pros

Provide high-quality image upscaling results.
Batch upscale images online.
Work on Windows and Mac computers.
Integrates with other editing applications.
Upscale images up to 10 times.
Cons

Sometimes ruins text when upscaling.
The maixmum image size is 20MB.
Require a subscription for HD image upscaling.
Customers' Review:
ClipDrop AI flows smoothly when you edit an image with its removed background, relight, upscale images, replace the background, and more. It is perfect for designers, digital artists, creators, and more who want to save time and improve creativity. In addition, its superb features were a great help that you wouldn't need any third-party tool to download to accomplish what you have to do with your image. However, it ruins the text added when trying to upscale the image more.
Top 5 ClipDrop Image Upscaler Alternatives
Although ClipDrop Image Upscaler works effectively to edit and enhance images, you may be searching for other online tools that function like or are much better than ClipDrop. Below are the five best alternatives to ClipDrop you can use.
1. AnyRec Free Image Upscaler Online
AnyRec AI Image Upscaler is a free online alternative to ClipDrop image upscaler, allowing users to increase resolution with artificial intelligence. It offers auto detections of details, color, textures, blurred space, and more to upscale. You can then enlarge photos by 2x, 4x, 6x, and 8x without compromising the quality. After upscaling, you can save your upscaled images in various formats, like PNG, JPG, TIFF, and more.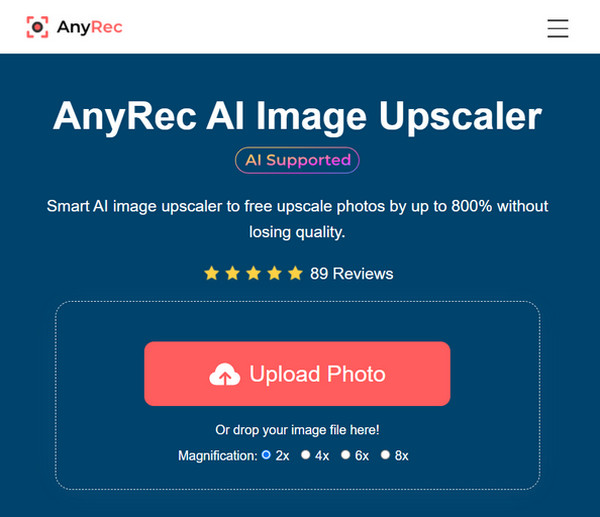 Compare the result to check upscaled details before exporting.
Offers four options to enlarge images to 2x, 4x, 6x, and 8x.
Have AI technologies to upscale images without reducing quality.
Deletes all files automatically from serve after upscaling images.
2. Waifu2x
Waifu2x is another straightforward online upscaler that enables users to increase the pixel of an image within minutes. The name came from a Manga character that means unique qualities, and it does have great features as an online upscaler, including noise reduction, image resize, etc. With this ClipDrop image upscaler alternative, you can effortlessly resize your image from small to large without affecting the quality.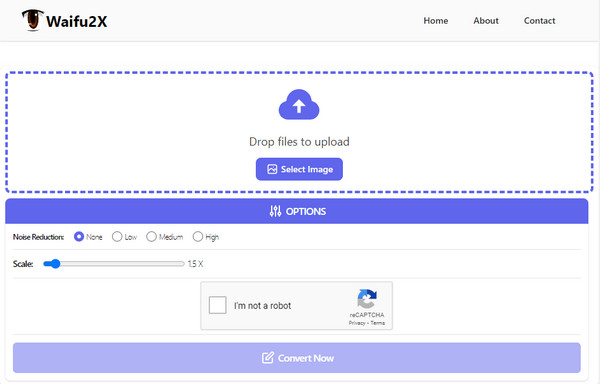 3. Gigapixel AI
Gigapixel AI is one of the suites of programs of Topaz Labs. You can purchase this one or all three of them, but using Gigapixel AI is enough to enlarge and enhance the photos up to 600% you want. With it, you can fill the gap between your images by sharpening and reducing noise, and it doesn't matter if you use it for the first time as you can use it effortlessly more than ever to improve the quality of your photos. But, unlike ClipDrop AI being an online upscaler, you must download this one.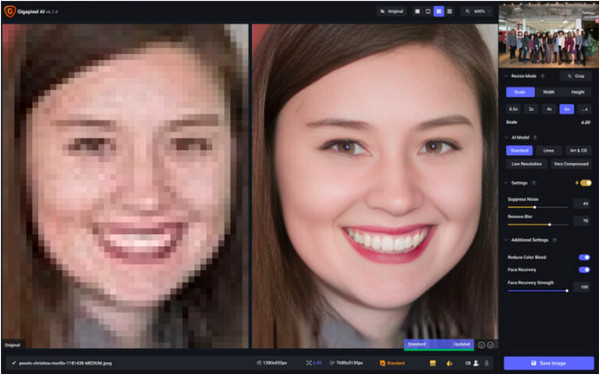 4. Let's Enhance
Let's Enhance is the final online upscaler on this list. It helps you to increase image resolution and quality and add clarity to it, allowing you to have captivating photos. In addition, it supports AI-generated images to upscale the images to 4K. It works excellently being printed on large-size canvas and has contributed significantly to a photo exhibition. Plus, like ClipDrop AI, in one click, you can upload and edit batch images at one time.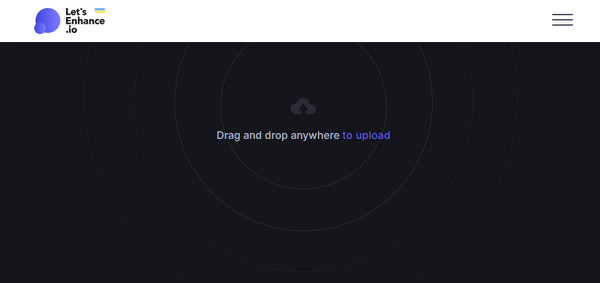 5. Topaz Labs AI
Topaz Labs AI uses deep learning to give users the photo quality they want while enhancing every detail. And as said, it supports programs like Topaz Labs Video Enhance, Gigapixel, DeNoise, and Sharpen AI. This alternative to ClipDrop image upscaler can make your image look like it was captured with a higher-quality camera. Furthermore, you can fully trust this as it trained a wide range of images to enhance every detail without losing quality. It works very well on low-resolution images to upscale them to high-resolution ones.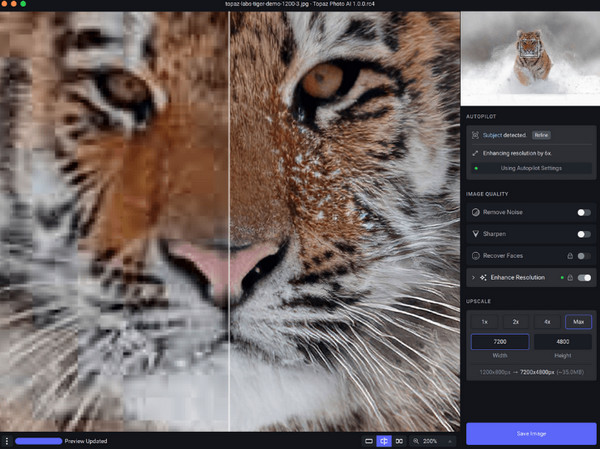 FAQs about ClipDrop Image Upscaler
Do I need to sign up when I use ClipDrop image upscaler?

No. You can quickly upscale an image with it by just going into its leading site without signing up for an account required.

Does ClipDrop AI support the drag-and-drop function?

Yes, it does. You can directly drag the file you wish to upscale and then drop it into the main page, or you can click on the box in the middle then browse your image.

How much does ClipDrop image upscaler cost?

As of today, the pricing of ClipDrop starts at $5 per month. But, it is suggested to wait for it since ClipDrop offers a free version and trial. However, for you to enjoy full features, you have to purchase.
Conclusion
Without a doubt, ClipDrop Image Upscaler is one great online tool supported by artificial intelligence to edit and enhance pictures. Although it has superb features and delivers all tools you need to edit images, it is nice to have an online backup tool like those mentioned alternatives. Among those replacements, AnyRec AI Image Upscaler will give you more than you expected in an online upscaler. This online tool is 100 % free and safe, allowing you to upscale images easily.
Related Articles