How to Open BIK and Convert BIK to MP4 Videos Step by Step
BIK format mostly comes from a Bink Video Player by RAD Game Tools. But still, many people want to convert BIK to MP4, although this is a high-quality format. Because playing BIK videos on media players might lead to incompatibility issues because this format is playable using the game's decoding system; if you ever encounter an issue with this format, continue reading this page, for it features what and how to open and convert BIK to MP4.
Part 1: What Is BIK File Format
Before we can explore how to open and convert BIK to MP4 format, you must first understand what this BIK file format is. RAD Game Tools developed the BIK format. It is mainly used to play video game introductions, presentations, animation, etc., on various PC and gaming consoles. This format is an all-in-one multimedia container with high-quality video, audio, and crystal-clear picture. You can bring videos from 320 X 320 to HD quality resolutions into this file format.
Moreover, videos with BIK format are playable with a specific decoding system. Some video games or consoles support this decoding system to play this BIK file. This is one of the causes why the BIK format is prone to incompatibility issues, for which some media players don't support the game decoding system. Thankfully, not all of those media players can play this format. If you want to discover them, proceed to the next part of this post.
Part 2: How to Open BIK File
Just like mentioned above, not all media players can't open and play BIK files. And one of these tools is VLC Media Player and The Bink Video Player / RAD Video Tools. But, if you are searching for a much more flexible player that supports almost all devices or platforms, then VLC Media Player is what you are looking for.
VLC Media Player
VLC is one of the best players to open videos with BIK format. You can also convert any video to MP4 with VLC. This free open-source and multi-platform player is downloadable and usable across various devices. You can install it on your Windows, Mac, Linux, Android, and iOS devices. It can read videos in BIK format, thanks to its many supported formats and codecs, including BIK format. To open a video with a BIK format, follow the steps below:
Step 1.Download and install the VLC Media Player on your Windows, Mac, or Linux computer. After that, launch the media player and click the Media and Open File buttons.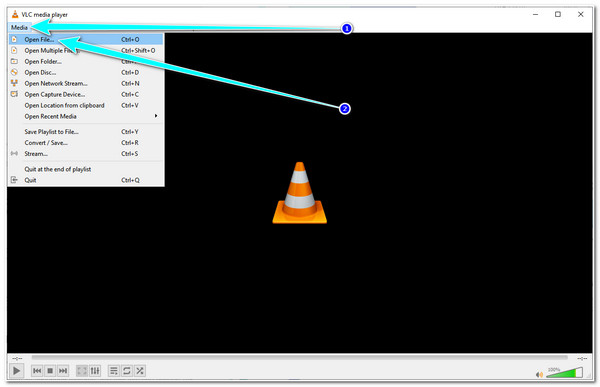 Step 2.After that, on the Folder window, look for the video in BIK format. Choose the BIK file to import it. Once you successfully import it, VLC will automatically play it for you.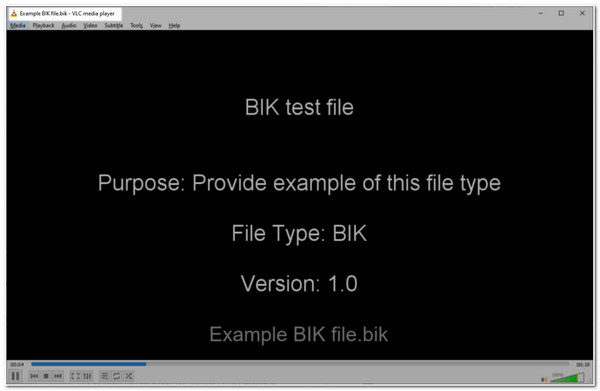 That's it! That's one of the primary ways to open BIK files. If you want to overcome this format's incompatibility issue and make it compatible and readable across various devices, then converting BIK to MP4 to open with an MP4 player is what you need to do! To help you achieve it, discover the professional tool below!
Part 3: Convert BIK to MP4 to Open Easily
After reading the above parts, it's time to overcome this format's drawback by converting BIK to MP4. And the best Windows and Mac-compatible tool recommended for the job is the AnyRec Video Converter. This advanced yet user-friendly tool provides you the freedom to have the best conversion service. Moreover, if you want to bring a redefining change to your video in BIK format, you can use this tool's built-in video editor!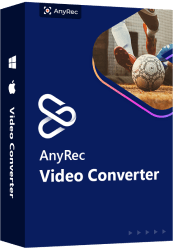 AnyRec Video Converter
Offer 1000+ formats and device presets to convert your BIK videos.
Equipped with Output Tweaking Options to edit the output video.
Offer AI Technology to contain quality when converting BIK to MP4.
Support batch conversion to convert multiple BIK videos simultaneously.
Step 1.After installing, launch the tool and click the "Add Files" button to import the BIK file you want to convert.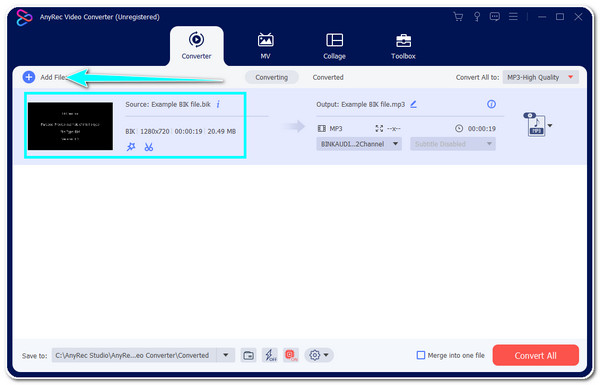 Step 2.Next, unfold "Convert All to" dropdown list at the upper right corner of the tool. Then, click the "Video" button, select the MP4 format, and choose from your preferred option.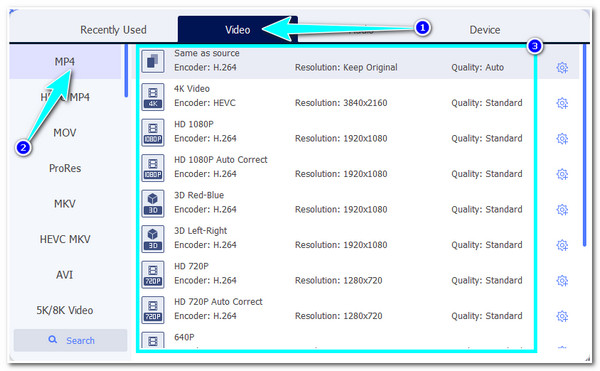 Step 3.After that, to ensure a high-quality output, tick the "Custom Profile" button with the Gear icon. On the Edit profile window, you can set your output's frame rate, resolution, bitrate, etc.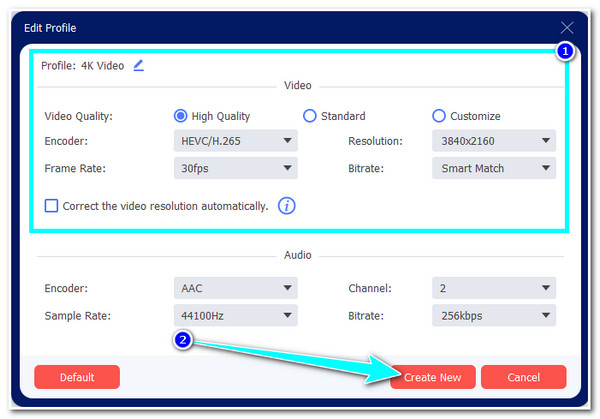 Step 4.If you are satisfied with your overall setups, click the "Convert All" button at the lower right corner of the tool to initiate the BIK to MP4 video conversion process.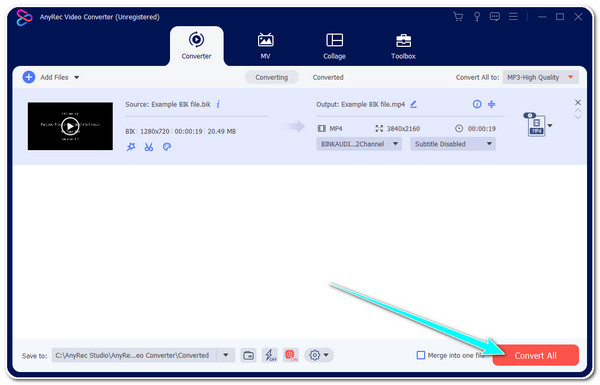 Part 4: FAQs about BIK to MP4
1. Can I convert MP4 to BIK?

Yes, you can! There are a lot of downloadable video converter tools on the market that supports MP4 to BIK conversion. If you want a much more accessible converter, online converter tools provide an easy conversion process.

2. Does Mac supports playing BIK files?

Yes, you can play BIK files if you have VLC Media Player installed on your Mac or a game console connected to it. But, if you wish to share it with other platforms, the best thing you need to do is to convert it.

3. Can I watch video game animations with BIK format using Android?

Yes. However, you might force to install an application capable of playing BIK files. Additionally, there are also BIK files that are only made playable across Windows or Mac computers. So to overcome this, you need to convert it into MP4, a universal format supported by various smartphones such as Android and iPhone.
Conclusion
Sadly, most media players available today can't read BIK files. One of the primary reasons for this could be that BIK files are readable through a decoding system infused on video game players. So, you may need to convert BIK to MP4. Good thing AnyRec Video Converter is there to help you convert BIK files to MP4 format supported by most media players, the MP4. Through this tool's excellent features, you can overcome the BIK file's incompatibility issue with a high-quality output for a better video game animation-watching experience.
Related Articles: