5 Ways to Unblur Chegg Answers on PC/Mac for Better Learning
Being a student means you must work on assignments. Looking for answers online, you come across Chegg to see unblur Chegg answers. This platform provides educational course materials to support students and learners in achieving their development skills. However, the sources you find on this website are not for free, and they are often unavailable for unsubscribed users. The question now is, how to Chegg unblur answers? And what should be done to get accurate answers for your homework? Learn more by reading this post.
Part 1: How to Unblur Chegg Answers without Paying [5 Solutions]
Even though the platform enables the student's work to be simple, a subscription is not appropriate since they do not work. Money should be the last thing to mind, so here are five solutions to unblur Chegg to get the necessary answers for your school work.
1. Handle Webpage with Inspect Element Tool
Inspect Element is a Chrome extension that enables you to unblur Chegg answers in a couple of clicks. The tool has an algorithm to determine what is broken on a website, the cause of web ticks, and color or font changes from private details. One of the key features of Inspect Element is that it provides different modes to help you adjust CSS more efficiently. Follow the demonstration below to see how to use Inspect Element on Windows and Mac:
Step 1.Go to Chrome Web Store and search for Inspect Element. Install the extension and load it on your device. Open the Chegg website and navigate to the blurred answers.
Step 2.Right-click on the page and click the Inspect Element button. You can also hold Window Key or Command-Key and move your cursor to the item you want to see.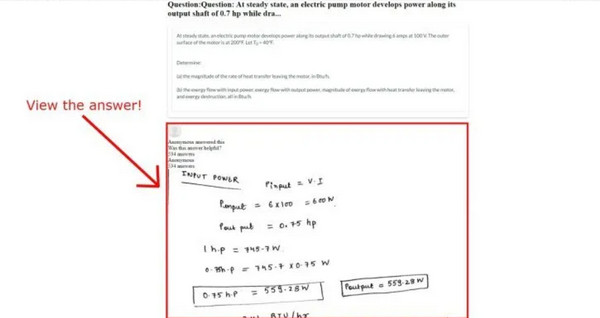 2. Browser Extension with Element Killer
Complete your school homework by using Chegg Element Killer. The tool has the ability to unblur Chegg questions and answers by deleting the elements that hide the text from the website. Since it can make answers more readable, many users find it a game-changer, but it does not promise to remove all blurry questions. Let's see how to use Chegg Element Killer:
Step 1.Download the tool from a trusted source. Then, run the Chegg unblur application while you navigate to the Chegg section with blurry answers.
Step 2.Right-click on the page and click the Copy Image button. Paste the copied picture to the Element Killer, and it will automatically process it to read the answers effortlessly.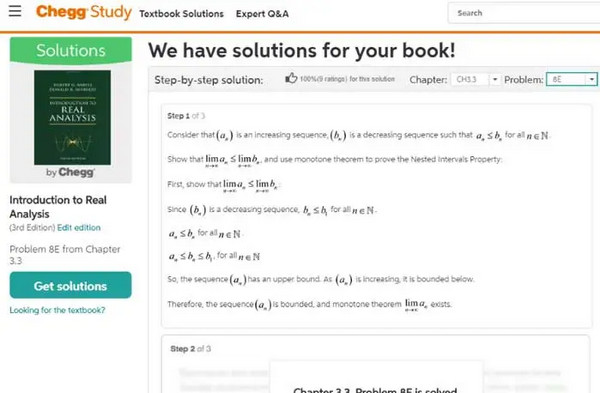 3. Use a Free Trial Chegg Account
If you only need specific answers once, trying the free trial version of Chegg will not hurt. There is no limit to searching for questions and corresponding answers; the platform will not charge you for the free version. You can cancel anytime to avoid the charge once the free trial ends. This will be the easiest way to complete your homework in no time.
Step 1.Go to Chegg's free trial website and click the Get Started button. Create an account by entering an email and choosing the desired password.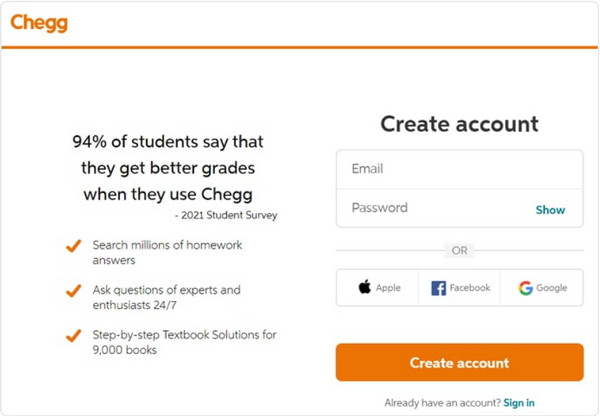 Step 2.Select one of the two Chegg subscriptions. You can cancel this at any time without charge. Complete the required credentials to have the 30-day free trial version.
4. Find Free Chegg Answers on Discord
Luckily, you can find Discord servers for Chegg without blurring the image of Chegg's answers. Along with lengthy questions that need accurate answers, it will be a difficult task for some students. Discord will be a great alternative to finding solutions, as it allows various people to meet online to discuss the same topic. While it is unsure of finding the unblur Chegg answers you are looking for, you must try it first.
Step 1.Install the Discord app on your computer or smartphone and create an account. After installing and setting up the platform, click the Compass button from the left part of your screen.
Step 2.The Server Discovery section will help you find the Chegg servers with the answers. You can use Chegg as the keyword, then press the Enter button to choose the server.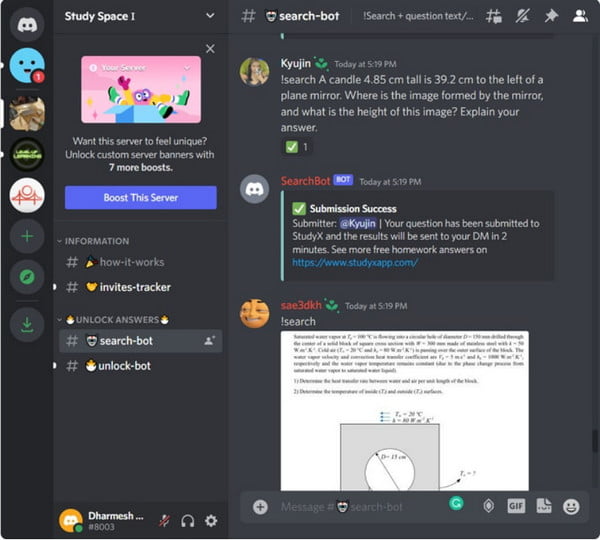 5. Have a Rough Look at AnyRec
If you use any of the methods above and still find the answers unreadable, you can use AnyRec Free Watermark Remover Online for a rough look. A web-based program is a free tool with a user-friendly UI to edit pictures. It supports input image formats, including BMP, TIFF, GIF, PNG, JPG, and others. It allows one to easily remove any watermark or blurriness, including stamps, dates, logos, icons, and so on. AnyRec has the latest AI technology to unblur Chegg answers with satisfying results.
Features:
Detect blurry parts automatically and remove them with an advanced AI algorithm.
Remove objects with manual removal tools: Lasso, Polygonal, eraser, and brush.
Export unblurred Chegg answers in the best quality without distortion in visual.
Allow users not to create an account or purchase a premium version.
Step 1.Save a screenshot from the unblurred Chegg. Then, visit AnyRec Free Watermark Remover Online. Click the Upload Images button to open your local folder.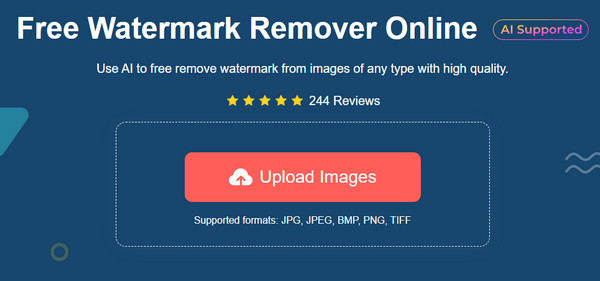 Step 2.Choose a tool from the top of the window. You can use Polygonal, Lasso, or Brush to highlight the part you want to delete. Click the Remove button to apply the removal tool.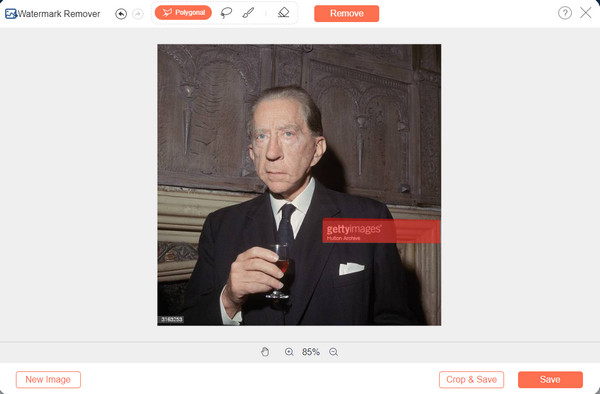 Step 3.After editing the picture, you may change the aspect ratio of the output by clicking the Crop & Save button. Then, download the final result to your computer.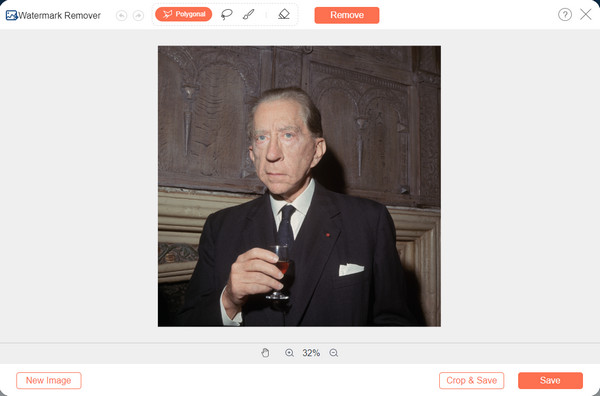 Part 2: FAQs about Unblurring Chegg Answers
What is the best alternative for Chegg?

Chegg is not the only platform that can provide the answers to your academic inquiries. You can try other alternatives, such as Transtutors, Paperhelp, CourseHero, Litanswers, Bartleby, Paul's Online Math Notes, and 24-Hour Answers.

How to search for answers on a Discord server?

The Discord study space has a 24/7 Chegg bot to answer your questions. All you have to do is to open the Chegg website and head to the question section. Copy the link and paste it into the Discor study space. Remember that the bot can only show Chegg's answered questionnaires.

Does using Chegg a cheating method?

Yes. Chegg can be cheating since it has all the direct answers to specific questions. Once you copy the answers provided by the platform, you may be punished by your school when found out.
Conclusion
Chegg is a helpful website for difficult school homework, but paying for a subscription is not ideal for students like you. The good thing is that there are many alternatives to see unblur Chegg answers and learn that there are more platforms that provide academic answers. For clearer answers, it is recommended to use AnyRec Free Watermark Remover Online. You can even use it to unblur Tinder, Grindr, Reddit, and many products.
Related Articles