PhoneMover
Transfer photos, videos, music, contacts, and messages between any iPhone and Android.
How to Transfer Text Messages from Android to Android Without Losing Them
Many people want to know how to transfer text messages from Android to Android when they get a new phone. Text messages are not like pictures, music, or videos that you can transfer easily from a phone to another. But you also do not have to worry about that. Here're 3 easy-to-follow ways that can help you switch to a new Android phone with all text messages from the old Android phone.
Part 1: One Click to Transfer Messages with AnyRec PhoneMover
If you want to transfer text messages from Android to Android with one click, you should use AnyRec PhoneMover. This software could help you transfer data and files from your phone to another device. So, it would be easy to transfer files between Androids. What's more, this software could transfer every file and data from your Android to other devices. All process is fast, and the files and data will be transferred at once.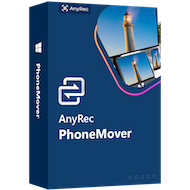 AnyRec PhoneMover
Transfer any files and data from a phone to another device.
Back up your files and data if you don't want to transfer but save them.
Import contacts to Android at the same time when transferring messages.
Make your own messages ringtone on Android without any restrictions.
Here are the steps to transfer text messages from Android to Android with AnyRec PhoneMover:
Step 1First of all, you should connect your Android to the PC. There are two methods supported for you to choose from. You can choose to connect them via a USB, or you can download MobieSync on your Android and then scan the QR code.
Step 2When you are successful to connect one Android device, the information about the phone will be told on the screen. The next step is to connect to another Android that you want to transfer. Click the Connect new device button at the top of the screen to do it.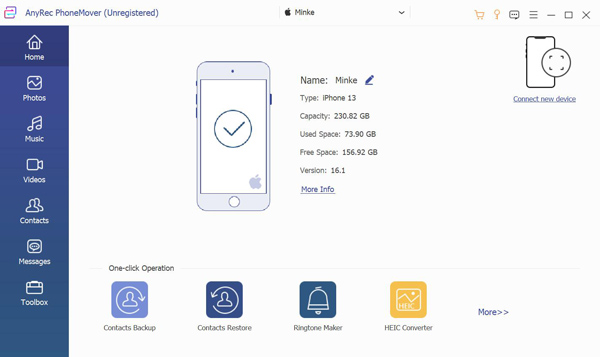 Step 3Click the Messages button on the left side. And this software will back up your messages and then you can see all messages from your Android. Now, you can choose the messages you want to transfer, then click the Export to Device button to transfer messages to another device.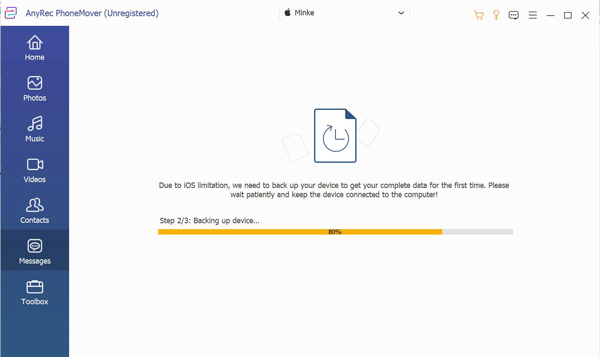 Part 2: Back Up Messages to Google Drive to Transfer
Android can back up all of the data on your phone including text messages to Google Drive. So, you can use this tool to transfer text messages from Android to Android. And if you want to deal with the message, you should use Google's Messages app. But you would need to download and install it on phones that use a proprietary app.
Step 1First of all, you should back up your messages to Google Drive. Open the Settings app on your phone and click the Google button. Here, ensure that the Backup to Google Drive button or Backup to Google One button is enabled.
Step 2At the top of the screen, confirm that the correct Google account is clicked for backup under Account Storage. Scroll down to the Backup details section and you will see all the data that is being backed up. Under the SMS messages, you will see the size of your text message backup.
Step 3Tap the Back up now button to manually back up your data. Otherwise, your phone will back up automatically whenever it's on Wi-Fi and idle and charging for two hours.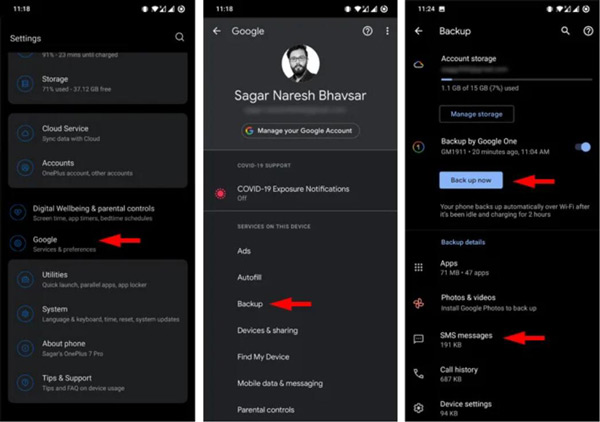 Step 4Log in with the same Google account on your new Android and click the Restore button when you are asked if you want to restore data connected to your account. After completing the setup process, you will see all of your text messages.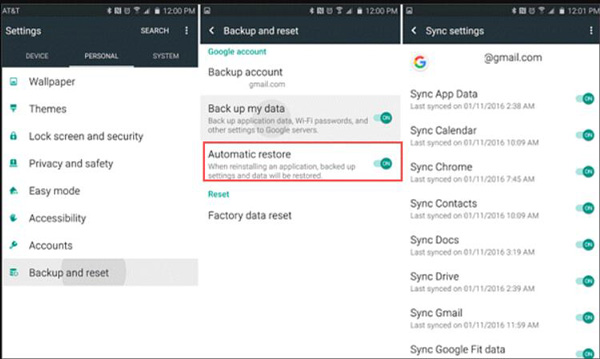 Part 3: Face-to-face Transfer Message Using Bluetooth
While the technique is not widely recommended, you can also use the native Android Bluetooth feature to transfer text messages from one Android to another. Since Bluetooth SMS transfer is gradually getting obsolete, the feature might not be supported on all Android devices. Also, sending your Android messages via Bluetooth would take a lot of time.
The method is also not recommended from a security perspective. If the source Android phone has malware, it can also be transferred to your target phone. Therefore, you should only consider this as your last resort for transferring text messages from Android to Android.
You can follow these steps for Android SMS transfer via Bluetooth.
Step 1To start with, bring the source and the target Android devices in close vicinity. Turn on the Bluetooth feature on both Android devices and pair them by confirming the passcode.
Step 2Now, go to the Messaging app on the source device and choose the messages that you wish to transfer. Go to its Settings and tap Send or Share the chosen SMS threads. Simply tap on the target device to receive SMS messages.
Step 3On the target Android, you will receive a prompt for the incoming SMS data. Tap Agree and start the SMS transfer process.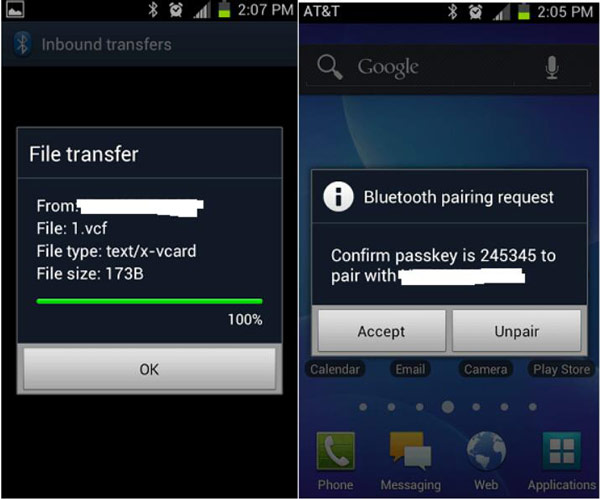 Part 4: FAQs about Transferring Text Messages from Android to Android
Are text messages stored on the phone or SIM card?

It depends on your setting. Text messages are stored on your phone, not on your Sim. Therefore, if someone puts your Sim card into their phone, they will not see any text messages that you have received before on your phone.

Will I lose my text messages when I get a new SIM card?

No, you won't. Even though you have taken out the SIM card from an Android, it will not delete anything. All the items stored on the SIM card are also stored on the phone.

Will switching SIM cards transfer messages?

No, it won't. Transferring your SIM card to a new Android will not also transfer text messages from Android to Android. You still need to manually transfer them even though you save them on your SIM card.
Conclusion
Now you know how to transfer text messages from Android to Android. Although there is Bluetooth that requires no third-party software to help you, there are many risks when using it. So, the best choice is to use AnyRec PhoneMover which you do not have to download so much other software like Google Drive. One software could solve your all problems about transferring everything from a phone to other devices.
Related Articles: