Nero AI Image Upscaler Review: Is It Worth the Price
It is not a surprise to see more AI image upscaling tools online, and they are helpful for blurry shots. One of the uprising tools to use is Nero AI Image Upscaler, which has become more successful as it quickly enhances photo resolution. But what makes the best image upscaler? This post will elaborate on Nero AI Image Upscaler features, instructions, and pros/cons. Here, you can also see another alternative for photo upscaling.
Part 1: What Is Nero AI Image Upscaler
Nero AI Image Upscaler offers different tools for various purposes, including the AI Image Upscaler. The tool is specific regarding photo editing, using Artificial Intelligence to increase the image size and resolution while keeping the quality. On the other hand, it is based on deep convolutional neural networks, allowing its algorithm to work on a fine cutting-edge redefinition. Before proceeding, here is a simple step on how to use the image more upscale:
Step 1.Click the Plus button from the Nero Image Upscaler's website. Choose the photo you want to edit and upload it to the site. Alternatively, you can drag and drop the photo from your folder to upload.
Step 2.From the AI Models section, you can select the enhancer to apply to the uploaded file. Click the Start button to apply the selected effect. Then, export the result to your device by clicking the Download button.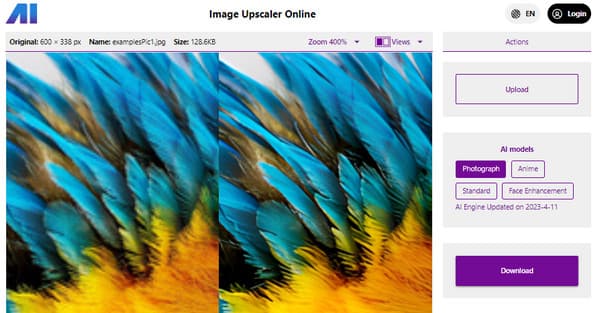 The AI Image Upscaler trains with a massive dataset with thousands of images to recognize the needed improvement for uploaded files. It is suitable for raw pictures, such as those freshly captured by a camera, without being enhanced and depixelate images by other tools. Moreover, Nero AI Image Upscaler supports platforms. It is accessible to many devices, including your PC, Mac, Android, iOS, iPad, and SaaS. Let's discuss the differences between using the image upscaler on different platforms and see which has the best advantages.
Part 2: Comparison with Nero AI Image Upscaler in Different Platforms
Comparing the online tool on PC, Nero AI Image Upscaler has a significant advantage regarding wider screens. You can easily access it by searching for its name on Google and only uploading pictures for enhancement. It also removes image noise from JPEG, e-commerce, and real estate marketing photos. With its ease of use, features, and design, some users leave good reviews, even for the free trial version. The developer even created a mobile version to allow people to upscale their photos anywhere.
The mobile version is called Photo Enhancer & AI Art - Lens. It provides more features than the online version, including filters to turn images into anime, sharpen blurry images, and colorize black and white pictures. Unfortunately, the app received one star from the user's reviews as it processed longer than the website. It could be an unfixed bug as some users encounter app issues. Other complaints include 'expensive premium version' and 'no difference in quality.' Still, you can easily download Nero AI Image Upscaler anywhere you want.
Part 3: The Online Alternative for Nero AI Image Upscaler
AnyRec Free AI Image Upscaler is an excellent alternative for Nero AI Image Upscaler, as it is also web-based and offers service for free. One of its most significant advantages is the options for upscale levels, from 200% to 800%. It is designed to enlarge photos, so you can print them to a large tarpaulin or media content without lowering the quality. Furthermore, AnyRec keeps the original quality and only enhances the parts needing improvements.
Upscale images by up to 800% in JPEG, PNG, and BMP.
Support AI algorithm to automatically fix distorted parts.
No file limitations and export images without a watermark.
Require no registration and upscale image 100% free.
Step 1.Open the online image upscaler. Click the Upload Photo button to import a picture. Once you have browsed for the desired file, click the Open button to confirm.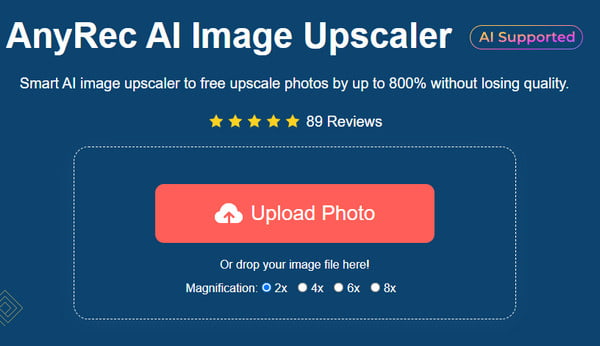 Step 2.Choose the upscale level or Magnification from the top menu to apply to the photo. You can enlarge images by 200%, 400%, 600%, and 800% for free. Check the details by gliding your mouse over the original image.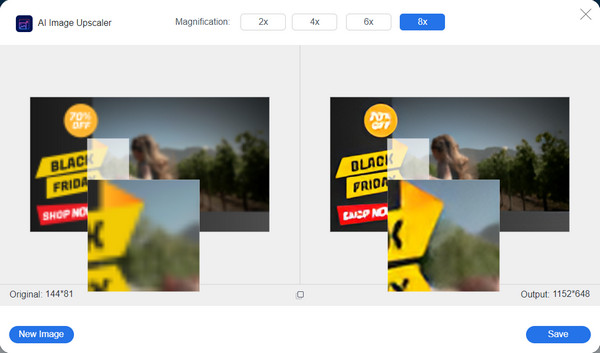 Step 3.Once you agree with the final output, click the Save button to start the process. Don't forget to save the enhanced image on your computer to share it on social media.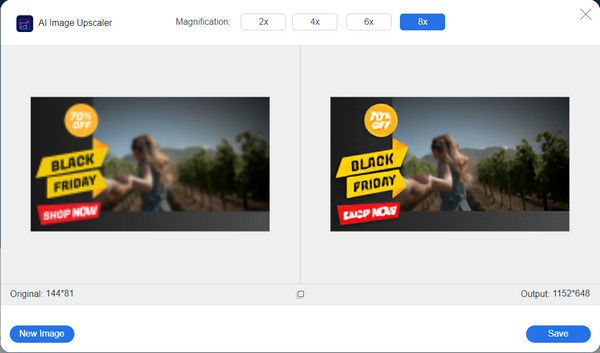 Part 4. FAQs about Nero AI Image Upscaler
1. What is the suggested picture for Nero AI Image Upscaler?

It is best to use raw photos not enhanced by other software like Stable Diffusion or Dall-E. Also, the online tool ensures the upscale resolution of animated pictures like cartoons, fan art, and frame from low-res animation.

2. Is Nero AI Image Upscaler completely free?

No. The online upscaling tool is not free. It only provides five credits daily, so upscaling is limited to only five photos. If you want a free tool to enhance your photo's resolution, use AnyRec Free AI Image Upscaler. It has more magnification options and requires no registration.

3. What are the pricing plans in Nero AI Image Upscaler?

The first plan is called Day Pass. The $ 4.95 plan offers 20 daily credits with 60MP output and no watermark. Next is the Monthly Plan with over 200 credits daily and unused credits rollover. The price is $9.97. Lastly, the Yearly Plan costs $ 89.95, has 60MP output, automatic renewal, and no watermark.
Conclusion
Nero AI Image Upscaler is a great online solution to improve blurry shots on your device. It offers free editing, but only five times a day. With the success of the online tool, the developers also launched the mobile version available to download on Android and iOS. Although it is newly launched, it receives good reviews from users. Since this post enlightened you with the upscaling tool, it also suggests trying AnyRec Free AI Image Upscaler as an alternative to Nero AI Image Upscaler to see better results in terms of service and results. Visit the official website to experience more professional features.
Related Articles: