Horizontal VS Vertical – Which is Better for Watching and Filmmaking?
Throughout the years of watching movies and filmmaking, you can tell that they have one thing in common: They were all made on a horizontal scale. However, with advanced technology, you can now view and watch vertical videos. You can find these vertical videos on any social media like Facebook, Instagram, YouTube, Snapchat, and more. There can be advantages and disadvantages with horizontal and vertical videos. If you are thinking of making your film, find out how to use the horizontal and vertical scale for better watching and video making. Let's get started.
Part 1: Horizontal VS. Vertical: Introductions, Features, and Usage
Does it matter to choose which scale you need to use when filmmaking? Definitely, yes. Since after 4:3 was replaced by horizontal video or 16:9 aspect ratio, it was the most used scale to watch and create videos. A horizontal-oriented video emphasizes more details and information about the plot. This is the standard scale for a video to watch on any device like a computer, laptop, tablet, and smartphone. Horizontal is far more superior to vertical as it follows the alignment of eyes and is mostly used for bigger. Moreover, it follows the most popular aspect ratios such as 4:3, 16:9, 1.66:1, 1.85:1, 2.35:1, and more.
However, you can't take horizontal for granted as billions of people use smartphones nowadays. Vertical or vertically-oriented videos are frequently used in social media such as TikTok, Snapchat, Instagram, and more. It operates as a portrait mode to make the video taller and takes up the whole device's screen. You can use this scale to join the trends for dancing, do tutorials, or close-up recordings. A vertical video mostly emphasizes fewer subjects in a clip, which is a good thing for a quicker view of the content.
Resolutions are also different according to the horizontal or vertical-oriented videos. Here is the list of resolutions for horizontal and vertical:
| | |
| --- | --- |
| Horizontal Resolution | Vertical Resolution |
| 3840 × 2160 | 3840 × 2160 |
| 2560 × 1440 | 1440 × 2560 |
| 1920 × 1080 | 1080 × 1350 |
| 1280 × 720 | 1280 × 720 |
| 1280 × 720 | 720 × 1080 |
You can use the horizontal scale when you want to portray the beauty of a landscape or event. While with a vertical scale, you can use it for an intimate portrayal of a person, animal, or movement. Moreover, it gives you the freedom to not rotate your mobile device to watch a clip.
Part 2: The Ultimate Way to Crop Videos to Horizontal or Vertical Size
If you wonder if you can crop a horizontal or vertical video, you definitely can! With AnyRec Video Converter, it is not impossible to crop any video type. This software provides its best features for you to crop and edit videos. It has a straightforward interface that helps navigate and easily use the tool. With hundreds of supported file formats, it accepts any kind of video to edit. Moreover, the software saves all the edited video files in high quality.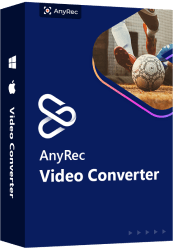 The best video cropper also features:
Advanced cropping tools for making vertical and horizontal videos.
Customize the video output like bitrate, encoder, format, resolution, etc.
Support all popular video and audio formats to upload on social platforms.
Offer other useful tools such as conversion, volume booster, 3D maker, etc.
How to crop vertical or horizontal videos with AnyRec Video Converter:
Step 1.Download the software on the official website and launch it on your device. Click the Toolbox tab on the top menu and choose the Video Cropper option.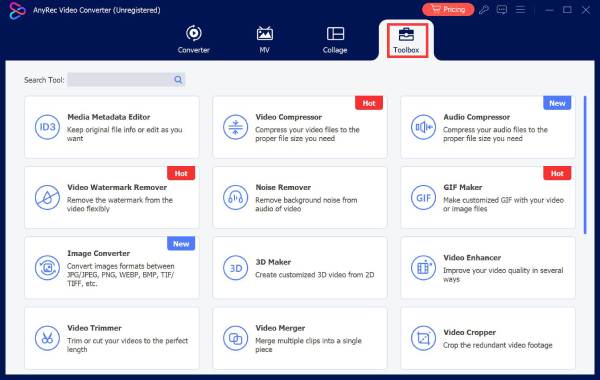 Step 2.Click the Plus icon to add the desired video file you want to crop. For this step, a horizontal video will be used as an example. After choosing, the software will direct you to the cropper. Click the Aspect Ratio drop-down menu to choose the horizontal or vertical size and crop videos. The recommended one will be the 16:9 aspect ratio option.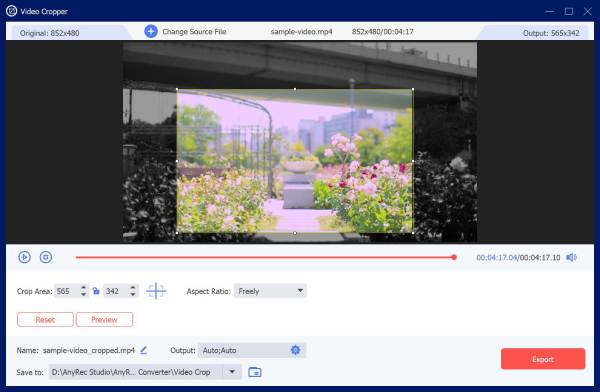 Step 3.The yellow square will change the size. Click the Cross icon to center the cropper to the video. Click the Preview button to see how much the video will change. You can adjust it again if you are not satisfied with the first crop. Also, you can change the video settings by clicking the drop-down menu of the Output option. Here, you can change the video encoder, quality, format, bitrate, etc. Click the OK button to save.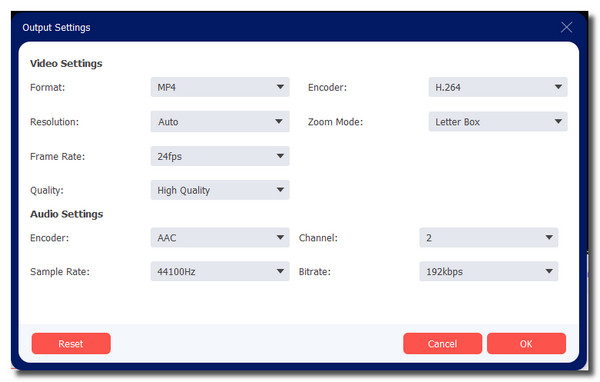 Step 4.Once done, choose the designated folder by browsing on the Save To option. Click the Export button to save all the changes. Once it finishes the saving process, the folder will automatically appear for you to watch. If you want to crop a vertical video, use the same steps.
Part 3: 3 More Software to Create Horizontal or Vertical Videos
Making a horizontal or vertical video clip is not easy. But it will be with a video editor to help you create and edit. Find the best software to create horizontal and vertical videos below.
1. Adobe Premiere Pro
With its advanced tools, you can create horizontal or vertical videos with Adobe Premiere Pro. This well-known software has all the editing tools you can ever imagine including the video cropper. You can crop videos to any size in Premiere. This creative tool also integrates with other useful apps like Frame and Adobe Photoshop, making it the most flexible tool on the list.
Features:
◆ Able to edit footage with the highest resolution, such as 4K and 8K.
◆ Allow users to choose preferred native file support, faster rendering, etc.
◆ Create captions automatically via the Speech to Text function.
◆ Regularly updates for a far better experience in video editing.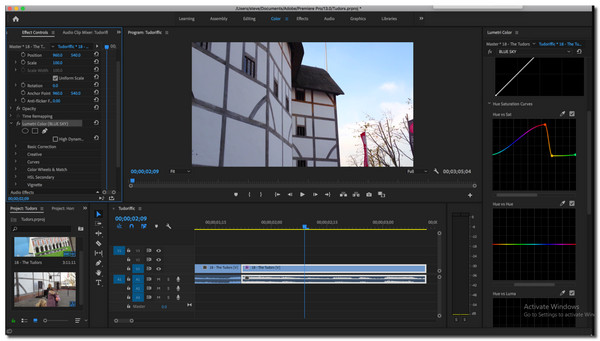 2. PowerDirector
There is no dull moment with the fantastic PowerDirector when you use it to edit video. This video editor offers 200 advanced editing tools to help you create the best vertical or horizontal videos. From its video cropper to creative transitions, you don't even have to sweat to learn the tool. Moreover. It provides aspect ratios at the beginning of editing to let you choose the social platform you will upload the video.
Features:
◆ Offer other app versions for Mac, Windows, Android, iOS, etc.
◆ Enable users to edit green screen footage.
◆ Elaborate video clip via motion tracking and action camera tools.
◆ Supports video with a high resolution like 4K and 3D.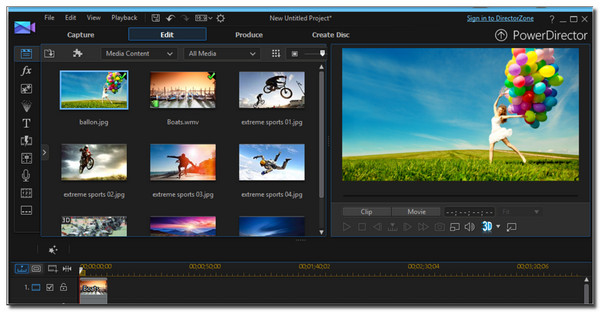 3. iMovie
Last but not least is another software dedicated to Apple products. Whether you are using an iPhone or a Mac book, iMovie is available to download and edit horizontal or vertical videos. Its outstanding features include filtering, editing the green screen, and even simultaneously opening multiple projects. It is no wonder that it is one of the used tools when users want to create a Holywood-like video.
Features:
◆ Provide video stabilization, effects, transitions, and more.
◆ Enable importing photos and music to merge with video files.
◆ A modern interface and non-linear video editor.
◆ Support HD and 4K video to edit and enhance.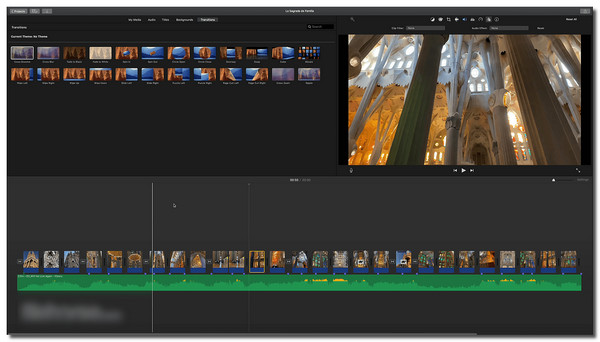 Part 4: FAQs about Horizontal and Vertical Videos
1. Which is better: Horizontal or vertical?

Horizontal and vertical scales are both excellent. However, it depends on which device, social network, and other aspects of watching or creating a video clip. So, to distinguish the best scale for your video, make sure that you consider the things mentioned to plan out.

2. Can I crop a horizontal video to vertical on TikTok?

No, you can't. Although TikTok recommend uploading 9:16 videos, it doesn't provide the cropping tool. Thus, you can go for some editor app, like InShot, or rely on the professional video editor - AnyRec Video Conveter.

3. Does Windows Media Player play a vertical video?

Absolutely, yes. Windows Media Player is a dynamic tool to play any kind of video and audio. By uploading a vertical or horizontal video, the media player will adjust on the ceratin scale for a best-watching experience.
Conclusion
The horizontal and vertical scales are made for different purposes. These scales are not dissimilar to any field but only specific requirements. What's more, you need to learn enough how to maximize the horizontal and vertical when making a video clip. If you want to crop a vertical video to a horizontal one, you can use AnyRec Video Converter to meet your requirements. Free download and have a try on it now!
More Related Articles