Logitech Camera Settings APP: How to Control Logitech Camera (C920, Brio, C922, C930, and More)
You may know what a Logitech camera is but are still not aware of the Logitech camera app. For your purchased camera from Logitech like C920, Brio, and others, you really need the Logitech Camera Settings app developed by Logitech officials to help you gain more control over your external web camera. So, here in this post, you will see where to download and install this useful controlling app, and how to use it to control your camera while you are in a meeting on Zoom or any other scenario. Move on and check it out.
Part 1: Download and install the Logitech Camera Settings APP
Before starting to learn how to use the Logitech Camera Settings app to fully control your webcam, you also need to know where to get this app. You just need to open any of your browse and directly go to Logitech's Support website. Then click the Downloads button from the top menu bar, which will lead you to the downloading center. Next, find the Camera Settings app and click on it. After that, click the Download Now button to download and install it. Then, you are all set.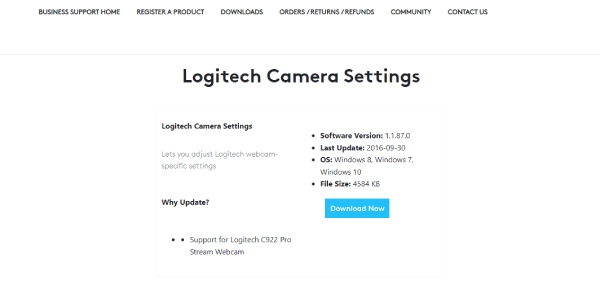 Part 2: Control Logitech Webcam in Zoom with the Logitech Camera APP
Now, you can turn on your webcam and join the Zoom meeting to launch a test for your Logitech camera. Before you do these, then you can open the Logitech Camera Settings app to make sure it can work while you are having a meeting and your camera can be detected by Zoom. After launching the app, you can see many control settings like direction and image quality. Since your webcam is showing in the meeting, so you will not see a preview of your webcam's view in this Logitech camera app. Now, you can click the Plus icon on the right side of this app to zoom in or adjust the angle of your camera using the direction arrows in the middle, this can better adjust the view for attendees in the meeting to see what you are presenting or your face. If you go to the Advanced section of the app, then you will have a preview of your camera and be able to adjust brightness, color intensity, auto-focus, and so on.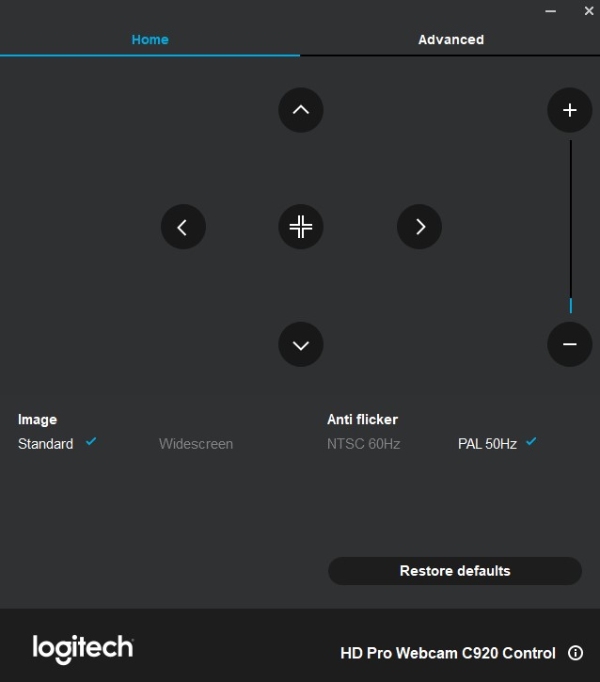 Tips
Alternative Tool to Cooperate with Your Logitech Camera
Getting full control of your webcam with the Logitech Camera Settings app is pretty easy and simple, but it might be too simple to fulfill more requirements from you. For example, during a meeting or a class online, you might also need to record it for further review after class is dismissed or the meeting ends. Here comes an alternative to the Logitech camera app that can better cooperate with your webcam to record, capture, etc. AnyRec Screen Recorder is exactly such an alternative app that can meet these demands. You can record your external webcam, your desktop, and the audio of your computer quickly with the convenient shortcut keys.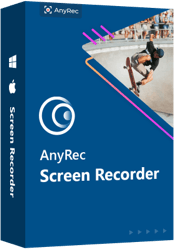 AnyRec Screen Recorder
Record anything on your desktop including phone screen mirroring.
Keep track of your recording history for the latter check.
Offers a preview of your webcam while recording your camera.
Capture your computer screen with three diverse modes.
How to Record Your Webcam with the Alternative Tool
Step 1.Get a free download and installation of the recorder on your computer. Then, launch it and turn on your webcam so that it can be detected by the program. On the main interface, click the Webcam button.

Step 2.Choose a camera from the dropdown list if you have several external cameras. Then, decide if you want the system sound or microphone sound, or both sounds. Finally, click the REC button to start recording. Or you can press Alt and S keys to start recording with webcam too.

Step 3. You can click the Stop button to end up webcam recording. In the Preview window, you can trim it if necessary. Or you can explore other free tools to trim and cut videos online. Just set a new start/end time. Finally, click the Save button to save the recording video to your device.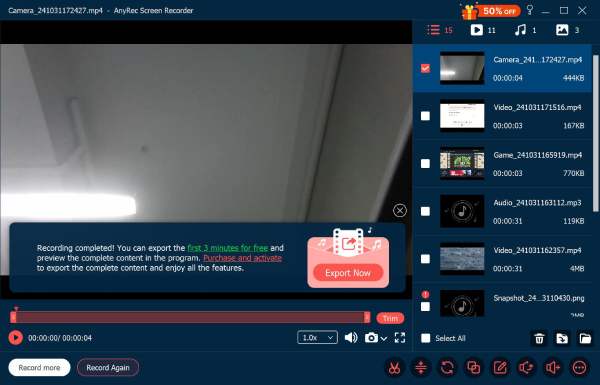 Tips
You can also record Zoom meetings without being a host or asking for permission if you have this recorder installed on your computer. Meanwhile, it can also help you solve the issue that a Mac computer cannot record internal audio and get both your internal and external audio tracks.
Part 3: FAQs about Logitech Camera Settings APP
Can I record the webcam with the Logitech Camera Settings app?

No, you cannot. The Logitech camera app only offers you some simple control and adjustments to the webcam. But if you want to record video via the Logitech app, you can download the Logitech Capture to help.

Is there any alternative to the Logitech Camera Settings app?

Yes, you can also download the official Logi Tune app from Logitech's website and control your webcams with a clearer layout and intuitive interface. This app has more support and updates than the Logitech camera app and you can also take control of your camera with it effortlessly.

Does the Logitech camera need to install a driver?

It depends. Normally, for some models of Logitech cameras, you just need a USB cable to connect the camera to your computer. If your camera cannot be detected after that, then you might need to download the corresponding drivers from Logitech's website.
Conclusion
To sum it up, you have known a few tips about the Logitech Camera Settings app including how to use it to control your Logitech webcam while having a meeting on the Zoom app. Besides, if you want to record anything on your webcam, AnyRec Screen Recorder can be your helpful assistant and capture your actions in the webcam without lag.
Related Articles