iFunny Watermark: What It Is and How to Remove It Easily
iFunny is among the applications you can rely on to send memes to your friends; however, most of its images are not safe from the iFunny watermark, which is an annoyance. If that's the case, you won't enjoy sending those memes with a stamp since it will just distract your audience's attention from the subject; the image won't be funny in any way. Whether it's a picture or video, sharing them without watermarks is much more attractive. For this reason, this content will walk you through four ways to remove the iFunny watermark alongside more knowledge of the website.
Where is iFunny Watermark? Know More about iFunny Website
iFunny is a website where you can collect many of the best and funniest images, videos, GIFs, and memes you want to share. It is similar to 9gag, Funny Junk, and other famous platforms that share various memes. Whether you want anime, manga, movies, politics, animals, and others, iFunny covers them all. However, you must be ready for the iFunny watermark. Before you go into that, see first a tiny background history of the website.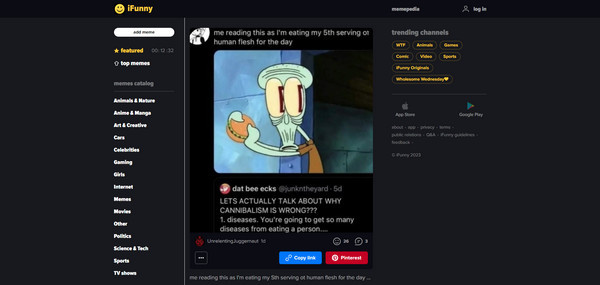 The birth of iFunny as a mobile application for iOS devices is convenient for meme lovers. It has a built-in meme generator tool. Right now, the app is known for its wide range of memes and is accessible to anyone. Even so, when you export them, you will notice a watermark at the right-bottom corner of the images, videos, and GIFs. And that's when a Watermark Remover tool comes in because sharing a meme without a logo is more outstanding. Keep on reading the following part to learn four different ways to remove the iFunny watermark.
3 Efficient Ways to Remove iFunny Watermarks on Memes and Videos
If there is a list of perfect Watermark Removers to eliminate the iFunny watermark on images or videos you've exported, AnyRec Video Converter should be on that list! It has a built-in Watermark Remover, allowing you to get rid of logos, texts, and other stamps in your videos or pictures. Moreover, you can add your special watermark to iFunny photos according to your need. The program simplifies all the editing processes, allowing you to use it and remove iFunny watermark with no problem. What's more? Free Download the program now and explore its fun and exciting features.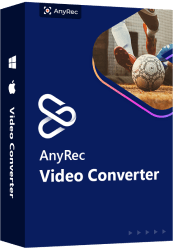 AnyRec Video Converter
Powerful Watermark Remover to delete stamps, logos, and others from iFunny.
Support adding text or images as watermarks using the Video Watermark tool.
Easily crop out areas with watermarks, trim, rotate, apply effects, themes, and more.
High quality exported removed watermark images and videos is guaranteed.
Use the Cropping tool to Remove iFunny Watermark.
Step 1.Launch AnyRec Video Converter on your desktop. To start, go to the "Converter" or "MV" tab, then add your iFunny video/image by clicking "Add Files." Once added, click the "Edit" button that comes in a "Star Wand" icon to access the Editing window.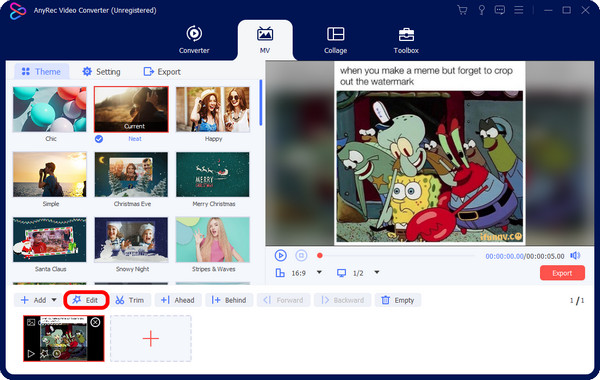 Step 2.Among many other options, go to the "Rotate & Crop" section. From there, drag the "frame" to crop out the iFunny watermark area. You can also set it in the "Center" using the "Cross" option beside the Crop menu. Then, set the "Aspect Ratio" and "Zoom" mode options. Monitor all changes in the right pane. Click "OK" when everything is done.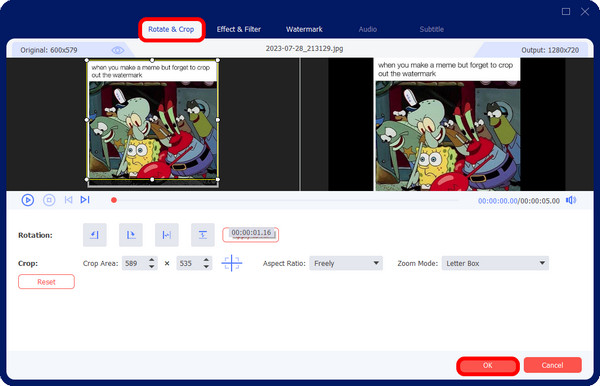 Use the Watermark Remover tool to Remover iFunny Watermark.
Step 1.Another way is removing the watermark or adding another one to cover the iFunny text. You can find it in the "Toolbox" tab: "Video Watermark Remover". Click it to remove watermark from an iFunny video.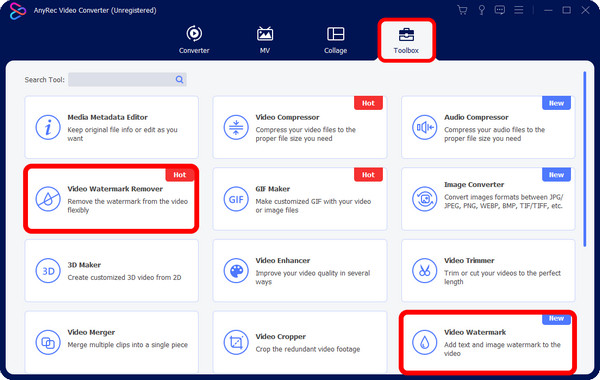 Step 2.Once done adding your video in the "Video Watermark Remover" window, click the "Add watermark removing area" to access the blurry or removing frame. Drag it with your mouse to where the watermark is placed. Also, you can adjust the removing frame size and position. Click "Export" if satisfied.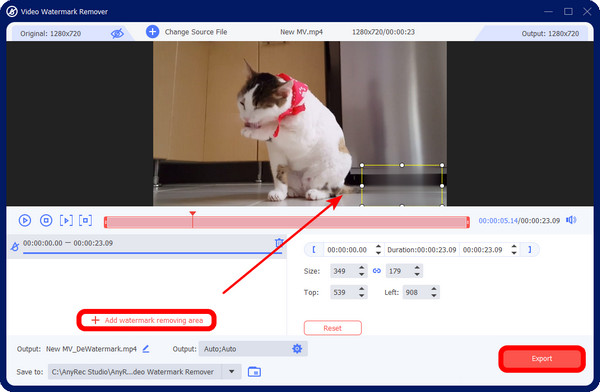 Use the Video Watermark tool to Add Stickers to Cover the iFunny Watermark.
Step 1.Do not leave the "Toolbox" tab, since you can as well find there the "Video Watermark" tool to add stickers to cover the iFunny watermark; click it.
Step 2.Add your video file in the "Video Watermark" window. After that, you can choose between the "Text Watermark" or "Image Watermark." Suppose you select the Image one; locate the sticker you wish to add to cover the iFunny watermark from your PC files. You are allowed to adjust the "Opacity," "Rotation," "Size," etc. Lastly, hit the "Export" button to save.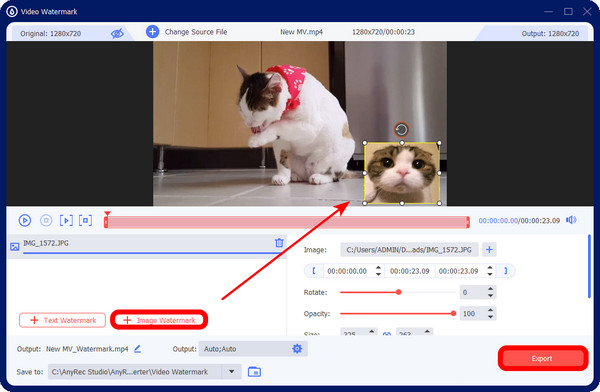 How to Delete iFunny Watermark Online for Free [for Images]
Suppose you want the easiest way to remove the iFunny watermark from images without downloading any program; you can find help with AnyRec Watermark Remover Online. You can remove logos, texts, or any kind of watermark from images with this online tool. With the assistance of the remover tools, such as the Polygonal, Lasso, and Brush, you can easily select the watermark area and remove it with one click. Apart from removing iFunny watermark, this online tool guarantees your privacy and safety since you are the only person that has access to your images.
Features
◆ Support removing watermarks from JPG, JPEG, PNG, TIFF, and BMP.
◆ Three remover tools are used to get rid of unwanted texts, objects, and more.
◆ A Real-time preview is served to show you all the removed details.
◆ Let you undo a result you aren't satisfied with in easy clicks.
Step 1.Once on the main page of "AnyRec Free Online Watermark Remover," click "Upload Images" to locate the file from your PC. In this way, you can easily remove watermarks from iFunny photos.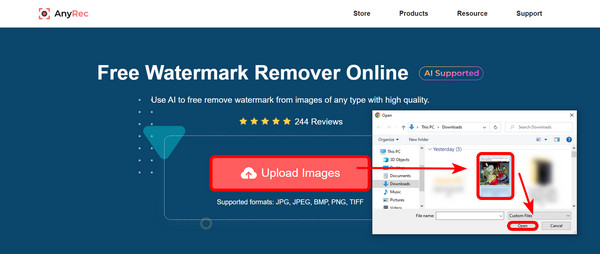 Step 2.The editing window will automatically open; select which among the tools you will use to select the watermark area. The "Polygonal" tool was used to remove the iFunny watermark in this image.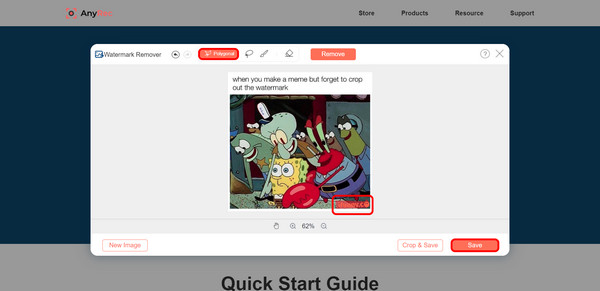 Step 3.If the watermark is wholly removed, crop it by clicking the "Crop & Save" button. Or simply click on the "Save" button.
FAQs about Removing iFunny Watermark
Is there a way to not get iFunny.co watermark?

Photos, videos, and GIFs need watermarks on the website itself. However, you cannot avoid them when downloading memes on your computer. But you can eliminate them with the help of the watermark remover tools mentioned in the post.

Why iFunny adds a watermark on their memes?

To let the audience know where the original photo comes from. Furthermore, adding a watermark promotes the iFunny website, so users might visit the website to get more funny images.

Am I allowed to upload memes on iFunny?

Yes. Of course. The website isn't just about giving your images, videos, and GIFs to share; you can also make your own meme and upload it if you want to.

Is that an iFunny watermark on the bottom right corner of your image?

If you're talking about the yellow text with a smiling emoji, it's an iFunny watermark. It appears when you export memes from the website to your computer.
Conclusion
That's all for removing the iFunny watermark! As you can see, it is pretty easy to eliminate annoying texts from your memes with AnyRec Total Video Converter, as it provides you with all tools you need, such as cropping, removing, and adding stickers. But it works more than that, so make sure to visit its official website! Furthermore, the watermark remover online version is also raised, which is the AnyRec Free Online Watermark Remover. Using it lets you quickly get rid of the iFunny watermark with the three remover tools. You can select which of them you will use to get watermark-free images and videos.
Related Articles: