CapCut Review: Features, Pros, and Cons With 3 Alternatives
Video editing has become viral these days, and many tools are running around on the Internet, including CapCut. From sharing videos on TikTok, instagram, and more video-sharing platforms, you will see a CapCut logo. Wondering what can CapCut do? Does it offer a collection of templates? Does it come with many powerful features that no other app can offer? In this CapCut review, you will learn about the main features, advantages, and drawbacks you can get. Make sure to finish the entire content for more surprises!
Overall CapCut Reviews: Main Editing Features, Pros, and Cons
What Is CapCut?
CapCut is an application that works flawlessly on mobile devices and computers. With it, you will not need editing skills or knowledge since you can easily catch up with the features. It comes with filters, background music, effects, stickers, and adjustments and is a user-friendly app. Although some may find this app has many insufficiencies, it works better than any other app, and there's always room for improvement. So, you can expect more features and user experience in the future with CapCut.
What Are the Main Features of the CapCut
Split Video
Performing this lets you select where to add a clip between clips or delete a specific part of a video. You can quickly add an image or video from your Library by clicking the Add button on CapCut.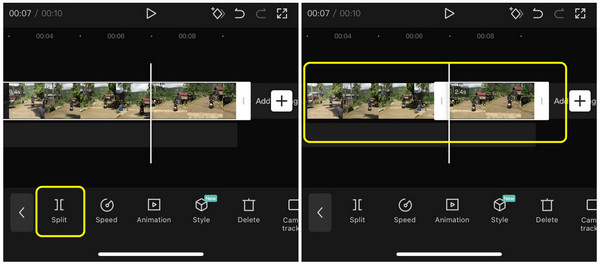 Speed Control
One of the most used features is the speed control which you can speed up the video or slow it down. While selecting a preset speed, such as 0.1x pr 3.0x, you can monitor the length of your video on your screen.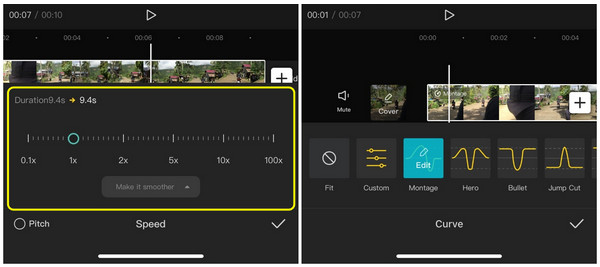 Effects
A huge number of effects is provided by CapCut, including retro, party, split-screen, frames, etc. Those categories include many effects; once you click on them, there will be effects subcategories with a preview so you can choose carefully what to apply.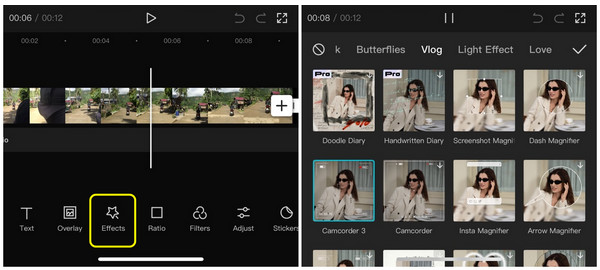 Filters
To lighten or darken your video, you can add magic to its appearance through the filters. Once you choose a filter, you can adjust its brightness and contrast levels; you can then apply it to all clips or one only.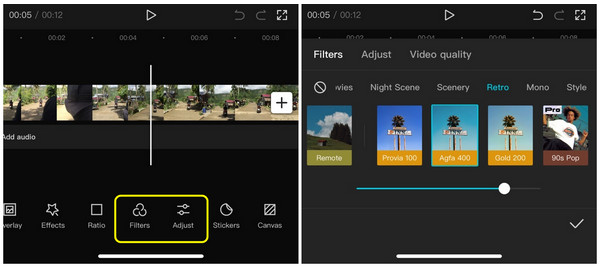 Text and Stickers
Another enormous contribution to videos is adding text and stickers. CapCut provides many; this way, you can enjoy adding them to your videos, and it becomes entertaining. As for text, you are allowed to choose style, font, effects, and more.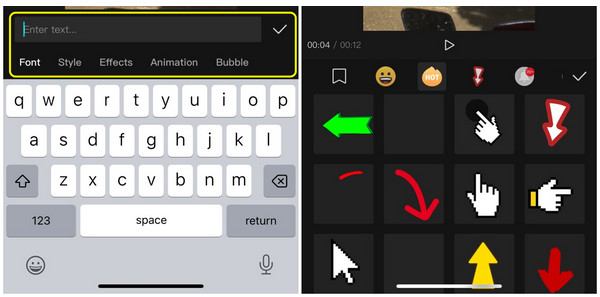 Royalty-Free Music Library
To improve your video, inserting an audio track will make it more fantastic. You can find music directly from the app, according to your mood. Or, you can extract audio from videos. You can place audio effects, which CapCut covers as well.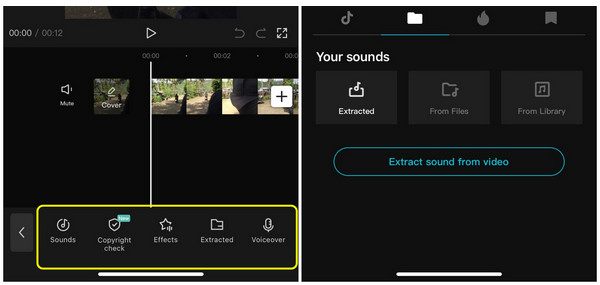 What Are the Pros and Cons of the CapCut?
Pros

An intuitive user interface for both CapCut PC and Mobile.
Has an extensive music library for free.
Multiple effects, filters, and transitions are offered.
Lots of CapCut templates are made
Cons

Work slow when editing a bunch of videos
Doesn't supports the landscape mode
FPS cannot be adjusted higher than 60
Basic video editing, not for professional
Is CapCut a Free and Safe Editor for Android/iPhone?
Yes. As mentioned, CapCut is among the video editing app that is known these days. And, as it gets more popular, you may want to try it but have second thoughts on whether it is safe. Alongside thinking, does it require you to pay before you can edit your video? Is CapCut safe to download on your iPhone? Does it get my personal information? Questions like those are raised.
The good thing is that CapCut is a free video editing application that works on Android and iOS devices. It also supports sharing on social media platforms, such as TikTok, Instagram, etc. and doesn't display any advertisements that users would find annoying. However, it comes with limits if you're using it for free; that is why the paid version comes in. Even though that's the case, you aren't required to use the paid one if you don't want to since you can still enjoy and conveniently use CapCut, even for free.
To end this part of the CapCut review, it is very safe to download on mobile devices. Although it collects data, such as how you use your mobile, IP address, connection, device information, and more, it is still not a malicious app. But you must be aware that those data are shared through other services of the owner of CapCut, which is ByteDance, including TikTok. Plus, those information can be shared with third-party services.
Now, if CapCut's collecting of data bothers you, you can consider alternatives to install that work just like the app. For more information, keep on reading!
Best 3 Alternatives to CapCut Video Editor on Mobile/Desktop
If you find some limitations, such as offering basic edits and not for professional use, of CapCut annoying, try the best three alternatives given in this part. Select whether you want a similar version for CapCut PC, online, or on a mobile device.
1. AnyRec Video Converter (Windows/Mac)
AnyRec Video Converter deserves the first spot as it works as a powerful video editor software with tools for rotating, flipping, trimming, merging, cropping, and more. Adding subtitles, audio tracks, and pre-made filters and themes are also covered. This program is a CapCut alternative with many editing features for professionals to explore.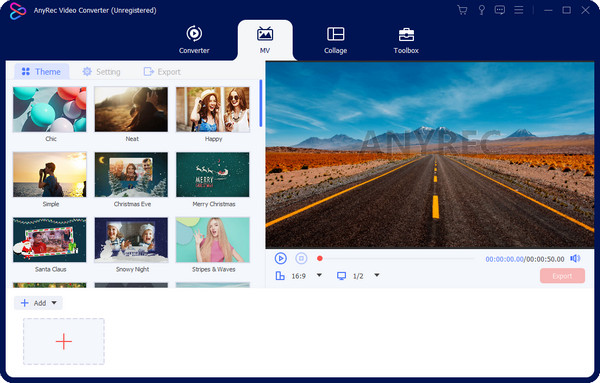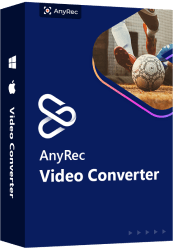 AnyRec Video Converter
Provide more editing toolkits, like Color Correction, GIF Maker, etc.
Many video and audio formats are offered, with customized resolutions.
Split screen video that lets users put more videos into one frame.
Collections of pre-made themes, filters, effects, and transitions.
2. Shotcut
The app on Android/iPhone, Shotcut, is a free CapCut alternative that works to create slideshows, films, vlogs, movies, etc. It comes with a video cropper, reverser, merger, upscaler, split tool, and more. Aside from that, it supports a green screen and adds slow-motion effects, extracting audio from video and making it your background audio track.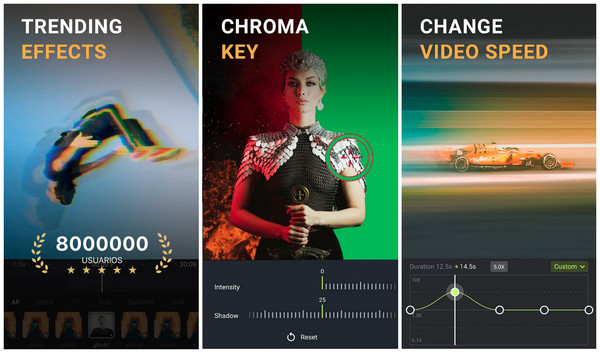 Can do voiceover and add sound effects to videos.
Offer templates for Instagram reels and TikTok.
Have a chroma key to remove select colors from the video.
3. FlexClip
An online CapCut alternative is the FlexClip, which offers all you need to edit videos. You can discover tools for trimming, cropping, adding overlays, transitions, texts, stickers, and more. And don't worry if you are not techy since you can edit your video with it effortlessly with the help of its friendly user interface.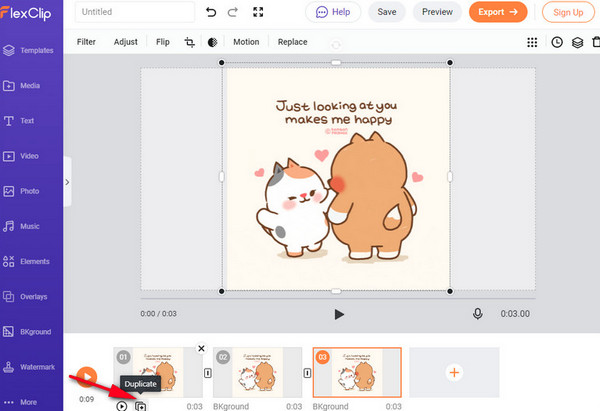 Ready-made templates are available.
Supports a wide variety of output formats.
Have a lot of stunning effects for different purposes.
FAQs about CapCut Video Editor on Android/iPhone
Can you get CapCut on PC?

Yes. Aside from the supporting version on mobile, CapCut can be downloaded on Windows and macOS. It is a convenient and friendly user packed with many features, and in most cases, it works better than the mobile version.

Is there a CapCut online version?

Yes. CapCut offers an online video editor that lets users edit videos without a watermark. You won't have to download anything; simply open your browser and search for CapCut online video editor to edit videos online.

Does CapCut embed a watermark on the exported videos?

Yes. It does add a watermark to videos that have used a template from CapCut, made by other users. As for the video you originally created, the watermark is seen in the last part as a clip, where you are allowed to remove it or keep it as the ending part of your video.

Is CapCut a free application?

Yes. The app provides a free version for video editing. However, you can encounter some limitations to some features, which you must pay for to enjoy fully. In this case, you need to subscribe to its paid plan to enjoy all its features, which cost $0.99 up to $69.

What is royalty-free music in the CapCut video editor?

CapCut offers so much royalty-free music, which means you don't have to pay artists or right holders of the music every time you use it as your background audio track. You only have to pay once. Later, you can make a video with music as long as you want.
Conclusion
Is CapCut a good video editor or not? After giving you a detailed CapCut review, hopefully, this article has answered all your questions about the video editor. It may come with disadvantages like any other app, but it still gives the best editing experience and can be improved in the future. But, if you want the best alternative to fill up those drawbacks, AnyRec Video Converter for Windows and Mac. Feel free to use its powerful features to edit videos, post them on your social media account, and give your viewers a high-quality video.
Related Articles