2 Ways to Annotate on Zoom in Private Screen or Sharing Screen
Many people want to annotate on Zoom for taking some important things down during the meeting. Actually, Zoom has its own annotation tools to help you take notes in the meeting. But you should share your screen with other meeting participants first. What's more, the other participants also can look at your notes on their screens. So, besides telling the people who cannot use annotation tools on Zoom, this post also will give you a tool to annotate on Zoom on your private screen. This tool means you can prevent other people see what you have noted meanwhile reserve the meeting video.
Part 1: Take Your Personal Notes While Recording Your Zoom
If you want to take your personal notes and not let other people see them, you can use AnyRec Screen Recorder to save your Zoom meetings with annotation. This software could help you record the meeting with original quality. What's more, it provides you with tools to annotate on Zoom. You do not have to share your screen to take notes anymore, and other people will definitely not see your notes on the screen. So, it keeps your privacy and meanwhile has the ability to take important things down during the meeting.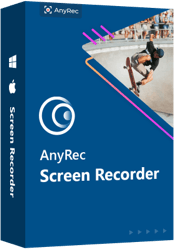 AnyRec Screen Recorder
Record your Zoom meetings with the original quality to keep the information.
Provide annotation tools to take notes during the meeting process.
Add real-time drawings on your recording video with text, arrows, lines, etc.
Have no lag on the video or audio track to make the recorded meeting smooth.
Here are the steps to use the AnyRec Screen Recorder to annotate on Zoom while recording it:
Step 1.Launch the program and click the Video Recorder button and Select the desired area for recording on-screen activities.
Step 2.Click the Full button to record the full screen. Click the Custom button to click the Select region/window button to customize the recording area. You can use the Custom button to record a specific Zoom window or a specific part on Zoom.

Step 3.If you want to record the sound of the meeting and your microphone sound, you should click the System Sound button and the Microphone button.

Step 4.Once you have completed the prepare settings, you can click the REC button to start recording. And then you will there be a window on your screen. Click the Toolbox button in this window to annotate on Zoom. You can add text, arrows, lines, and other things to the video. What's more, you can also edit the size, color, font, and many things of your note.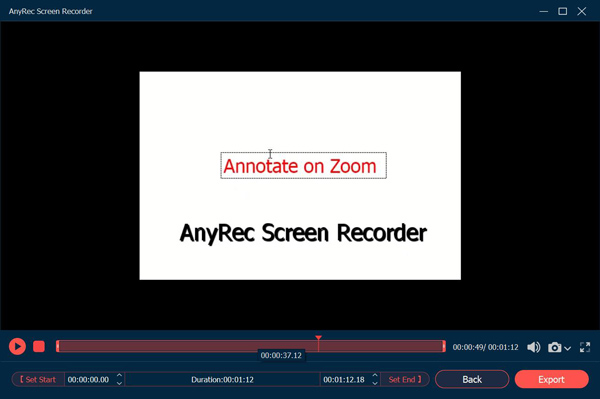 Step 5.After Zoom recording, you can click the Stop button. Later, you can preview, trim, save and share your Zoom video freely.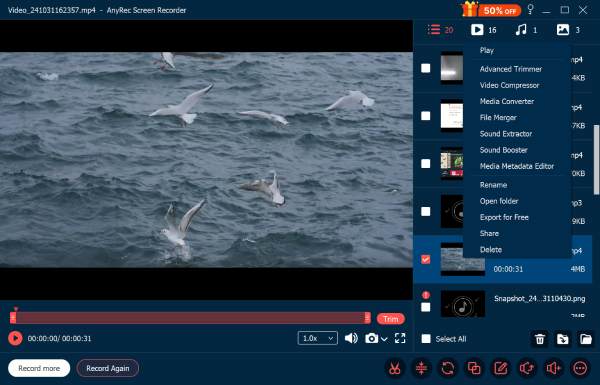 Part 2: Use Annotation Tools to Share the Screen Notes
You can annotate on Zoom without any third-party software. But the problem is that any other people who are participating in the meeting could see your notes. So, when you use Zoom to take notes are actually doing an annotation presentation. However, the steps to annotate on Zoom with annotation tools are the following.
Step 1.Zoom allows you to add annotations when you are sharing your screen. Click the Annotate button with a pencil icon on your screen-sharing toolbar to bring up a set of annotation tools. Tools include a text tool to type text onto the screen, a hand-drawing tool, a stamp tool, and a spotlight tool for highlighting the location of your cursor.

Step 2.You can prevent participants from annotating by clicking the Disable Attendee Annotationbutton. You can also add a label to show who is annotating where, by clicking the Show Names of Annotators button.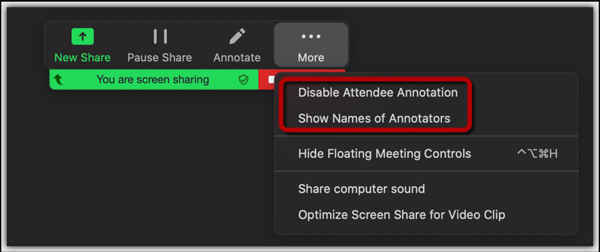 Step 3.You can take a video screenshot to save your annotations to your computer at any point by pressing the Save button. The annotations will save as an image in your Zoom folder on your computer.
Part 3: FAQs about Annotating on Zoom
Why is there no Annotate option on Zoom?

After sharing your screen or whiteboard, annotation controls will display. If you don't see the annotation tools, click the Annotate button when you are sharing your screen, or click the Whiteboard button if you are sharing a whiteboard.

Why can't I open annotation on Zoom?

When you go to the Settings screen and click the Meetings button to check the Annotation button. If the setting is disabled, click the toggle to enable it. If the option is grayed out, it has been locked at either the group or account level. You need to contact your Zoom admin.

What are the shortcuts for annotation on Zoom?

When you annotate on Zoom, Windows users can press Ctrl + Z to undo, and press Ctrl + Y to redo. And Mac users press Command + Z to undo, press Command + Shift + Z to redo. And you can right-click anywhere back to mouse mode on both Windows and Mac.
Conclusion
No matter whether you want to use annotation tools on the sharing screen or take notes privately, this post has already told you how to do them. Now, you know how to annotate on Zoom with its own tools and how to solve you cannot see or use those tools on Zoom. And remember, if you want to keep your notes privately, AnyRec Screen Recorder can be your first choice You can take notes and record the meeting with AnyRec Screen Recorder freely and losslessly.
Related Articles