How to Change eBay Profile Picture to Attract Customers [Tutorial]
A seller profile picture on eBay or other online marketplaces is one reason that significantly impacts sales. Whether you're a seller or buyer, you will agree that the eBay profile picture should make a good impression, as well as on other social media platforms. Therefore, you should give it time to think if you wish to increase your sales and attract more customers. Want to know how to change eBay profile picture? Read the guide below to learn how to add or change your profile photo in the marketplace.
Part 1: How to Add/Change eBay Profile Photo on Computer/Mobile
Whether you are the seller or buyer, you can change your eBay profile pictures. For sellers on eBay, as said earlier, this would help their sales and business to grow and receive more benefits. And for buyers, you may only want to change the default blank profile picture to make your account looks more beautiful. Thus, here are different ways to change the eBay profile pictures; you can accomplish it using a PC, laptop, or mobile device. If it's your first time using eBay, you can also follow the steps below to learn how to add a profile picture on eBay.
How to Change eBay Profile Picture on a Computer?
Step 1.Open any web browser on a PC or laptop, then search for the eBay website. Log in with your account details. Navigate to the My eBay at the upper right of the screen. Then, select Summary and click the Edit Profile option.

Step 2.At the top right corner of the profile picture, you will see the Pencil icon; click on it, then click Change photo. Now, from a folder on your PC, select one image to be your eBay profile picture, click Open, then wait for it to be uploaded. Click Done Editing once finished.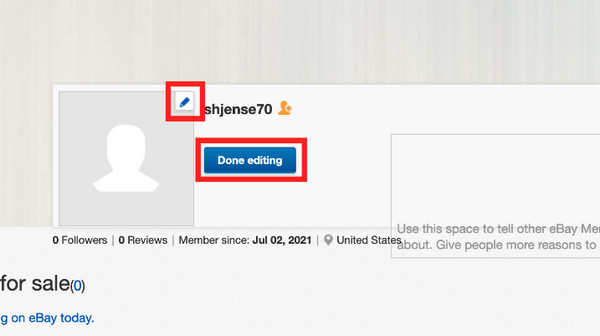 How to Change eBay Profile Picture on Mobile?
Since you can't change the eBay profile on the mobile app, you should go to the browser version to achieve this operation.
Step 1.Open Chrome or Safari on your mobile device, then search for the eBay official page. Tap on the Menu icon, then log in to your eBay account. Click the Profile icon, then complete the necessary fields. After that, tap Continue, then Account.
Step 2.Enter the Personal Information section, where you must sign in your complete details. Locate the three vertical dots, then select Desktop site among other options to load the desktop version.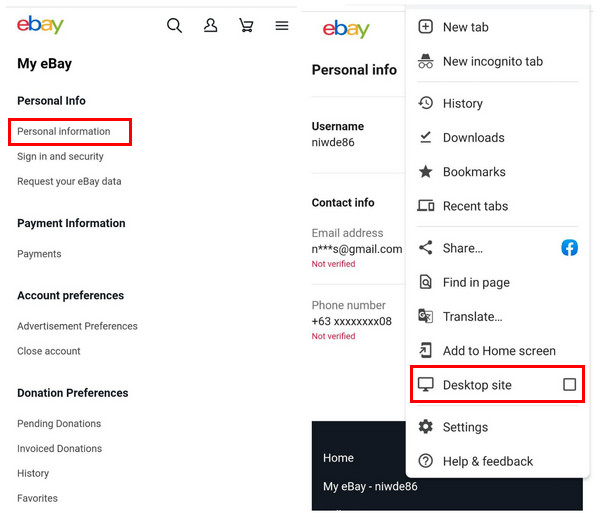 Step 3.Log into your account to enter the eBay main page. Find your name on the page, then select the Edit Profile option. Next, tap the Pencil icon at the upper left of the default profile to upload an image from your phone. Tap Done Editing when completed. You have now successfully changed your eBay profile picture!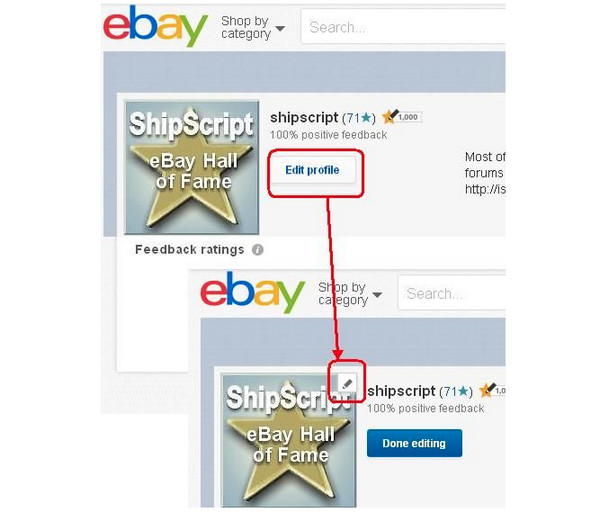 Part 2: Recommended Tips on Customizing Your eBay Profile Photo
After learning how to add and change profile picture on eBay, here are also many tips to customize pictures and create a good eBay profile picture. It is the first thing buyers will notice on your eBay account, so having the best profile photo is undoubtedly required. In this case, consider the tips listed to help you select your amazing eBay profile picture.
Use a photo that has been recently captured since you will update your eBay account, so make sure you will update it with a new one.
On your selected profile photo, it is essential that you wear something nice. Keeping your photo professional is also vital to make your page look more trustworthy; some sellers use plain white backgrounds.
Show off your best genuine smile on your chosen image as your eBay profile picture. You are free to express your happy face since it is the profile we're talking about.
Try using an editing application to make additional edits to your photos. You can add filters, adjust brightness and contrast, and enhance details.
Please avoid wearing sunglasses or adding other accessories and objects irrelevant to your profile picture; make sure you are in the center of the photo.
Aside from your image, consider using your brand logo as your eBay profile picture. Select something that will work on both square and circle frames.
After editing, save it to JPEG, PNG, GIF, TIFF, or BIMP, which are the formats best to use in an eBay profile picture.
If you need help to save your image to one of these formats and already have a photo that is not in these formats, convert it with AnyRec Free Image Converter. It is an online converter that supports JPG, PNG, and GIF. Even if you have multiple images to be converted, this tool will convert them at once in a few seconds; the watermark is free, and no registration is required. Aside from that, compared to any other online tools, you can expect a fast speed and still get a high-quality output image without reducing the image size.
Part 3: FAQs about How to Add/Change eBay Profile Photo
Can I constantly update my eBay profile picture?

Yes. There's no limit to changing your photo on eBay; however, every time you change, ensure it is a recent and professional photo.

Can the eBay profile picture be changed directly on the mobile app?

No. There's no official way to change it using the mobile application. Currently, you can only change your profile picture on eBay through the website.

Why can't I change my eBay profile picture?

You can't upload the photo you wish to use as your profile if the internet connection is unstable. Or you're trying to change the profile picture on the mobile application.

Are there limitations in changing eBay profile pictures?

The only limitation is that you can't change your profile photo on the mobile application. And there are some requirements needed, like the format, which is JPEG.

What is the suggested eBay profile picture size?

The profile picture should be 150 x 150 pixels. While for the cover size, the image must be 1200 x 700 px, and when it comes to product photos, they should be 800 to 1600 pixels.
Conclusion
Feel free to use the tips in changing your eBay profile picture, then follow the guide on how to change it on the computer and mobile devices. Among the recommended tips is the format required in eBay, don't forget to visit the AnyRec Free Image Converter to do some conversion of unsupported file formats to JPG, PNG, and GIF. And then, you can start changing your eBay profile pictures now.
Related Articles