8 Best 120FPS Video Converters to Increase Frame Rate on Windows/Mac
When watching a video, you see how the speed of the images is shown per second. Some people want a 120FPS video converter to increase the frame rate. This is because of the frame rate that takes care of the frames displayed on your device. But is it possible to edit the FPS on a movie? With a 120FPS video converter, it will be possible to upscale the frame rate. This article will review the best video converters to download on Windows or Mac.
Part 1: 8 Software to Convert 120FPS Videos
Even if your videos have 30FPS or 60FPS, you can increase it more with a 120FPS video converter. But you must consider having a tool that can configure all settings for better video quality. Here are eight video converters to try.
1. AnyRec Video Converter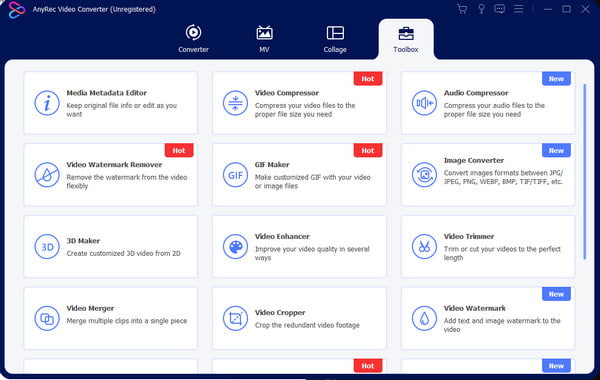 AnyRec Video Converter is a desktop tool for Windows and macOS. A straightforward 120FPS video converter with a professional converting method for the output format, frame rate, bitrate, resolution, and other settings. The advanced tool is also powered by the latest AI technology to save movies and footage with the best quality automatically. It also supports long video lengths, uploading them in a fast speed process. AnyRec Video Converter is the best solution for quicker editing of the video frame rate.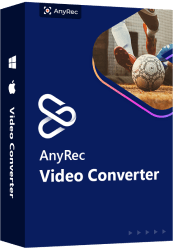 AnyRec Video Converter
Support different video formats to change the frame rates.
Change frame rates for a batch of videos at one click.
Provide more video editing after converting to 120FPS.
GPU Acceleration for a faster-converting speed of up to 50x.
2. HandBrake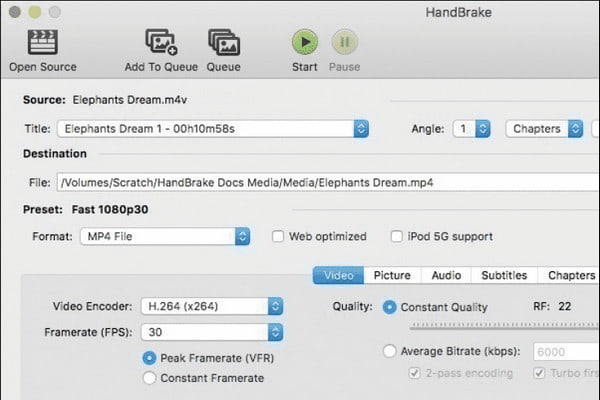 This 120FPS video converter is a cross-platform tool for Windows, macOS, and Linux. It supports all popular video types, such as MP4, MOV, MKV, and WebM. HandBrake provides many frame rate options up to 120FPS, which meet the needs for better video production. The app's interface can be intimidating, but you can practice your way through.
Features:
Enable to process multiple common files in batches.
Video filters to denoise, deblock, scale, and crop.
Live static and video preview.
Free to download and convert video and audio files.
3. VideoProc Converter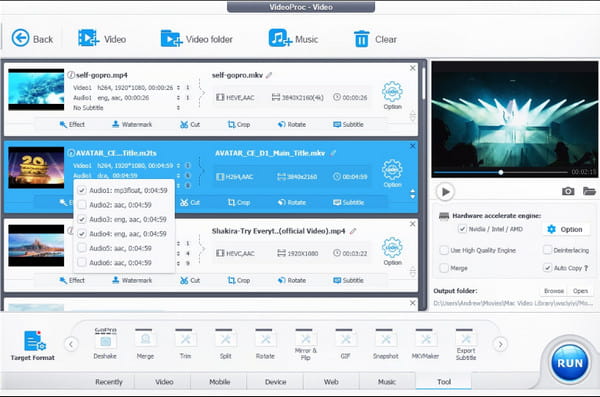 This tool is a video processing solution that helps to convert, resize, and edit video clips. It enables to optimization of the file size, as well as other settings like the quality and frame rate. Many users find VideoProc Converter to be a helpful 120FPS video converter, including freelancers, small businesses, and large enterprises.
Features:
Edit speed adjustment, stabilization, split, and merge files.
Built-in recorders for audio and video with an easy-to-use widget.
Support HD resolution for converting and changing frame rates.
Provide templates and effects for video editing.
4. FFmpeg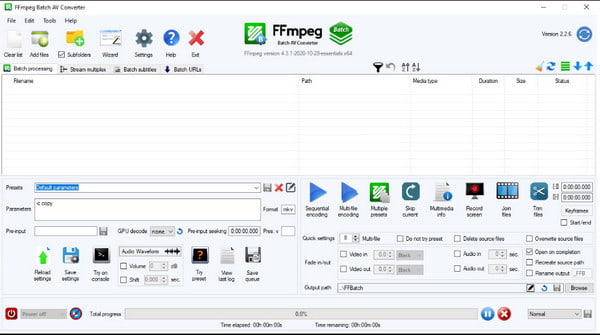 Another cross-platform 120FPS video converter that also streams media content like video and audio files. Many users claim that it is easy to use and offers multiple tools for editing. It includes transcoding, streaming, filtering, encoding, and many more. FFmpeg is one of the best-converting software that can be installed on Mac OS X, Windows, Solaris, and other operating systems.
Features:
Great flexibility over muxer, demuxer, processor, etc.
Provide essential tools to crop, cut, merge, and split.
Handle h.264, HEVC (h.265), MP3, AAC, and MPEG-4.
Support multiple streaming protocols like rtmp, http, and hls.
5. Adobe Premiere Pro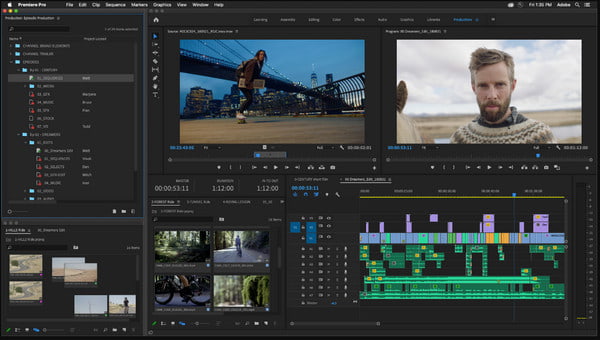 Whether you want to use a 120FPS video converter for filming or gaming, Adobe Premiere Pro can be your solution to increasing the frame rate. The video editor is a professional tool for editing video clips with stunning effects, filters, and elements. A one-stop solution for anything, but it has a difficult learning curve that takes some time to practice.
Features:
Export video clips with a 120 frame rate.
Provide a side-by-side preview of the original and output.
Create a multi-camera sequence to sync up videos.
Dynamic link with Adobe After effects.
6. Final Cut Pro X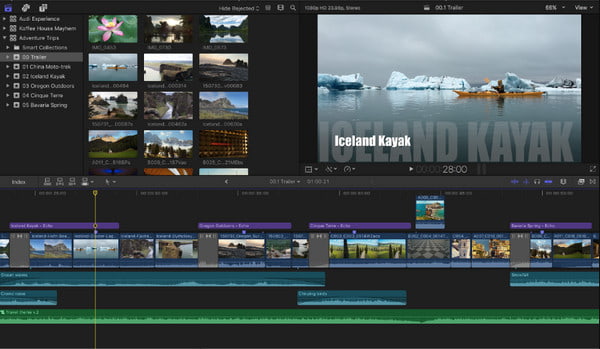 By providing abundant features with a straightforward interface, Final Cut Pro X can be your 120FPS video converter on Mac. It is the default tool for Apple devices, and many users like hobbyists, use it for professional video editing. The software comprises of motion tracker as well as a multicam editor for camera sequences.
Features:
Support editing 360-degree videos with color spaces.
Fast performance even for large file sizes.
A huge collection of organizing tools and effects.
Excellent auto-analysis for faces and settings.
7. DaVinci Resolve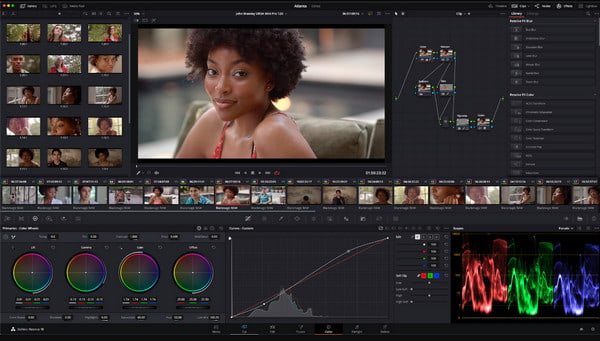 If you are looking for a professional video editor that includes keyframing and color grading, this 120FPS video converter is for you. DaVinci Resolve is commonly used by filmmakers that made it to Oscar and blockbuster awarding. It is a huge help in editing clips, so using it to increase the frame rate would not be a problem. Later, you can export the DaVinci Resolve project as MP4, MOV, and other popular formats. The desktop tool can be an innovative tool, but it has a considerable learning curve.
Features:
Precise controls with plenty of editing tools.
Provide motion graphics and an audio editor.
Enable to render performance smoothly.
The free version is robust for video editing.
8. PowerDirector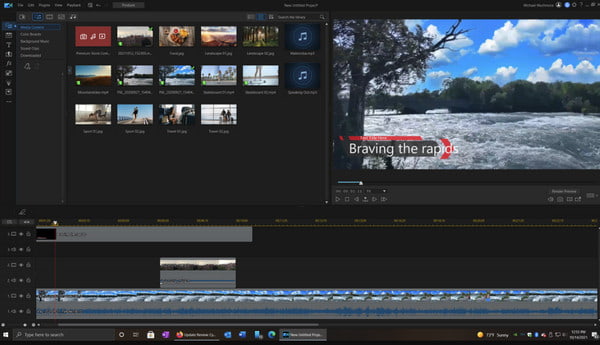 PowerDirector is a platform that you can use as a 120FPS video converter. It has an extended editing tool and includes loads of effects and AI functions. It enables you to edit other types of videos, such as 2D to the 3D converter, 360 VR content, and more. PowerDirector is available on many platforms, including Windows, Mac, Android, and iOS.
Features:
Clear interface with fast project render.
Export to video formats like H,265 (HEVC).
Duplicate object with AI Object Selection effects.
Precise functions to split, cut, and crop.
Part 2: FAQs about 120FPS Video Converter
How to choose a 120FPS video converter suitable for my videos?

A tool to increase the video frame rate can be good for videos. What considers to be best for clips are 60fps, 120fps, and 240fps. Editing the frame rate will help slow-motion footage to be high speed.

Which frame rate is good for posting videos online?

Using social platforms like YouTube, TikTok, Instagram, Facebook, Instagram, and Twitter, the suggested frame rate can be from 24fps to 60fps.

Does increasing the frame rate affect the video quality?

Yes. A high frame rate can improve video quality by reducing motion blur. However, quality can be edited through the video's resolution and output quality.
Conclusion
You can increase the video resolution and video's motion with all the recommended 120FPS video converters without distorting the quality. This concludes that you can avoid choppy playback and poor image quality with a higher frame rate. But for an easier conversion but a professional result, AnyRec Video Converter would be the best 120FPS video converter for Windows and Mac. Download the free version and experience robust video editing.
Related Articles