UpscalePics: Review and Alternatives You Should Consider
Images contain very special moments in one's life, whether it is an old or new one. UpscalePics is an AI-based image upscaler that lets users enhance and compress upscaled full-HD images. So, if you're looking for a tool that can resize an upscale at the same time, UpscalePics is here for you. However, it is essential to know first what you can expect with this upscaler before using it, including its pros and cons, features, etc. And the entire content is ready to help! In the following parts, you will learn more about UpscalePics and find out the best alternatives you can't miss.
UpscalePics Review After Using It to Upscale Pictures
The main benefit of using UpscalePics is the convenience it offers when you upscale images and get the highest possible results. It is one of the best image upscalers you can get today as you can increase resolution, compress images, and remove background — all you can do directly in one place.
You can expect a lot of great features with it, including Smart Compression, which makes it possible for you to compress upscaled HD images at any file size. The 300 DPI Print grade lets you create crisp prints every time. Compared to other image upscaler, UpscalePics enables users to specify their desired width and height for the image. Furthermore, it supports Bulk Processing, meaning you can upscale and edit photos from single or multiple folders and batch process all at once. There's no limit as well in compressing and upscaling photos, and it ensures users' complete privacy.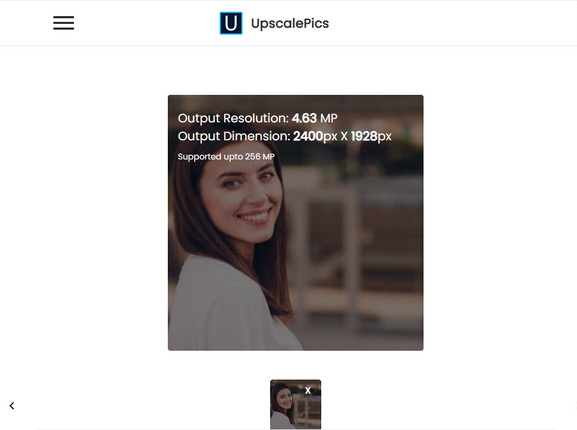 However, of course, there are instances when you need to upgrade to its premium version to enjoy all features thoroughly. You have to pay $3 per month for a limited offer. Meanwhile, it costs $5 per month in installments. Here are some things that differ between the free trial and the premium version. So you can make a quick decision before buying UpscalePics.
UpscalePics Free Trial:
Upscale images with watermarks.
Bulk processing.
Comes with no customer support.
UpscalePics Plus:
Upscale images with no watermarks.
Upscale up to 256 megapixels.
Specifies height and width.
Unlimited image compression.
Bulk image processing.
Has 24/7 customer support.
Removes JPEG artifact limitless.
Now that you know the difference between the trial and plus versions of UpscalePics, just like other upscalers, it also has pros and cons.
Pros

Quick and easy to use to upscale.
Can't access your images.
Batch processing of images.
Cons

Customer support sometimes responds.
Lots of features aren't available in the free trial.
5 Popular UpscalePics Alternatives
After knowing about UpscalePics, you may want to learn about other programs you can use as an alternative to it. Each will help you upscale your image according to your requirements; get to know all of them below.
1. AnyRec Free Image Upscaler Online
When looking for an alternative, try AnyRec AI Image Upscaler first. It comes with an intelligent AI that allows you to upscale images without reducing the quality. Furthermore, it detects all details, including the blurred ones, to be upscaled. Plus, it is never easy to find an online upscaler that offers no watermarks when exporting upscaled images, and AnyRec made it possible, unlike UpscalePics.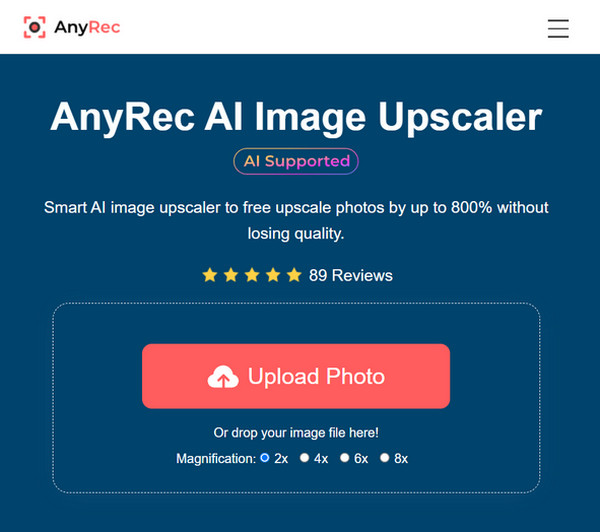 Upscale your images with four options, including 2x, 4x, 6x, and 8x.
Supports a wide range of formats, such as JPG, PNG, TIFF, and more.
Require no account registration and have no ads during the upscaling.
Have a magnifier tool to monitor all details in the real-time preview fully.
2. Reshade Image Enlarger
Reshade Image Enlarger lets users super-size and enhance images to ultra-high resolutions. You can do this without getting your photos blurred or losing every vital detail on this picture enhancer. Additionally, it has support for standard file formats, including PNG, JPEG, TIFF, etc. You can also rely on this UpscalePics alternative to edit and process multiple images, as it supports batch processing without compromising the quality. The drag-and-drop function of files is also supported.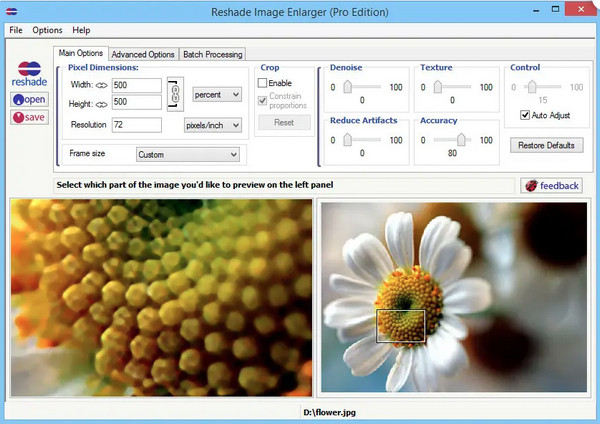 3. Gigapixel AI
Gigapixel AI is one of the suites of programs by Topaz Labs. It offers excellent functionality to enlarge photos beyond what you expected since there are tools that can't get close to enough. In addition, this UpscalePics alternative is mainly for enlarging images and designing Ai-based and machine-learning algorithms. It can improve the quality of old photos while preserving every bit of detail with its sharpness and reducing noise tools. And those tools can be used effortlessly without needing experience in editing photos.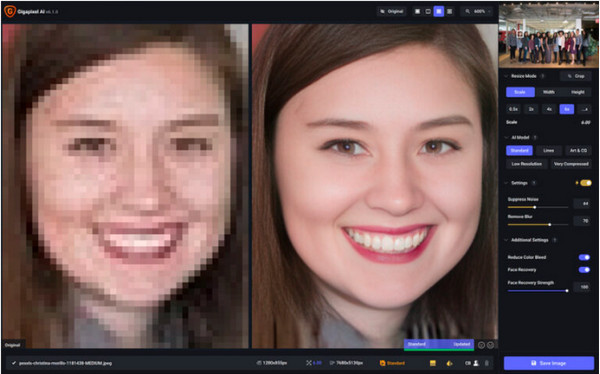 4. SmillaEnlarger
SmillaEnlarger is one friendly application that gets your photos larger while preserving the quality. With other tools, resizing photos, the image will lose quality, but it's not the case with SmillaEnlarger. Plus, it comes with resize options, reduces noise, and sharpens tools. It is one of your best options for a replacement to UpscalePics if you don't experience more complex options.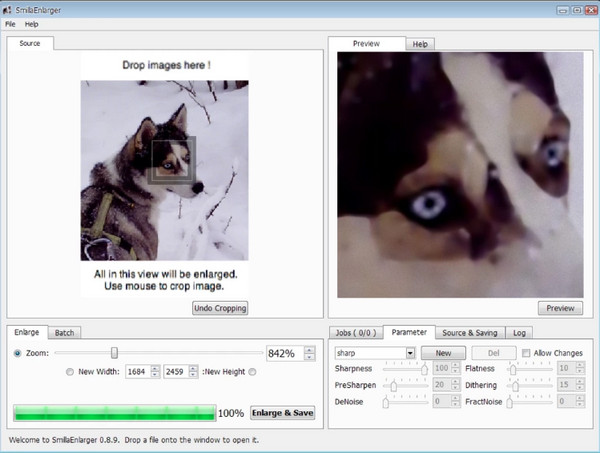 5. Super Photo Upscaler
Super Photo Upscaler is an image enhancement that smartly enlarges small images online from low-resolution to high-resolution. Its newest updated version intelligently unblurs images without losing any details, making them look more clear and more professional. Furthermore, this UpscalePics alternative supports batch processing of anime illustrations and images, letting you get all high-quality images in just one click.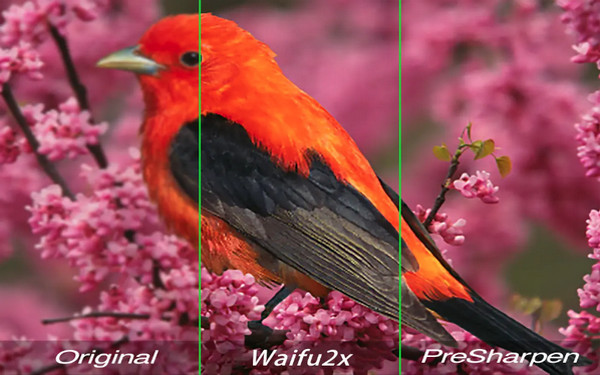 FAQs about UpscalePics
Can I instantly go for the Plus version of UpscalePics?

No. It is highly suggested to try first the free trial, wherein you can upscale images but with a watermark. There, you can check the quality first if it satisfies you. You can then purchase the Plus version to enjoy unlimited features.

Is upscaling with UpscalePics good?

Yes. Upscaling images are effective in UpscalePics as it enhances images without losing quality. And since it is an online tool, it saves time and upscale images with no hassle.

How does upscaling work in UpscalePics?

Go to its main site, or you can go directly to UpscalePics, then click the Upload blue button to browse the image you wish to upscale. Then, it will automatically upscale it and get it in no time.
Conclusion
That's all about UpscalePics! It is undoubtedly one great choice to upscale images online and even enlarge them without losing details. But, if you prefer other upscalers, you can consider using the alternatives mentioned in the post. One that stands out the most UpscalePics alternative is the AnyRec AI Image Upscaler. Nothing beats an online upscaler that is very convenient to upscale images with no watermarks and with the quality you desire. Go to its leading site now, and enjoy your upscaled images within a couple of clicks.
Related Articles: