TinyTake: An Honest Review of TinyTake Screen Recorder
TinyTake is a well-known tool for screen recording on Windows and Mac. It offers a screen recorder with a free form and a preliminary toolkit. With TinyTake specialties, clients and businesses take the app as an advantage. If you are interested in using it, this article will give you a complete insight into the screen recording software with features, pros, and cons. You can see whether TinyTake is worth using based on this review.
Part 1: Quick Brief of TinyTake
This part will elaborate on the screen recorder in a brief but detailed description. Since it is free, the most common questions are if it's safe or who should use it. You will see the answers by reading further.
What Is TinyTake
It is a screen capture program allowing users to take screenshots or capture onscreen content. In 2008, the tool was developed by MangoApps, to create a diverse workflow for different users in business, online vlogging, and school. It is known for its easy-to-use interface, where you can customize the recorder for full-screen or highlighted regions. Although a free tool, TinyTake offers a premium version to unlock more features.
Is TinyTake Safe to Use
Yes. The developers ensured the user's information was confidential using reasonable technical and organizational measures. They also mean securing personal details from accidental loss, unauthorized access, and alteration.
Who Should Use TinyTake
Anyone can use the screen recorder, including beginners, professionals, teachers, and students. It is also recommended for businesses and entrepreneurs since it produces high-quality results.
Part 2: Honest TinyTake Review
This part shall include the screen recording software's essential features, advantages, disadvantages, pricing, and performance for the complete review. Moreover, some highlighted reviews from others reviews are included here.
Starting Price: US$29.95/year
Supported Platforms: Windows, macOS
Key Features
Capture photos and videos on the screen with an optional selection of windows, screens, and areas.
Automatically generate URLs and compress recordings to share them on social media easily.
Built-in annotation features for real-time drawing during recording with text, shape, and numbers.
Provide free 2GB of online recording storage and 1TB when purchasing the premium membership.
Pros

capture onscreen activity with a single tap of a key.
Default shortcuts to access functions whenever needed.
Create GIFs out of images and videos in a matter of time.
Cons

Recording is limited to five minutes for the free plan.
Expensive plans which only unlock minimal features.
Users' Review of TinyTake
Here are some user reviews for a different look at the best screen recorder.
Haresh K.
"1. Excellent screen capture tools 2. Light loading and optimal use of computing resources 3. Integrates well with google drive and online storage sites 4. Ease of management of files created with the option to put in notes for each (for back reference). Image editing options are yet limited and could increase depth there. We use it mainly for screen capture, which works unfailingly well."
Jeremy B.
"I like how easy it is to capture images or videos of your screen by using TinyTake and its advanced features. I wish there were more capabilities, such as automatically uploading captured footage directly to various hosting sites. If you need an app for capturing video and image directly from your screen, this is a perfect option and probably one of the best in the industry."
Hazel B.
"When getting started with TinyTake, I was required to create an account which I did, and the process was fast. With this screen recorder, I can capture only a part of my screen or all of it, depending on what I'm trying to capture. TinyTake is not only a screen capture tool but also an annotation tool; adding annotations to captures is easy; this normally helps make my captures understandable to those I'm going to share them with. It is the best tool to make video presentation if you need to record your screen. The free version is minimal, it does not have annotations, but with the premium version, you get your money's worth."
Part 3: Need to Be Satisfied with TinyTake? Try This One
AnyRec Screen Recorder is a professional TinyTake alternative for screen recording. It has an intuitive interface that catches online activities in any setting. Unlike TinyTake, this screen recorder has a more flexible setting for the output, such as the video format, codec, and audio settings. It also offers excellent resolution options for high-definition records up to 1080p and 4K. AnyRec is available to download for free on Windows and macOS.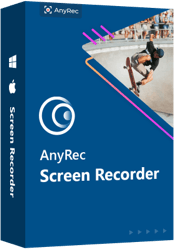 AnyRec Screen Recorder
An outstanding solution for gameplay, webinar, and lecture recordings.
Equipped with the latest AI technology to save videos in the best quality.
Take screenshots during recording and save them in popular formats.
Support higher definition with a configurable frame rate of up to 60FPS.
Step 1.Run AnyRec Screen Recorder after the installation. Click the Video Recorder button from the main menu.

Step 2.Set the screen capture area based on your need. Later, you can turn on System Sound, Microphone, and Webcam to record screen video with audio and your face freely.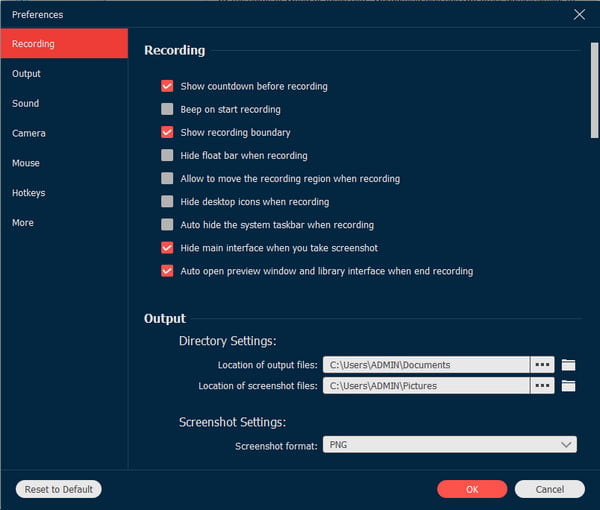 Step 3.Click the REC button to start recording. The widget menu provides essential controls. You can preview and trim it, then click the Save button to export the clip.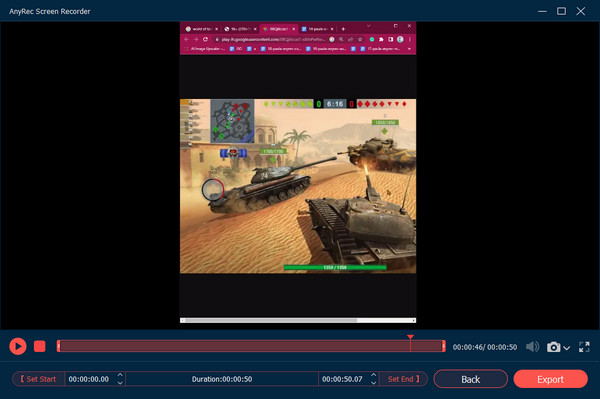 Part 4: FAQs about TinyTake
1. Does TinyTake have an audio recorder?

Yes. It has three ways to capture audio on your computer. It also lets you record narration by connecting a microphone to the computer. With the microphone plugged in, your device's sound and voice will be recorded automatically.

2. What is the limited time using the screen recorder?

With TinyTake's free version, you can capture online activities for up to five minutes. Unless you buy the premium version, recording can be unlimited and support long video duration.

3. Is TinyTake downloadable on Android and iOS?

3. Is TinyTake downloadable on Android and iOS? Unfortunately, the screen recorder is yet to launch a mobile version. If you want the same solution, the recommended apps are XRecorder, AZ Recorder, Mobizen Screen Recorder, etc. These tools are available to download from Google Play and App Store.
Conclusion
A screen recorder is one of the essentials for online content, and TinyTake captures many people with its unique features. This post taught you the best features, pricing plans, pros, and cons about TinyTake Screen Recorder. If you are unsatisfied with its performance, an alternative like AnyRec Screen Recorder is best to consider. See more of its powerful tools by trying the software on Windows and macOS.
Related Articles