MakeMKV Review: Can It Be Your Best DVD and Blu-ray Ripper
MakeMKV is the recommended tool to convert Blu-ray discs and DVDs. it is well-known as the gold standard ripper, and it helps users to convert videos to MKV easily. Meanwhile, you can find more about this tool in this article, as it talks about the full details, pricing, and features of MakeMKV. Moreover, you can also use this reference for other tool alternatives.
Brief Introduction to MakeMKV
The tool is a frill-free ripper you can download on Windows, Linux, and Mac. It is also in public beta, allowing users to use it for free. But keep in mind that it may change in the future, as the developers suggest making the Blu-ray decryption a paid feature. This is still unsure, so for now, there is no restriction in the tool. Most users love its way of keeping the disc's metadata, including track titles, languages, chapters, and so on.
MakeMKV is a suitable tool for most platforms, especially Windows, as it does not come with a built-in DVD ripper. Although the solution only offers straightforward features, it is certainly a tool to look forward to an easy ripping process.
A User Verdict of MakeMKV
The tool has MKV as its sole output format. The container is also known as the Matroska Multimedia, derived from the Russian doll, Matryoshka. Unlike other formats, MKV is royalty-free, open-source, and non-profit. It contains H.264, which Windows support without additional software needed. With that said, the DVD Ripper is focused on converting discs to digital MKV files. Other than this, the list of features, pros, and cons is below.
Features:
Straightforward interface for ease of use.
Work with ISO files saved on a PC.
Support DVD, Blu-ray, and the defunct HD-DVD format.
Get regular updates on the overall process.
Pros

Deliver excellent results.
Excellent and quick process.
Cons

Does not support GPU acceleration.
Does not automatically compress videos.
Top 5 MakeMKV Alternatives on Windows/Mac
The software offers not much, and you can only expect large files after ripping your DVDs. If you want to compress videos automatically, here are some recommended alternatives for Windows and Mac.
1. AnyRec DVD Creator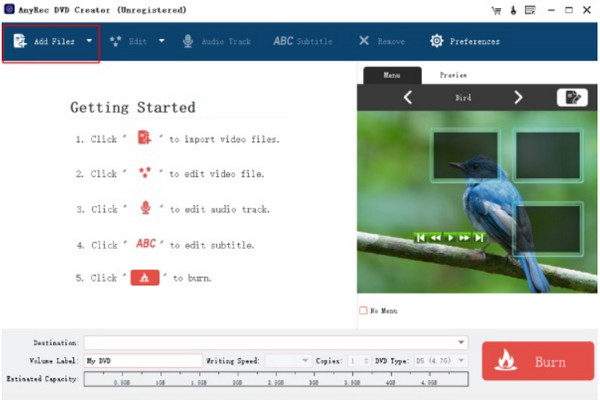 AnyRec DVD Creator is the perfect solution for DVD ripping. AnyRec DVD Creator allows you to personalize DVDs with outstanding video menu templates. Unlike MakeMKV, this alternative supports video formats like FLV, SWF, MPEG, MP4, and more. It also works well for various video sources, like camcorders, cameras, mobile devices, and other digital devices. The best of this tool is that you can expect higher quality and fast-speed process.
2. Handbrake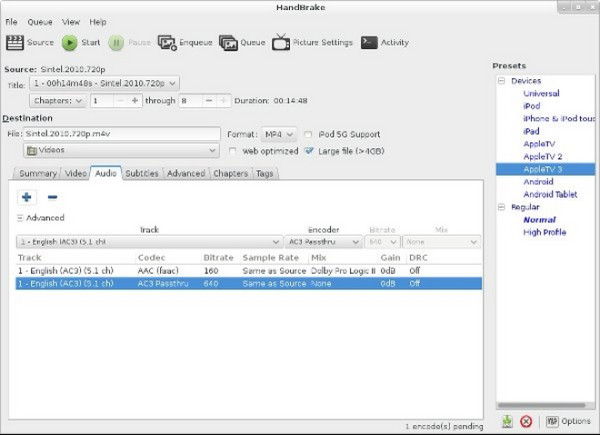 It is a cross-platform tool with an outstanding Blu-ray ripping algorithm. It has flexible output options to pick specific formats, codecs, and other settings. You can use it to rip unencrypted Blu-ray files and compress them effortlessly. The only drawback with Handbrake is it does not support encryption, so it is only ideal for commercial Blu-ray discs.
Compress videos while maintaining quality.
Add and remove subtitles.
Enable adjustment for audio settings.
Options for cropping and merging videos.
3. VLC Media Player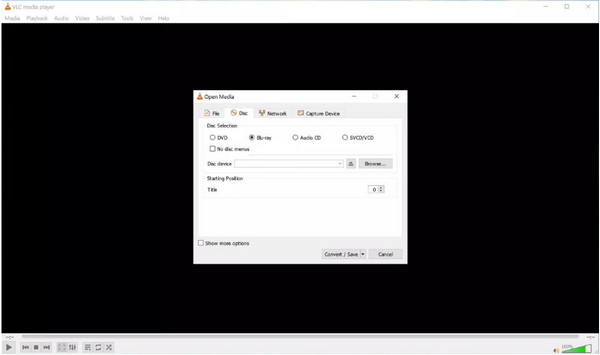 Although it is known as a media player, VLC is an actual hidden gem with a converter, compressor, and DVD ripper. It has no barrier to entry, with open source and professional systems. Meanwhile, ripping DVD with VLC comes with a challenging setup, so you have to watch a tutorial or do research.
Support unique video formats.
Advanced controls for subtitles and audio filters.
Feature hardware decoding for most systems.
Safe from ads, user tracking, and spyware.
4. WinX DVD Ripper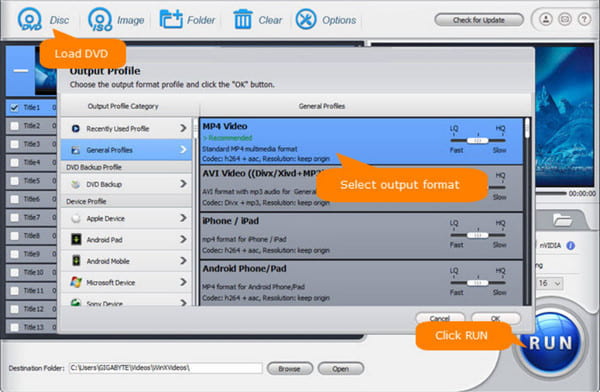 This MakeMKV alternative assists in the conversion of DVDs to digital formats. It is a free program for Windows and Mac, with a default editor for archiving, editing, and backing up data. Since it supports a wide range of formats, you can turn DVD or ISO files into MP4, MOV, WMV, and more.
Support old and new DVDs.
Minimal CPU consumption.
GPU acceleration powered by Intel, NVIDIA, etc.
Support preloaded profiles like iOS, Android, and other devices.
5. CloneBD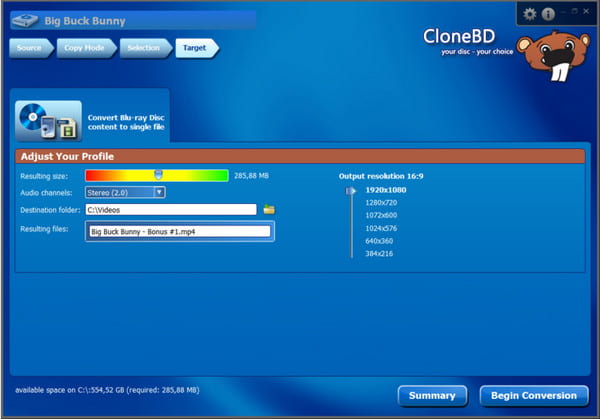 CloneBD is a recommended alternative because of its simplicity. Yet, it is packed with output options. It allows users to copy unprotected Blu-ray files to a hard drive or a blank disc. And because of its ease of use, CloneBD does not require a third-party driver for a fast and high-compression rip.
Completely copy of Blu-ray in 1:1.
Copy subtitles, audio languages, etc.
Support multi-core CPUs and hardware acceleration.
Compress BD-50, BD-9, or BD 5.
FAQs about MakeMKV
What is the best way to rip copyrighted DVDs and Blu-ray?

You can choose a professional DVD ripper to rip protected DVDs. The recommended ones are AnyRec DVD Creator and WinX DVD Ripper. However, keep in mind that it is illegal to rip copyrighted discs unless you only need it as a digital copy.

What is the best output format aside from MKV?

Aside from MKV, which MakeMKV fully supports, you can also choose MP4 when converting DVD or Blu-ray. The video format is universally supported while maintaining the original quality. You can also choose AVI as it can keep H.264, AAC, and MPEG-2 without an issue. Still, it is a large file than the first format.

What is the maximum time to rip a DVD?

Ripping a DVD or Blu-ray depends on the hardware system and the tool you use. Usually, the process takes more than half an hour to rip a DVD, even for MakeMKV. But professional tools are more capable of finishing it within five to ten minutes.

Which format is best to store and play digital movies?

A lossless DVD copy is best as MPEG2 to back up the main or full title. It also keeps the original audio tracks and video. Meanwhile, it is best to choose H.264 for high-quality movie playback, as it balances the image quality and file size.

Is MakeMKV workable offline?

Yes. You can use the tool to rip DVDs and Blu-ray without an internet connection. The only exception is a disk with BD+ encryption, as it is unsupported offline yet by the DVD ripper.
Conclusion
This post evaluated MakeMKV and its features, along with pros and cons, to see its whole purpose. On the other hand, five alternatives to MakeMKV are also included to rip Blu-ray and DVDs to convert other formats aside from MKV. The best to try first is AnyRec DVD Creator to process videos and enjoy home entertainment easily.
Related Articles