Review of Freemake Video Converter: Pros, Cons, Alternatives
Converting video files into different formats may seem complicated, but if you have an outstanding converter, you will deliver the process effortlessly. The Freemake Video Converter is one of those converters in today's age that deals with different file types and converts files into a particular format. However, it works more than that; it has a lot to offer and downsides, so today, we will share a Freemake Video Converter review and its alternative. Dive through now!
Part 1. Brief Overview of Freemake Video Converter
Let us start with a brief introduction to Freemake Video Converter. What is the program all about? What can you expect about it? As the name hints, the program is a converter but can simultaneously work as your video editor. Besides converting and editing videos, it can also convert audio and image files and rip videos from DVDs. One of the best free converters, it comes with many output formats, like MP4, WMV, AVI, etc.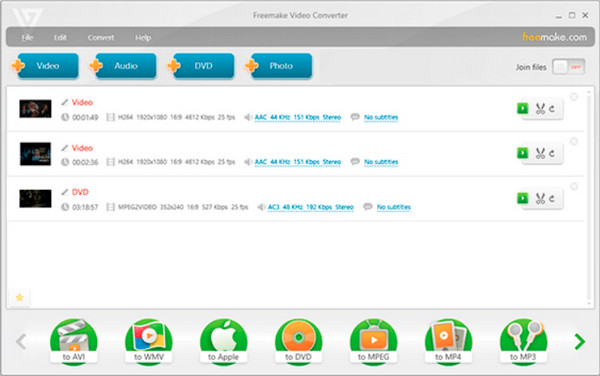 Expect that when you first use the Freemake Video Converter, some features need to be made available. But you can still convert with no problem by importing the file from your PC and selecting the proper format at the bottom menu list. You will then be choosing hardly any settings to get your desired quality, with adjustable options like frame and sample rate, video and audio codecs, and bitrate. Now, what's next? To learn more about this program and meet your satisfaction, let us dive into the Freemake Video Converter review.
Part 2. Honest Review of Freemake Video Converter
To help you get a broad knowledge about Freemake Video Converter, let's discuss the advantages you can get and the drawbacks of the program as well. Like any other software, users would find many benefits and faults in this application, and we're here to help.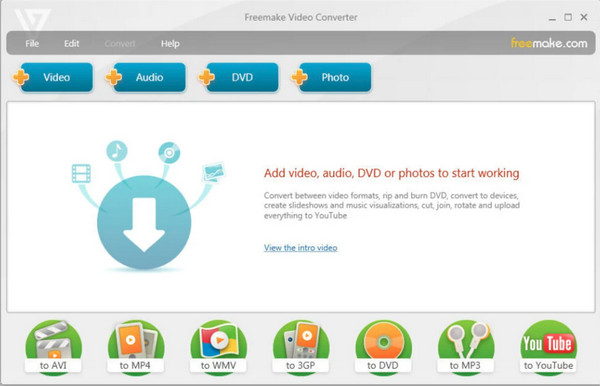 Pros:
A wide range of files can be converted for 40 seconds up to one minute, saving you time. Besides the mentioned supported file types, you can never imagine how it can customize each setting and has preset alongside features designed mainly for devices. We also discovered that before converting a file, you could use the Freemake Video Converter's built-in editor to delete unnecessary parts — no need to install another editing software. You can cut, join, and rotate video files. What's more to it is that its slideshow feature is one of the best, alongside the advanced subtitle editing, making this an all-in-one solution for you.
Cons:
On the other hand, while having the best experience with Freemake Video Converter, you can still find complaints on the Internet, and you might also experience these. As said above, it can rip DVD to MP4; however, the time that will consume ripping one will take up to 30 minutes, and it is a one-hour-long video. So, how about the more extensive DVD? It will sure eat up lots of your time.
In addition, its pro version can be confusing and a bit pricey, but you would need to learn about what packs you must purchase to get the feature you need. Plus, you will be needed to purchase the pro one even if you don't have to since it comes with a watermark, and it would be possible to remove it unless you pay for it. And unfortunately, getting Freemake Video Converter eats up too much storage space on your PCs, but as for the features it has, it is worth using.
Pros

Supports a wide range of formats
Can burn and rip DVDs
Allows users to merge files
Capable of adding subtitles
Downloads and converter videos from online
Cons

Slow conversion speed
It updates unusually
Contains watermarks in the free version
Requires users to purchase
Users' Review:
Freemake Video Converter is one of the best video converters and editors you will encounter today. It is an all-in-one solution as it offers tools to convert, rip, and edit videos. But, the free version should have fewer limitations to give us not the best but enjoyable experience even without purchasing the pro one. And we would like to see improvements in ripping and converting videos fast. Despite that, the converter is very effective and among the best available today.
Part 3. The Best Alternative to Freemake Video Converter
Overall, Freemake Video Converter can be your best selection when it comes to converting files, but to have another one in mind that is also capable of converting and editing is essential to fill up the downside of the said program. For this reason, AnyRec Video Converter comes in! You can convert files into more than overdo, audio, and image formats. Since Freemake Video Converter needs a few more options to make it perfect for all your requirements, AnyRec is there to fill it up, as it has more toolkits in its Toolbox and also comes with a built-in video editor.
What's more, it can convert files at 30x to 50x faster, in contrast with Freemake. You would not spend time waiting for the results, even if you convert large files in bulk. And while converting quickly, you can still guarantee that it keeps the original video quality. Apart from the great features mentioned, you will have no problem with watermarks, even using the program's free version.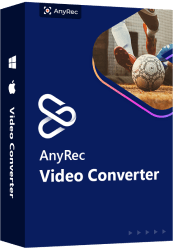 AnyRec Video Converter
Have a real-time preview window to check the video before converting.
Adjust video and audio settings to maintain quality are supported.
Supports batch conversion at 50x faster speed, saving lots of time.
Converts and upscaled videos top 480p, 720p, 1080p, 4K up to 8K.
Part 4. FAQs about Freemake Video Converter
Is Freemake Video Converter safe to use?

Yes. As per its users, it has been proven free of viruses, malware, or other unwanted applications that may corrupt your PC. It is simple to get and install software; ensure the program's latest version.

How much is the Freemake Video Converter Pro version?

Getting the premium version costs $39.95 per month for a monthly subscription, while for a one-time payment and lifetime usage, the said program costs $59.95.

Is Freemake Video Converter cracking corrupt PC?

No. Once you download cracked software, there will be malware inside that can affect your PC. Every crack program, not just Freemake Video Converter, has a risk of putting your PC into worse problems.
Conclusion
To conclude, Freemake Video Converter is among the best options for converting files and provides a bonus for editing videos. You can try it out now for yourself. But, although the overall Freemake Video Converter review has shown how good the said program is despite the disadvantages, it's nice to have a better one like AnyRec Video Converter. The program provides much faster speed, output formats, features, and more appealing options for all users. You can get your version now for Windows and Mac.
Related Articles