264 File Converter: Convert H264 to MP4 on PC/Online/Phone
The need to searh for H264 to MP4 fileconverter arises when you are unable to play those files on portable devices and players. It is true that the container of 264 can be MP4, but besides it, H.264 videos can also be in MKV, AVI, MOV, and other formats, which are not widely compatible. Furthermore, H.264 file is large, so it takes up much space. Thus, to play your H.264 file with no problem, converting H264 to MP4 is the best solution. In this case, you will need reliable programs to help, which is what the entire content provides. Keep on scrolling
3 Best 264 File Converters to MP4 H.265/MPEG-4 [Windows/Mac]
From the above mentioned information, you will need a reliable program to work as your H264 file converter effectively. With 264, compatibility issues might arise when you play it with some players. That is why you are required to convert it to MP4; with several tools available, this part will give you the best three programs. Now, all you have to do is to make the best selection!
It would be best if you didn't forget about AnyRec Video Converter when you list the best file converters that can assist you with converting H264 to MP4. It is the kind of program that simplifies converting videos into more than 1000 formats. Do you have many H.264 to convert? It is not a problem with this converter since it supports batch conversion of videos as well as audio files at a 50x faster speed; no need to wait for a long time for the results. Furthermore, you can rely on this for editing videos with the built-in editor it provides in the Converter tab. This way, you can make edits to your video files before exporting them to a new format.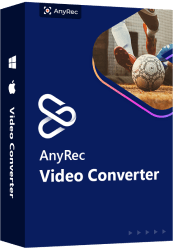 AnyRec Video Converter
Supports converting to other video formats without affecting the H.264 codec.
Able to batch convert 264 files quickly, letting you export them all at once.
The customized resolution, quality, etc., are served in each video format you choose.
Offer no size limit in the conversion process and has a 50x faster speed.
Step 1.After launching this H.264 file converter, go to the "Converter" tab, then add your H.264 file by clicking the "Add Files" button. Or, drag and drop it into the program's main screen.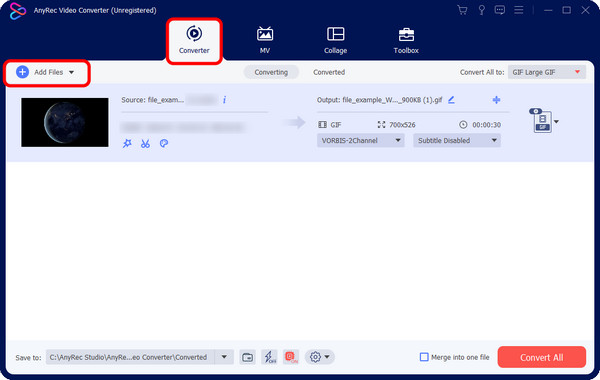 Step 2.Navigate to the "Convert All to" menu, where you will be presented with "Video" and "Audio" Formats and the "Device" Presets. Click the "Video" section, and locate "MP4"; choose one with your desired resolution.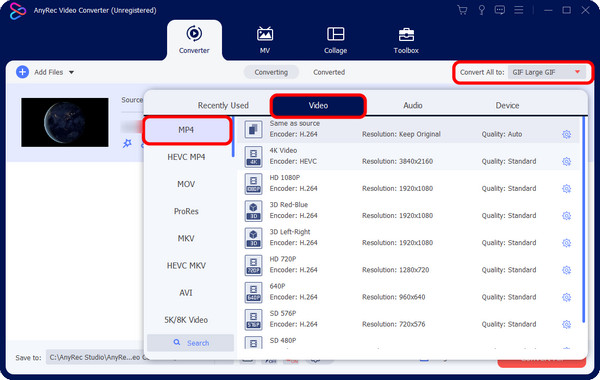 You have the option to customize it by ticking the "Custom Profile" button with a "Gear" icon. From there, you can adjust the "Frame Rate," "Resolution," "Quality," etc. Click "Create New" if satisfied with this 264 file converter.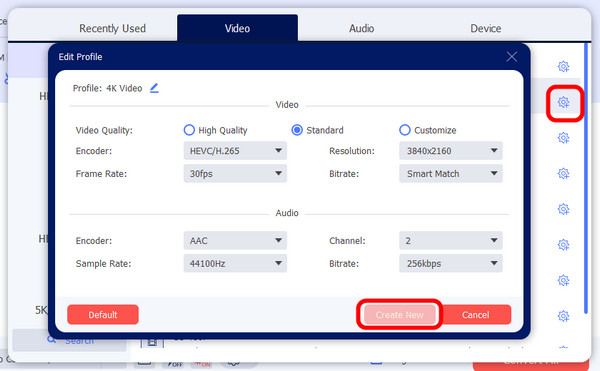 Step 3.Once done, you can set a file name and destination before clicking the "Convert All" button. If you have many files, tick the "Merge into one file" to save them in one folder.
2. VLC Media Player
Besides being a multimedia player today, VLC covers conversion as well. It is a free media player, open for multiple operating systems, like Windows, Mac, Linux, and others. With this 264 file converter, you can convert H264 to MP4 and other formats, like AVI, MOV, FLV, and more. Since most computers today have VLC installed, this is indeed one of the best selections for playing several video and audio files and doing a file conversion.
Step 1.On its main screen, click "Media" from the above menu.
Step 2.Select the "Convert/Save" option.
Step 3.Click the "Add" button to browse your H264 file, and click the "Convert/Save" option again. Navigate to the "Profile" menu list to select "MP4" as your output format.
Step 4.Set the file destination, then under the "Destination."
Step 5.Click "Start" to convert the H.264 video file to MP4.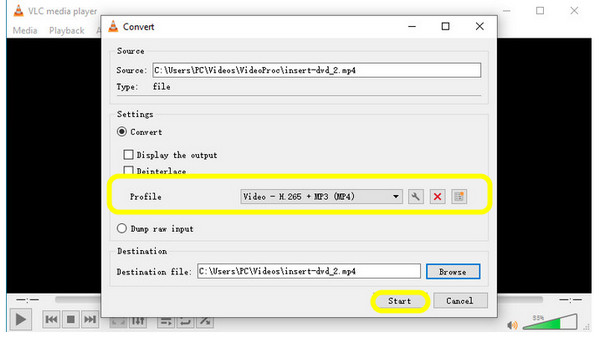 3. Handbrake
The Handbrake is another reliable H.264 file converter that also works with DVD or Blu-ray discs. It comes with several device presets that many others don't support. Using this Windows, Mac, and Linux software, you are allowed to customize many parameters, including the ones for filters, audio, videos, subtitles, etc. Although it is limited in terms of the conversion format, MP4 and MKV, it is undoubtedly one of the best converters for beginners.
Here's how to convert with Handbrake:
Step 1.Click the "Open Source" button to upload H.264 files into the main interface.
Step 2.Navigate then to the "Format" to select "MP4."
Step 3.Optionally, head to the "Video" tab to adjust other settings, where you can select "H265" as the encoder.
Step 4.Click "Browse" at the bottom right corner to select the location.
Step 5.Click the "Start" button at the top to convert H264 files to MP4.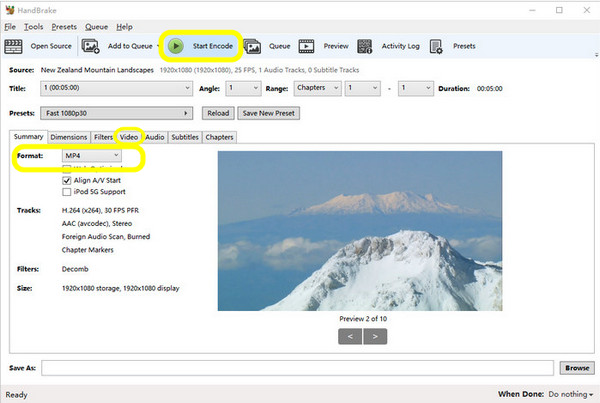 Top 5 H.264 File Converters to Transfer H.264 Codec Online for Free
After those three programs, this post wouldn't forget about the online converters. Aside from being a free file converter, expect flaws about them, including the risk of security issues, aren't capable of converting large files, requiring an Internet connection, and having limited advanced features. But they are doing their best work on the other side of the door. See below the best five H.264 to MP4 file converters worth trying.
1. Zamzar
Zamzar is an online 264 file converter trusted by millions of users in terms of the conversion process of their files. Besides H264 to MP4, it supports MKV, MOV, F4V, MOD, and other formats for audio, image, documents, etc. In addition, you can quickly get your converted file with just three simple steps with no problem.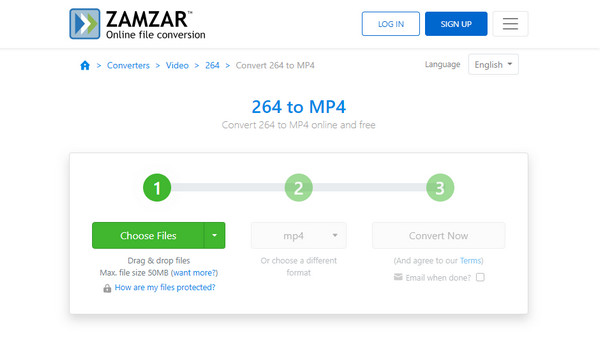 2. Convertio
Convertio is another online 264 file converter popular among users who prefer to convert online. It covers H264 to MP4 conversion and other formats, including MKV, AVI, 3GP, and others. Once you're on its main page, you will immediately see some information about the AVC or H264 files and MP4. Plus, you can also customize video parameters in the Settings.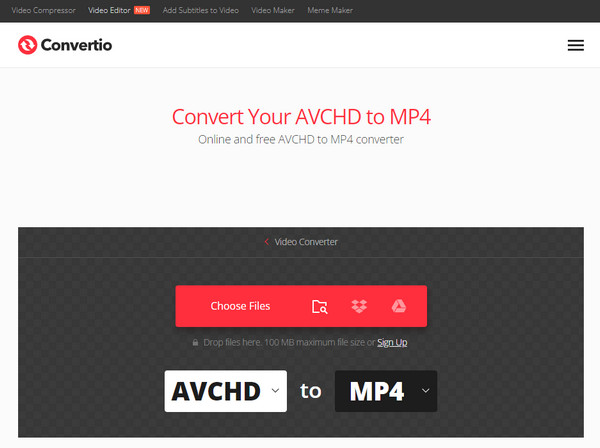 3. Media.io
Search for Media.io if you want a H.264 file converter that offers a less hassle conversion experience. Aside from converting video files, like H264 to MP4, it supports image and audio file formats. It accommodates cloud services, such as Dropbox and Google Drive, for importing your files. Additionally, it supports batch conversion, meaning you can add multiple files and convert them simultaneously.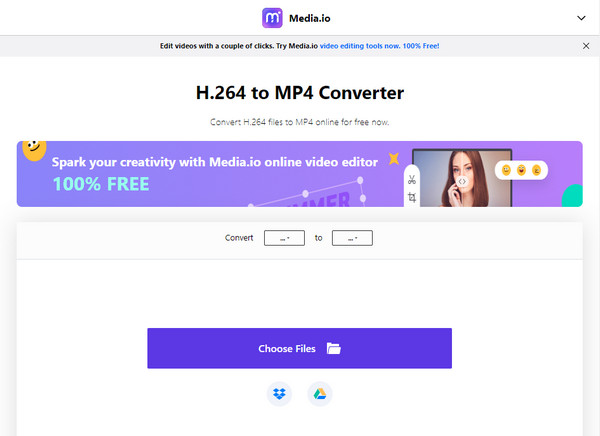 4. AnyConv
Another friendly user online H.264 file converter, AnyConv, provides a simple process of converting H264 to MP4 and other file conversion, like AVI, FLAC, JPEG, GIF, and more than 400 formats. Additionally, it guarantees your safety here since all uploaded files are removed after the conversion process; you are the only one with access to it.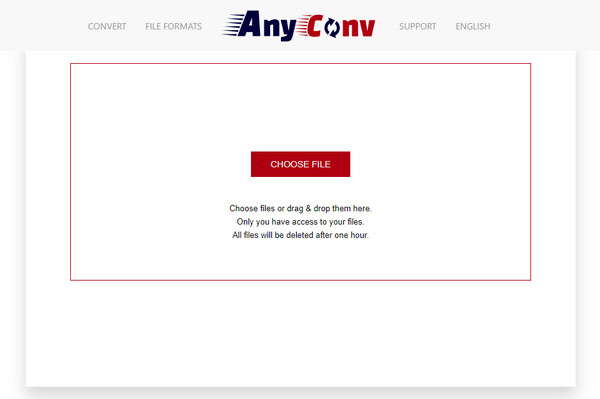 5. MiConv
Finally, MiConv is an online file converter that can be your go-to tool to convert H.264 to MP4 and other formats. Your time here won't be wasted as the conversion process doesn't take longer than 2 minutes; it goes the same with documents, audio, images, and other file formats. Moreover, all files are securely stored in the cloud.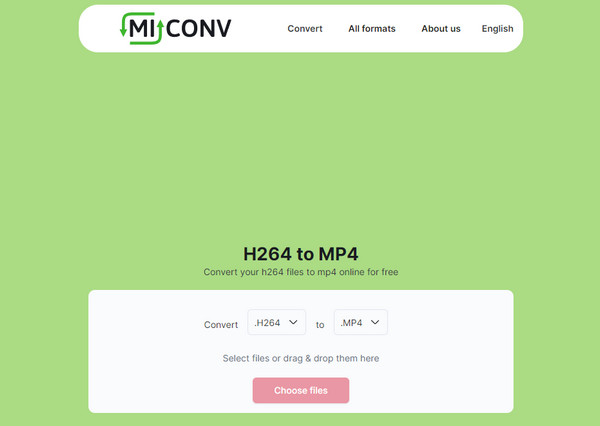 2 Easy-to-use H.264 File Converters on Android/iPhone
Before ending this post, you might as well know the two applications for iPhone and Android devices to convert H264 to MP4 quickly.
Media Converter
It is an open-source 264 file converter for Android devices that supports converting all formats, like MP4, AVI, WAV, and others. It is a type of FFmpeg build video converter. With it, you can adjust the video parameters, make basic edits, like cropping and rotation, and even create your ringtone using the extract audio feature.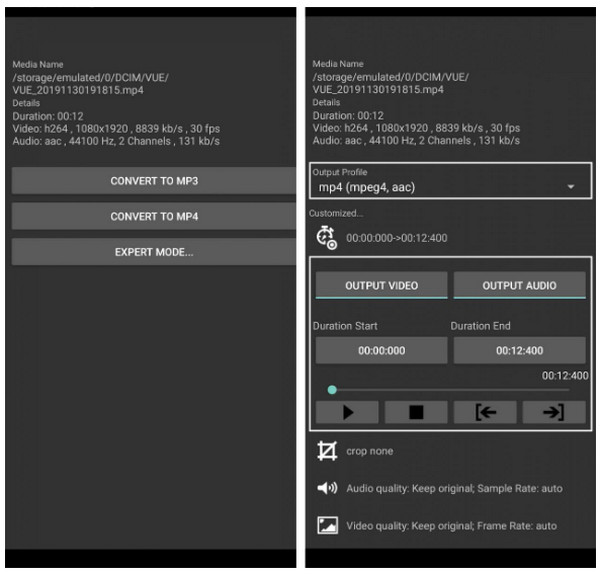 Pros

User-friendly for all types of skills.
Multiple formats are supported.
Able to adjust video settings.
Cons

The preview of the video won't work.
Output only provides audio sometimes.
Not an appealing user interface.
The Video Converter
A perfect 264 file converter and video compressor app for iPhone is the Video Converter app. The conversion process is done on a secured cloud service, letting you save battery with the fastest procedure it provides. Aside from the MP4 format, it has support for AVI, FLAC, WAV, MOV, GIF, etc. It also saves your previous files on its built-in browser, which you are the only person who can access.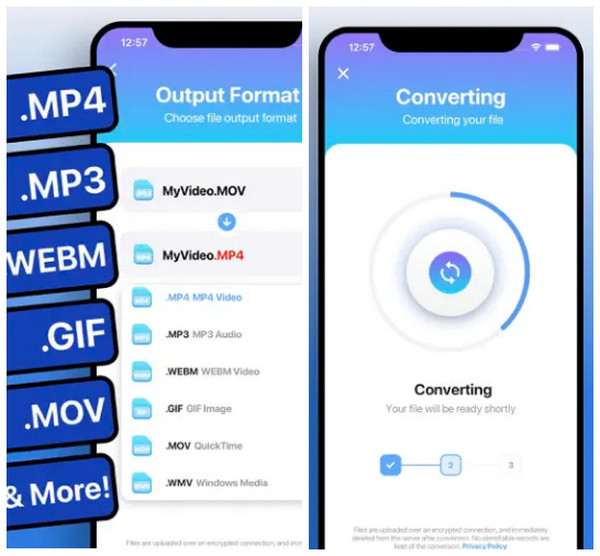 Pros

All files will be deleted immediately.
Added support for local conversions.
Support Airdrop transfer instantly to other iOS devices.
Cons

The importing process takes time.
Glitche are often happening.
FAQs about the Best 264 File Converter on All Devices
Why convert H.264 to MP4 H.265?

Besides the MP4, the H.264 is more used to encode in formats like AVI, MOV, and others that aren't widely compatible with several devices and players. In this case, MP4 H.265 comes in as it offers better visual quality and is compatible working to players.

What are the limitations offered by the MiConv?

Although the website effectively converts many file formats, you can only convert up to 120 files in an hour, but it is a reasonable limit to ensure a stable operation. Plus, 75MB is the max file size you can import.

Does Zamzar offer no size limit as your online H.264 file converter?

No. Zamzar does have a maximum file size limit o up to 50MB. But, for some formats, like PDF, DOCX, DOC, MP3, etc., you can only upload up to 5MB.

Can I use AnyConv on a mobile device to convert H.264?

Yes! You can use the online tool on your phones, including Android and iPhone, as long as you use a web browser.

Is the Convertio completely free to convert files?

No. The only free Convertio offers a 100MB file size for each; the conversion in 24 hours is up to 10 files only. If you want to exceed these limitations, you will have to purchase its premium plans.
Conclusion
With the descriptions of each H264 to MP4 file converter, you can make an excellent choice in converting H264 to MP4, whether you want an online tool, a program, or an app for mobile devices; each file converter will give you what you need. But, for a straightforward process and more actions you can do, always go to AnyRec Video Converter. A program that can be your best video converter and editor at the same time! With that said, download it now and explore its fun features.
Related Articles