BDMV: What It Is and How to Play BDMV Files with Ease
Have you encountered errors while trying to play BDMV files on your computer? Even with the help of a multiformat-supported media player like VLC, some users say it didn't open the BDMV files properly. It could be a tweak of the media player's settings, but you can learn more about the file in this article. Moreover, the best-recommended alternatives are posted here.
Part 1: What Are BDMV Files
A file with this extension is associated with Blu-ray movie information. It keeps information in a folder, full details of the optical disk. Mostly, it has more content to contain, piling of descriptive files, which makes the process more confusing on the computer. Unsurprisingly, this type of file cannot play on a regular media player, as it cannot take control of its details, such as chapters, original titles, audio tracks, and so on. Besides these, you will find various information about the extension, including index .bdmv for the Blu-ray directory, sound.bdmv for the movie sounds, and movieobject.bdmv movie objects data.
Now, the question is, 'How to open a BDMV file?' Some programs use the file extension for various purposes, so it is essential to know about the format of your file and try different solutions. For an excellent experience, the next part will recommend a professional Blu-ray player.
Part 2: The Best Player to Watch BDMV Files
AnyRec Blu-ray Player is an intelligent media player for all Blu-ray folders, discs, and other files. It is designed to support 4K UHD and 1080p for commercial and homemade content. This player's lossless playback is much favored as it can play 720 without losing the original audiovisual effects. Download the best Blu-ray tool to watch UHD videos on Windows and Mac.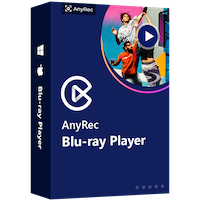 AnyRec Blu-ray Player
Play BDMV files with 4K, 1080p, and 720p and quality audio.
Built-in video effects like contrast, brightness, and saturation.
Compatible with various formats such as MP4, VOB, MKV, etc.
Take a quick screenshot while watching a movie with a built-in tool.
Step 1.Download and install the media player on your device. Click the Open File button to upload a BDMV file. After browsing for the folder, click the Open button to confirm importing.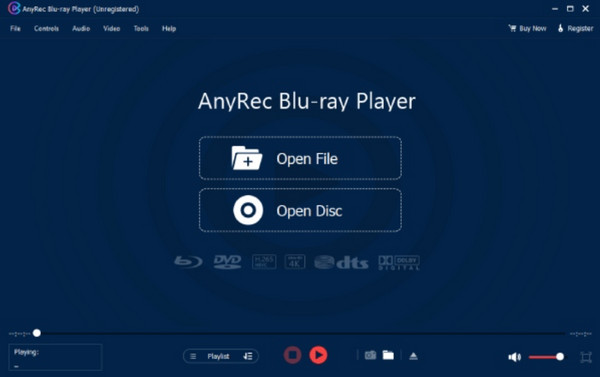 Step 2.The video will play automatically once uploaded to the media player. Suppose more videos are in the folder; click the Playlist button to switch to another content.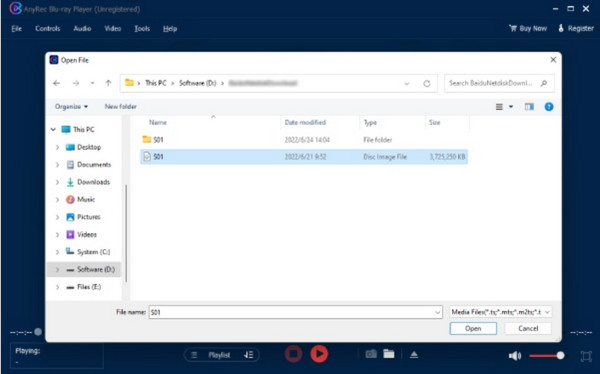 Step 3.Open the Controls menu from the top. There, you can choose or switch to a new title or chapter. You can also control the audio volume in this menu.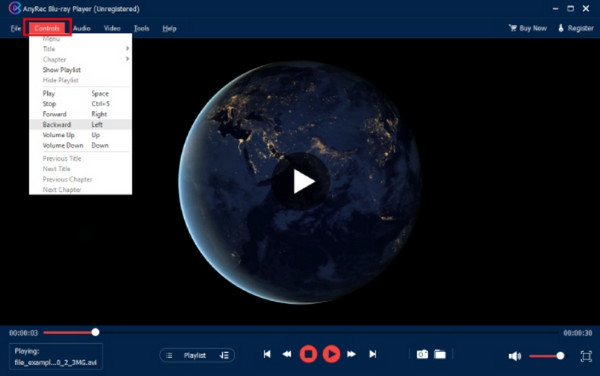 Step 4.Go to the Preferences window for other functions. Click the Tools button to find the effects, where you can change the video's contrast, brightness, gamma, and saturation.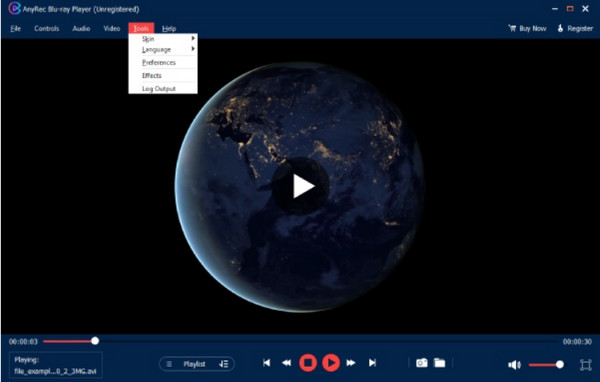 Part 3: How to Play BDMV Folder on VLC
As one of the famous media players, VLC takes individual files and opens them instantly. You can even rip DVDs on VLC. So, playing BDMV with VLC is fine. But since the report of unplayable files with the player, this part will show how to use VLC for Blu-ray files. Fortunately, you only need to tweak some media player settings and make it possible to play any video type.
Step 1.Download the latest version of VLC Media Player on your computer. While waiting for the installation to finish, go to the WhoKnowsMyNam website to download the AACS DYNAMIC LIBRARY database.
Step 2.Navigate to the C: Usersyour usernameAppData. If you can't find the file, enable it from the Folder Options. Click the View button, and turn on Show hidden files and folders from the options. Click the OK button to confirm the changes
Step 3.Create a new folder in the App data and paste the download KEYDB.cfg. After that, install the AACS and visit the C drive. Find the Video LAN > VLC from the program files and paste the library into the folder. Finally, run the media player, and play the BDMV file.
Part 4: FAQs about BDMV
1. How to open and play BDMV on a Mac device?

Since QuickTime Media Player does not support the file format, it is recommended to use a third-party app. In this case, you can try a media player dedicated to Mac: Mac Blu-ray Player or AnyRec Blu-ray Player.

2. What contains a BDMV file?

The file has content with a filename and directory location. But you can also find the index.bdmv, which describes the content and is usually stored in the BDMV and BDMV/BACKUP directories. Meanwhile, MovieObject.bdmv is for one or more movies in the same directories. Sound.bdmv is an optional file related to HDMV Interactive Graphic Streams apps.

3. Can a BDMV file be converted to play on Windows or Mac?

To convert this file to a new format, you must have a BDMV converter. You can try HandBrake, UniConverter, and an online converter for recommendations. These tools can help change a Blu-ray file's MTS and M2TS content into an MP4 or MKV format.
Conclusion
This post discussed the true meaning of BDMV and what is the Blu-ray information it can store. While it is specified as a rare file extension that is not universally supported, you have learned that you can open and play BDMV on VLC Media Player. Furthermore, AnyRec Blu-ray Player is a great Blu-ray player software to stream videos without losing the original image and audio quality. This powerful tool can provide a better visual experience to watch the BDMV file. Download and try it for free by visiting the official website.
Related Articles: