BombBomb Chrome Extension: Pros, Cons, and Alternatives
BombBomb is an app that helps to increase sales production by sending a video message to your client. Many people want an honest review of the BombBomb Chrome extension. Because it becomes essential for most business-minded people, as it builds relationships with potential clients through video-making. Since the software became sensational worldwide, it has created a Chrome extension so you can make videos with other tabs. This post will give you an honest review and many alternatives to the BombBomb Chrome extension.
Part 1: What is BombBomb Chrome Extension
The BombBomb Chrome Extension helps you create and send video messages to clients. It works as a recorder anywhere on your Chrome browser, which makes workflow smoother. It allows you to record videos, track incoming messages, and send pre-recorded video clips to anyone. The BombBomb Chrome extension is an easy-to-use tool with the same effect as the desktop version.
Part 2: BombBomb Chrome Extension Review
The Chrome extension made the task easier, while you can make video clips and directly send them to the clients. Some users left reviews to tell their opinions about the video maker. Some reviews say sending the video link to renters or future clients is easy, while they got more positive feedback using BombBomb. Another user said that the app does not require you to be computer savvy because of its intuitive interface with adequate controls. Here are more pros and cons of the BombBomb Chrome extension.
Price:
BombBomb Essentials: $33.00 with a free trial
BombBomb Plus: $49.00 with a free trial
BombBomb for Enterprises: (User must contact customer service)/ request demo
Pros

A quick tool with great editing features.
Enable users to access set-up drip campaigns.
Help to make clients more responsive.
Tech support provides specific training.
Integrates with Gmail, Outlook, CRM, and other autoresponders.
More products offer to fit users' needs.
Cons

The Chrome extension signs out the user.
Almost the same content is going out without originality.
Too many options that the user has trouble setting up the tool.
Part 3: Top 5 BombBomb Chrome Extension Alternatives
While BombBomb is a great way to connect with people via video making, there are some disadvantages you can encounter. The best way is to find an alternative for screen recording and video making.
1. AnyRec Screen Recorder

AnyRec Screen Recorder allows you to record videos with the best quality on your screen. It has various recorders for tutorials, commentary, audio, gameplay, meeting, and more. Output settings allow you to change the video codec, resolution, frame rate, and audio settings. It also offers SnapShot to capture onscreen activities and edit with built-in drawing tools. AnyRec Screen Recorder is the best solution and alternative to BombBomb on Windows and macOS.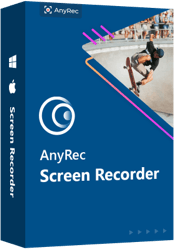 AnyRec Screen Recorder
Record any site on the browser, even with those recording banned websites.
Provide a widget menu that stays on the screen even with browser tabs.
No recording limitation for any video type to save as MP4, MOV, etc.
Enable to capture video clips in 4K resolution with 60FPS and no lag.
2. Vidyard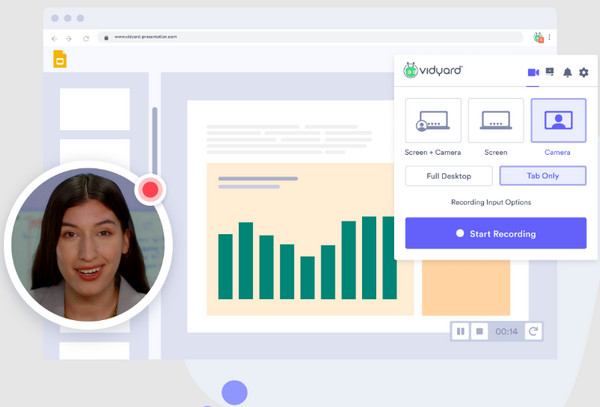 Vidyard has a built-in screen and webcam recorders that you can edit with the built editing functions. Add a personal touch to create a unique video clip to send to clients. It is also cheaper than the BombBomb Chrome extension, with a free trial version to test the tool before purchasing it.
Features:
Generate a video link to send to any email provider.
Notify users whenever someone watches the video file.
Shareable content to social media like Facebook and LinkedIn.
Drawing tools are accessible during recording to highlight information.
3. Hippo Video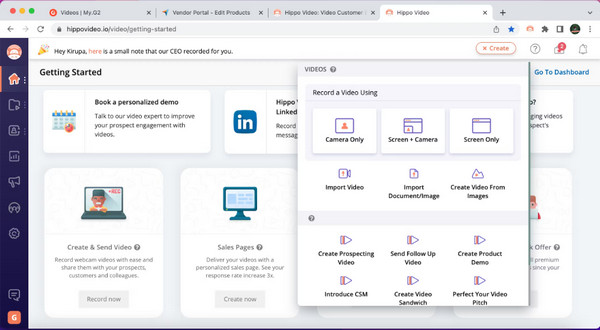 This platform is an interactive video platform that creates and shares videos in a fast and easy manner. It helps to open a higher engagement by quickly opening emails, booking meetings, and other opportunities. Unlike BombBomb login failure, this BombBomb Chrome extension alternative keeps you signed in while personalizing videos to send to business partners.
Features:
Effortlessly send mass in-video for campaigns and promotions.
Starting price is free for all kinds of plans to try all the features.
Offer Quick Edit for novices and Pro Edit for pros.
Enable getting insights into the audience per video clip.
4. Soapbox by Wistia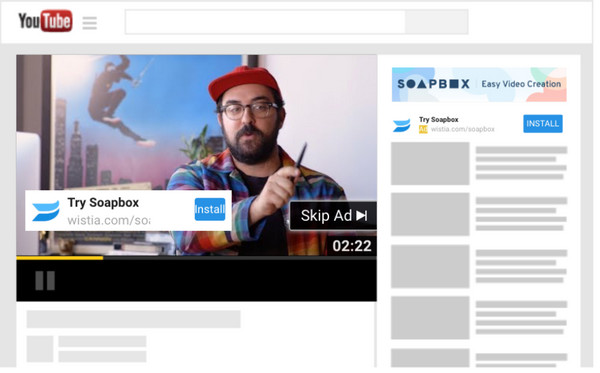 Soapbox is another alternative to BombBomb that allows you to capture a screen, webcam, and both! This is the ideal tool for creating professional pitches, demos, and presentations. It also provides presets of themes and transitions, which are best for video editing. You can annotate on Zoom, Microsoft Team, or other meetings when using this tool. Quickly share videos on any social platform after the final edits with Soapbox.
Features:
Present video in split-screen view or single frame.
Export clips with the Wistia video player in a video gallery.
Customizable video thumbnails with GIFs in a loop.
More sharing options with social media channels.
5. Dubb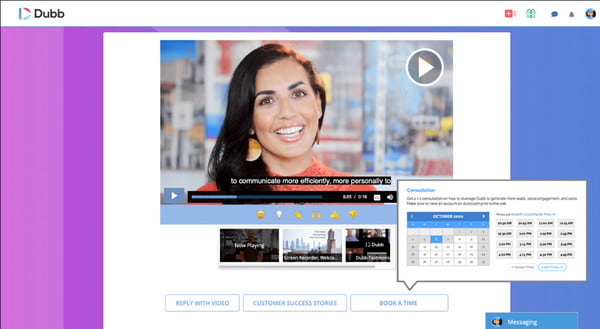 Dubb breaks the communication barrier by allowing you to capture important information and personalize it with greetings, transitions, etc. The Dubb Chrome extension lets you make trackable videos and send them via Gmail, LinkedIn, and Outlook to help your business grow. And you can change the video size to meet the Gmail and Outlook maximum attachment size. The BombBomb Chrome extension alternative requires no skills in video editing.
Features:
Best for increasing overall email and engagement rates.
Create personal video greetings, demos, authentic state tours, etc.
User-friendly tool with outstanding customer service.
Part 4: FAQs about BombBomb Chrome Extension
1. How to use the BombBomb Chrome extension?

Download the Chrome extension from the Chrome Web Store. Open BombBomb and select the Record Yourself or Record Your Screen option. Click the Launch Recorder button to start recording. Save the output and share it with the generated video link.

2. Is there a way to troubleshoot in BombBomb?

Yes. Since BombBomb has some issues that may cause glitches and lags during recording, you must learn how to troubleshoot. First, log out of your account and then log back in. Another option is to update Chrome. This is also applicable to updating the Chrome extension. Lastly, check the camera and mic permission if you encounter unworking equipment.

3. How to remove BombBomb from Chrome?

To uninstall the BombBomb extension, go to the upper right corner of the browser and click the Ellipsis icon. Navigate to the More Tools option and select Extensions. Find the BombBomb extension from the page and click the Remove button. The extension will be uninstalled
Conclusion
BombBomb Chrome extension is a helpful video recorder for communicating with clients properly. It creates harmony toward potential business partners with simple video making. And because it is a popular tool, it is inevitable to encounter lags and joint issues. If you are not fun with these disadvantages, this article gives you the best alternative to BombBomb Chrome extension, like AnyRec Screen Recorder. You can try this fantastic solution to record voicemails, videos, gameplay, and meetings on Windows or macOS.
Related Articles: