AV1 Video Extension: What It Is, How to Play, How to Convert
A new compression standard was introduced to improve video quality: the AV1 video extension. To have a little information about it, it is a video codec that provides many advantages for streaming platforms as it can compress video more effectively. Questions like who developed it, its benefits to users, what makes it different from other video codecs, how to convert the said codec, etc., will be answered in the entire content. As you read the following parts, you will have a broad understanding of the AV1 video extension. Read on now!
Part 1: What is AV1 Video
AV1 is a newly developed compression format in 2018 by Alliance for Open Media or the AOMedia — it is a non-licensable codec. Meaning anyone can use this video codec without paying. Its primary objective is to reduce the file size after compression without compromising the quality. And this action is essential since the display resolution of all the content you watch nowadays keeps increasing.
Compared to before, the content with a 480P resolution is incredibly higher and can be compressed using MPEG-2. But now, the compression standard needs to be improved as the resolution is 1080P. And with 4K and 8K coming into the environment, the AV1 compression standard is what you need.
With AV1 video extension, higher quality videos can be shared to streaming platforms without decreasing the quality. It is capable of giving you a smoother playback as well. In addition, it provides you with a higher gaming FPS as the GPU is not affected for processing the output. It will deliver you a better quality, improving productivity and audience-watching experience.
Part 2: What Are the Features of AV1 Video Codec
The AV1 video extension provides several advantages for streaming platforms and audiences. And here are some of the features you can expect with the video codec.
1. Smaller in size. All AV1 files will eat less on your computer's storage. Since the AV1 video extension compresses the video to a smaller size without affecting the quality, users will save data and enjoy it simultaneously when streaming.
2. Have a lower bitrate. H.265 and H.264 provide a lower bitrate with high-quality video and are effective for compression. However, AV1 gives users a 30% lower bitrate than H.265.
3. A royalty-free video codec. One of the main goals of the AV1 video extension is to provide users with an open and free codec that can benefit everyone. Anyone would have access to more affordable and high-quality videos because of it.
Part 3: Popular Player for AV1 Video
Now, you ask what media players support AV1 video extension? Don't worry; many exist, and we have the best one for you. Here are the top 5 best AV1 players you can have for free.
1. 5KPlayer
5KPlayer is an all-in-one media player that works well on Windows and macOS. It comes with more than 450 video codecs and over 180 for audio. It also supports several formats, like AAC, MP3, AC3, WMA, etc. Furthermore, you can play a high-resolution video with this AV1 player up to 4K and 8K. And aside from being a media player, it can serve as your online video downloader, video editor, converter, and streamer. It is one of the tools you can use to play AV1 videos. The only drawback is the need for more support for mobile devices.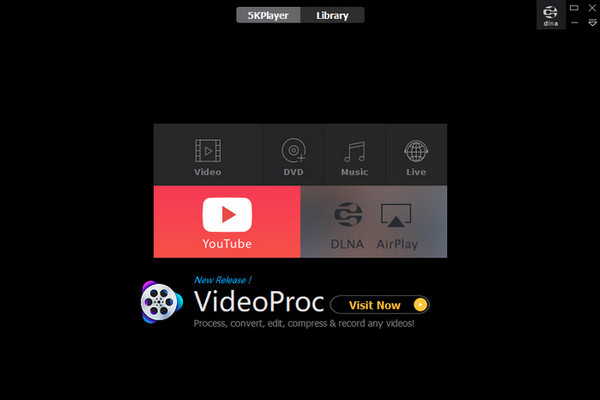 2. RealPlayer
Followed by the 5KPlayer is the RealPlayer, which plays all types of video and audio files from your computers and mobile devices, such as iOS and Android. Like other media players, it comes with a free and pro version; However, you can use the full features in the premium version and still enjoy the experience of playing AV1 video with RealPlayer even without purchasing. Furthermore, it supports streaming Hd videos to TV and web browsers. But, if you use it from Windows to Mac, you might need help since it works differently.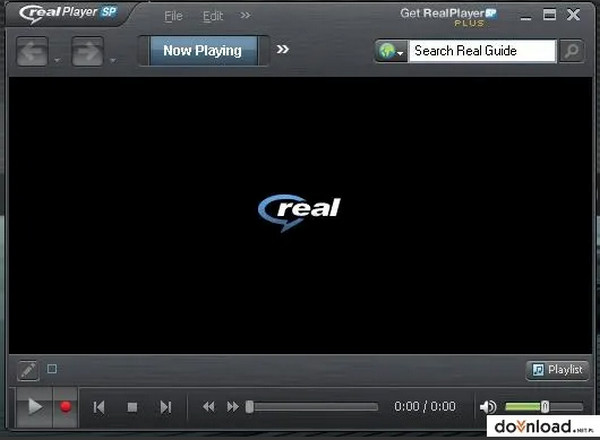 3. PotPlayer
PotPlayer is an effective AV1 player for Windows and comes with a screen recorder, video editor, and TV receiver. It introduced the AV1 video codec decoding in 2018. However, it sometimes has several updates and is slow to play. You might also experience bugs and glitches when playing AV1 videos, so when you download and install this AV1 player, keep an eye on those bundled software or advertisements that might corrupt your PC with viruses.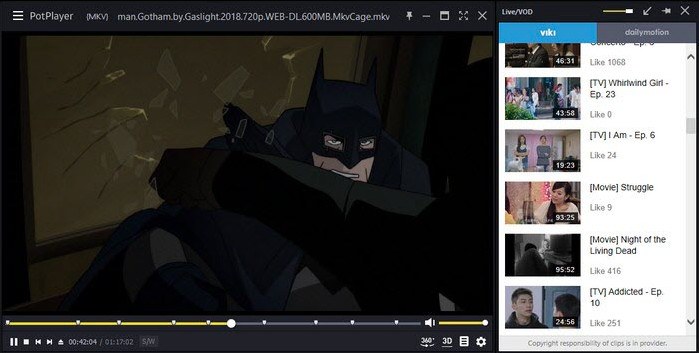 4. VLC Media Player
There's no way VLC Media Player will miss when talking about a media player. It is a famous Windows, macOS, iOS, and Android player. The program can play AV1 video content and fully support AV1 and AV2 codecs. Plus, it has a wide range of formats supported, like playing MKV, WebM, MOV, and more. But, some issues are reported, like different color grading or the video lagging until it drops. It is suggested to get the VLC's latest version.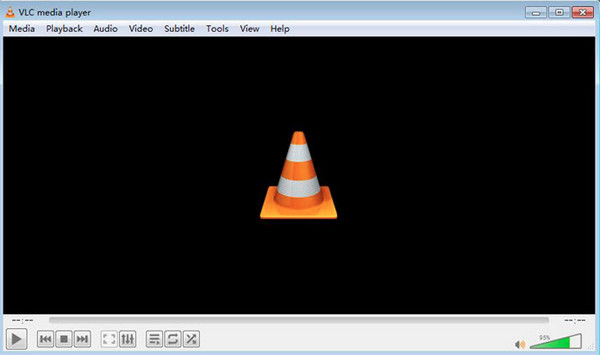 5. Elmedia Player
The last on the list is the Elmedia Player, which works for Mac. It is compatible with all popular video and audio formats, like a video editor for FLV, MKV, AVI, MP4, etc., with many codecs provided. Not only does this AV1 player support many formats, but it offers subtitle support and chooses how they will appear during playback. Furthermore, it is up for multi-monitor setup, and the full-screen mode always works. However, this software is only limited to macOS.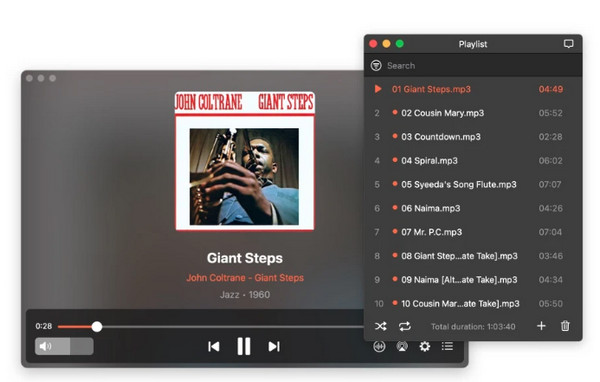 Part 4: Use AnyRec to Convert AV1 Video Codec
After discussing the five AV1 players, you can convert the AV1 format to another more compatible with most players. And there's this one software that can help, AnyRec Video Converter. This program is available on Windows and Mac and has support for more than 1000 formats for audio and video files. You can convert M4A to MP3, MP4 to WAV, MOV to GIF, and more. It also provides customizable settings wherein you can adjust the codec, resolution, bitrate, etc., to get the desired quality.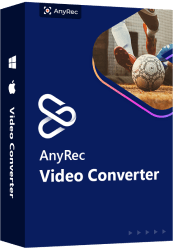 AnyRec Video Converter
Provides a 50x faster conversion speed, letting you get the video quickly.
Adjustable settings to maintain and get the AV1 video quality you want.
Batch conversion is supported, wherein you can get everything at once.
Has a built-in video editor in the Converter tab so that you can edit the video.
Step 1.Click the Add button with the plus icon on the main interface after you install AnyRec Video Converter. You can also click the Add File button on the top.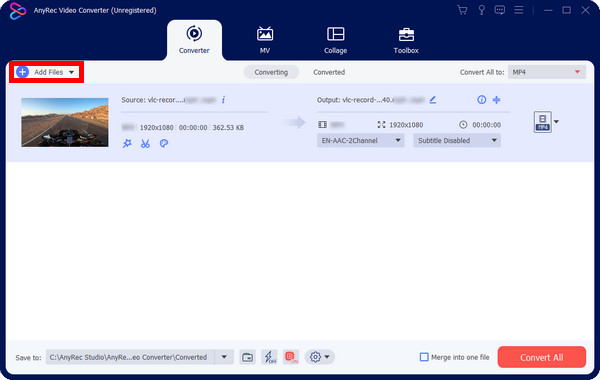 Step 2.In selecting a format, navigate to Convert All to the menu list. You will see all Video and Audio formats and the Device presets there. Select the proper one for you.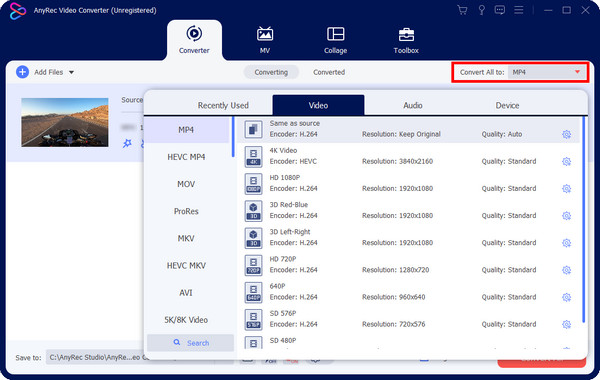 Step 3.You can then click the Customization settings button with a Gear icon to adjust the codec, resolution, bitrate, etc. Click the Create New button to save changes.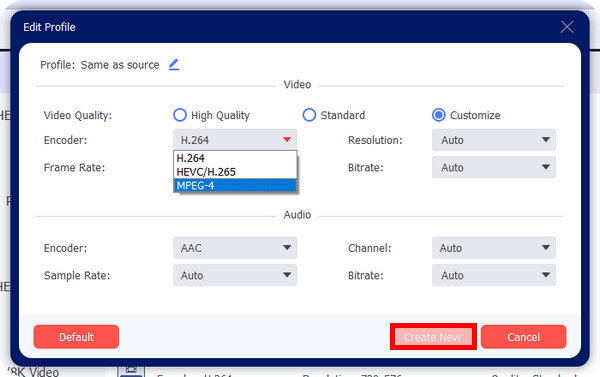 Step 4.After that, you can edit by clicking the Edit or Cut button. And if satisfied, you can click the Convert All button.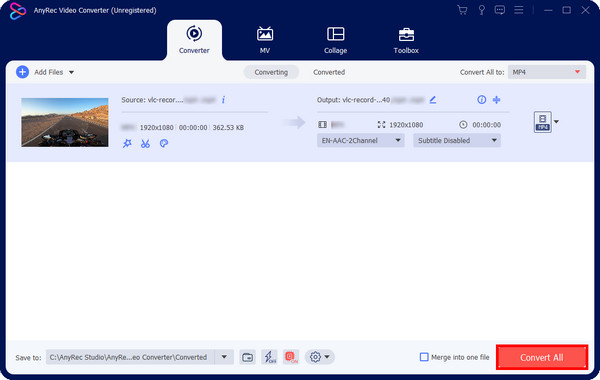 Part 5: FAQs about AV1 Video
What is the difference between AV1 and H.265?

Both are good in quality; however, AV1 is a new compression video format superior in compressing compared to the older one, H.265. But, it is the slowest in encoding time than H.265.

What platforms adopt the AV1 video codec?

The AV1 codec is widely used in Amazon, Apple, Google, Nvidia, Netflix, and many more streaming platforms.

Do YouTube videos use AV1 codec?

Yes. The default codec for Youtube videos is H.264. However, YouTube can also use AV1 for better resolutions and HDR videos since it offers better compression and quality.
Conclusion
That's all for today! AV1 is your go-to video codec for better compression in file size without compromising quality. The entire post shows that AV1 video codec is one of the best codecs today and will still be in the future. However, keep in mind that you can convert it to AV1 video. Do this with AnyRec Video Converter. With more than 1000 file formats with customizable settings, you can get the desired codec with the desired quality.
Related Articles: