Jitsi Meet Review: Is It for You? And Get 5 Alternatives
If you have yet to hear about it, Jitsi Meet works like any other video conferencing platform, where you can start meetings and then invite others to join. It's an open-source program with a larger developer community, so it's nice to see the service first before deciding to run it on your own. Check out the entire content, as it will provide you with a Jitsi Meet review with alternatives if you need choices. After that, you will learn how to keep and save those online meetings. Have fun learning!
Jitsi Meet Reviews with Features, Pros, and Cons
Jitsi Meet, as raised, is one of those free video conferencing platforms that comes with great features. With it, you will take nothing but simplicity and an effortless process of learning the levels to conduct an online meeting. Furthermore, you don't have to think about your details since it doesn't require you to create an account. By simply navigating to the website of Jitsi Meet, you can then enter your name for your selected meeting. So, go ahead and call your entire team! What's more?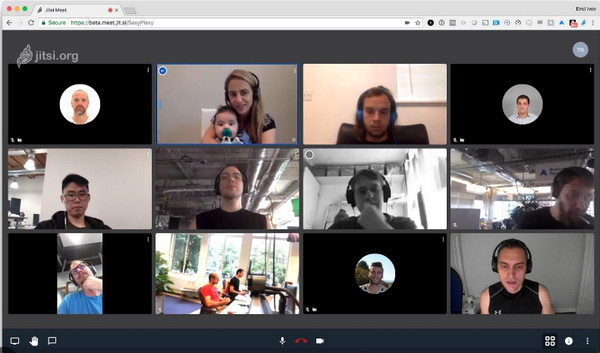 To get more knowledge about the features you can expect, see them below.
Let you stay online for as long as you want with HD video and audio.
Support copy-pasting URLs to share meeting and invite your guests.
Integrated with Microsoft, Google, and Slack, which you can add as extensions.
Come with a wide range of in-call options, like screen sharing, chat facility, remote controls, blur backgrounds, etc.
For the host, you can set everyone muted before joining the call.
Capable of editing the documents together with the help of Etherpad.
Pros

Both internal and external audio produces high quality.
Let you re-enter the same meeting quickly using the same link.
Care about privacy and security, as it has an encrypted communication process.
Cons

The recording and streaming don't work with the encryption feature enabled.
It is not capable of sharing files in the chat facility and others.
The number of participants in the room is limited within 75.
On the other hand, there's no such tool you can call a perfect tool. So, as well, expect flaws with Jitsi Meet, like unable to share files, no recording options, etc. In this case, the alternatives come in.
The Best 5 Jitsi Meet Alternatives to Hold Video Conference
Coming after a brief introduction, with features, pros, and cons of Jitsi Meet, this part covers the five best Jitsi Meet alternatives you can try to hold online meetings and other important conferences without such limitations.
1. Zoom Meetings
The popular Jitsi alternative is Zoom Meetings, one of the most widely used today, especially when the pandemic hit the world. The tool also features HD video and audio, like the Jitsi Meet. It comes with chat functionality and an easy solution for a screen-sharing experience. Plus, you can access Zoom with no problem on browsers, Windows, Mac, iOS, and Android devices. Regarding the product or chat support, users prefer Zoom better than Jitsi.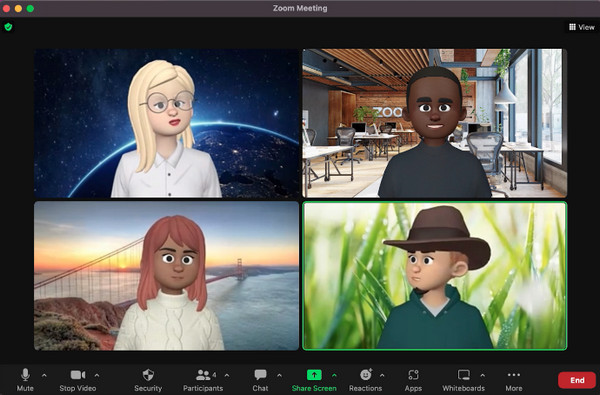 2. Microsoft Teams
Microsoft Teams, a Jitsi alternative that is also a common use for online classes today. It has a wide range of features, like HD quality video and audio, similar to Jitsi, and a good chat facility. In contrast with Jitsi, this alternative supports file sharing in the chat box, whether private or group chats. However, users felt Jitsi was easier to set up, but Microsoft Teams is much easier to control.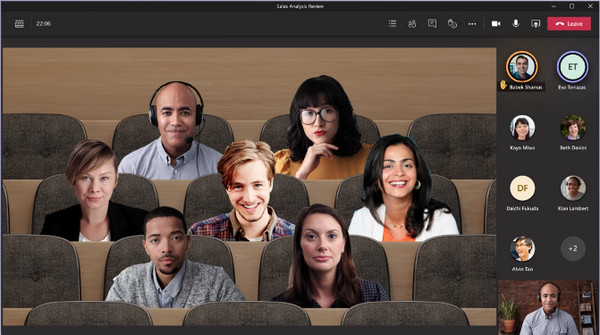 3. Google Meet
Google Meet, another Jitsi alternative, is a fan-favorite of schools conducting online classes. Like others, Google Meet covers screen sharing, where you can share a whiteboard based on another Google App. Aside from that, you can add visual effects, like background blurring and other virtual themes. For more than 100 participants, file sharing, and others, Google Meet can provide, contrasting Jitsi; but when it comes to customer support, Jitsi is better.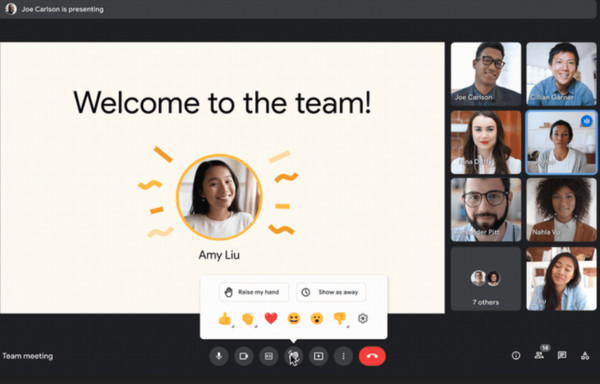 4. GoToMeeting
Lots of businesses are going into GoToMeeting, one of the best Jitsi alternatives. It is a reliable and professional on-the-go tool where you can hold online meetings. It also supports screen sharing to share presentations and others with easy clicks. In addition, it supports crystal-clear audio, like Jitsi, making sure that all participants will never miss a word during meetings with the help of noise suppression. It also provides a default way to record GoToMeeting as a host.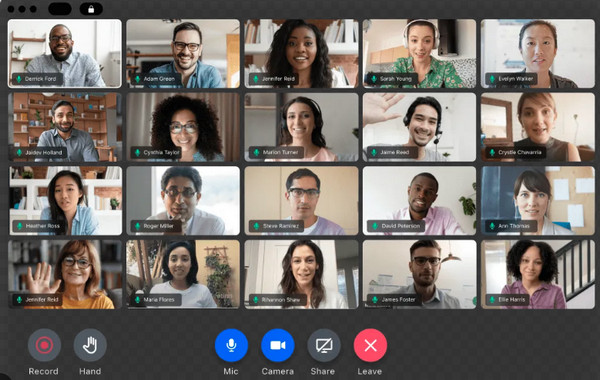 5. Livestorm
Lastly, you got the Livestorm, a free video platform that builds engaging online communication. It manages meetings, webinars, as well as virtual events. Using this Jitsi alternative, you can unblock the traditional way of video conferencing and the use of end-to-end encryption. Furthermore, file sharing and accessing on any web browser is what Livestorm provides.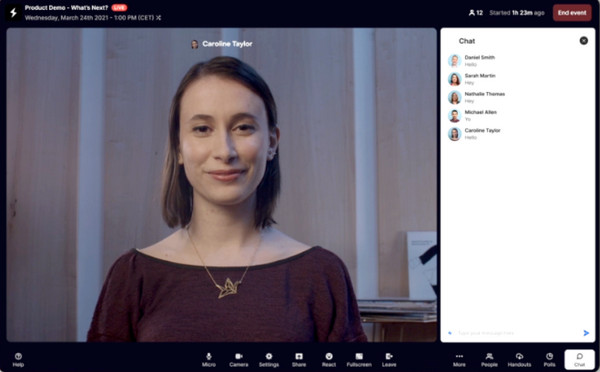 How to Record Online Meetings on Jitsi Meet and Alternatives
As said, Jitsi Meet, as well as the other alternatives mentioned, doesn't support recording meetings, especially for the participants. In this case, it's better to use AnyRec Screen Recorder, which supports recording screen activities like online meetings, webinars, and more, on Jitsi Meet and the alternatives. It covers recording webcam and screen simultaneously, making it practical for business conferences. Furthermore, you can enable audio options, like the audio from the system and microphone. Then, customize video and audio settings to maintain the quality you want.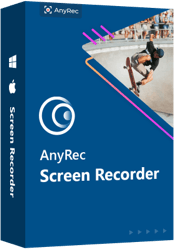 AnyRec Screen Recorder
Record screen activities easily, with webcam and audio are possible.
Set hotkeys are for quickly starting, pausing, stopping, capturing, etc.
Add real-time drawings, such as lines, callouts, and text during recording.
Able to set the capture area, volume, export format, and trim the recordings.
Step 1.To start recording Jitsi Meet, click the "Video Recorder" option from the main screen. From there, you can choose "Full" to record the entire screen or "Custom" to set a recording area.

Step 2.Enable "Audio" options according to your requirements, such as the "System Sound" for recording the computer's sound and the "Microphone" for recording your voice.

Step 3.After completing them, click the "REC" button to start. You can capture, annotate, and adjust the audio volume during recording Jitsi Meet.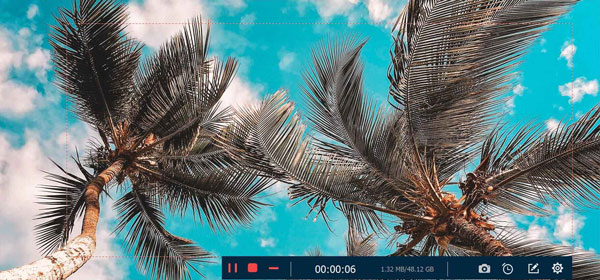 Step 4.After the meeting, click the "Stop" button to enter the preview window in this meeting recorder. Trim the unnecessary parts in the recording before clicking the "Save" button to export.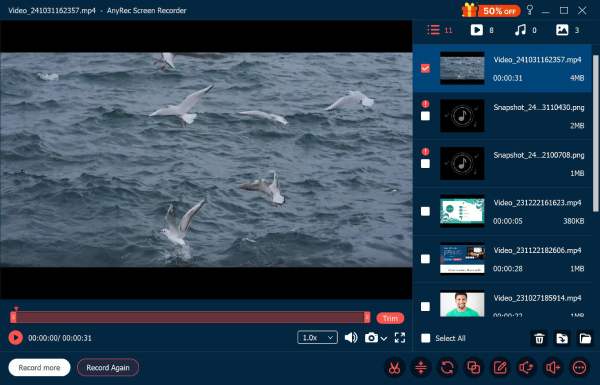 FAQs about Jitsi Meet
What limitations can I expect from using the Jitsi Meet free?

You can start a Free Call with up to 75 guests and no time limit. Furthermore, you cannot expect a file-sharing option here.

How much does Jitsi Meet cost?

Currently, Jitsi Meet doesn't offer any plan subscription, so using this as your free video conferencing tool, along with others mentioned, Zoom, Google Meet, etc, is lovely.

How to join a Jitsi Meet meeting online?

Ensure you receive an invite link from your friend, copy it, paste it on your browser's bar, and then press Enter. Your browser will then ask you to enable microphone and camera access.

Is Jitsi a better video conferencing tool than Zoom?

No. Although Jitsi Meet is free, it lacks some quality in performance as well as options that Zoom provides. But both of them are effective in holding online meetings.

Can I send files in the Zoom chat box, unlike Jitsi Meet?

Yes. Fortunately, Zoom lets you attach a file to other meeting participants during the meeting. Files can be sent to your selected participants or groups in the group video call.
Conclusion
And that's the end of this Jitsi Meet review! You now know about the said service and its alternatives you can try, such as Zoom, Microsoft Teams, Google Meet, and others. Aside from that, you learn the program that can assist in recording online meetings, which is the AnyRec Screen Recorder. Enjoy recording in full screen, customized parts, or any area using it with high quality! Make sure to try it.
Related Articles: