How to Cast to Roku from iPhone/Android [Step by Step]
Many people want to cast their phones on Roku to enjoy the big screen. But there are only supported apps that could be cast to your Roku, and you need to have that app installed on both your Roku and mobile device. However, screen mirroring is a little different, and some Rokus aren't compatible. So, this post will tell you how to cast to Roku with those compatible apps. And there is also an alternative given to you to enjoy the big screen if you cannot screen mirror your phone to Roku.
Part 1: Directly Screen Mirror the Video to Roku on iPhone
When the apps on your phone are compatible with Roku, you can directly cast to Roku. And here are the steps to do it:
Step 1.As long as they are compatible, there will be a casting button on that app, which is usually found in the top-right corner. And you can tap Casting.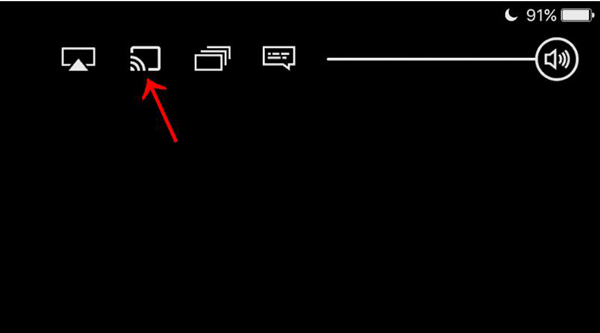 Step 2.After you tap Casting, you can see a list that named devices you can cast. When you find your Roku, tap it.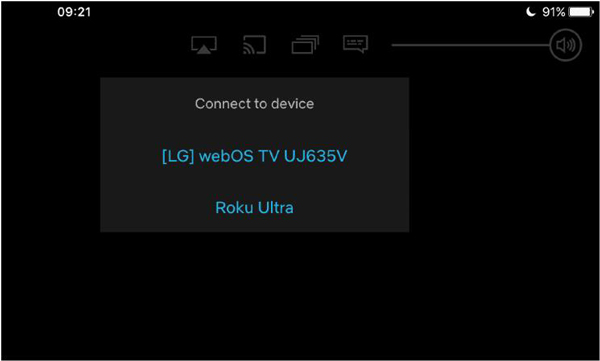 Step 3.Then you can wait for your phone to connect with Roku. You will see a connecting message. Wait for your device to connect.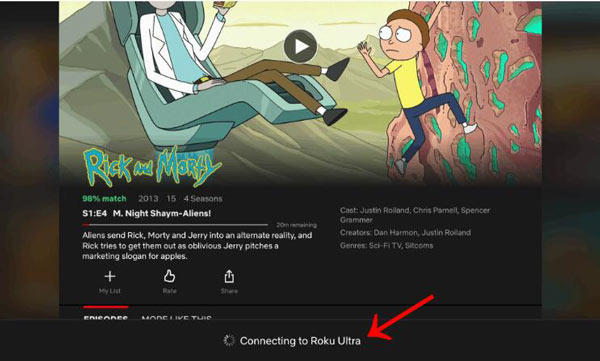 Step 4.Once the app is cast to your Roku, you will see the app or its content on your TV. You can use your device to control the app. You will also be able to control some settings like play and pause with your Roku remote.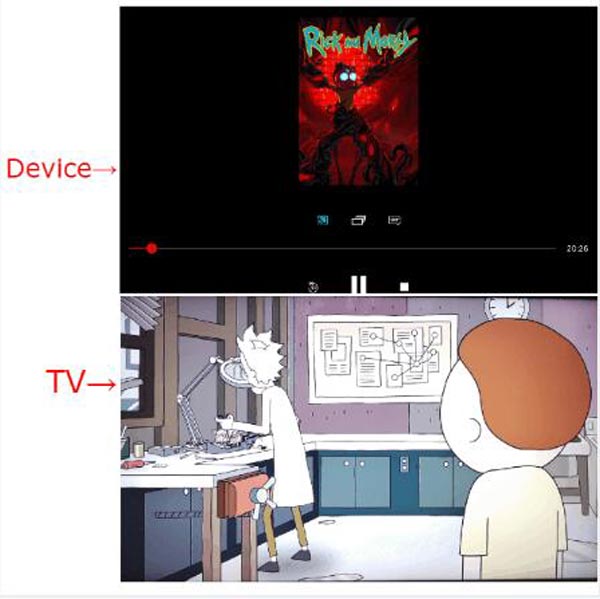 Step 5.When you want to stop casting, simply tap the casting icon on your mobile device again and tap Disconnect.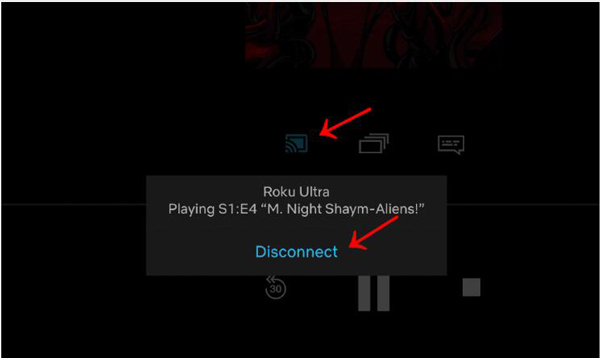 Part 2: Share Your Phone Screen Without Limitations
Sometimes, Roku TV has limitations regarding the content you cast to Roku. So, if you still want to enjoy the big screen, you can use AnyRec Phone Mirror to screen mirror your phone to a PC. Because when casting, you can only watch content available from a mobile app that specifically supports casting. Screen mirroring allows you to view content from any app installed on your mobile device.
And another biggest reason why you need to use this software is most TVs including some Roku devices could not support the screen mirror feature. So, AnyRec Phone Mirror happened could solve this problem. You can use this software to enjoy the big screen without any limitations. Whatever the content is you can share it on the PC, even those you cannot cast to Roku. Whatever the phone or computer model is you can screen mirror with this software.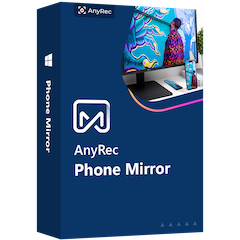 AnyRec Phone Mirror
Share any content on your phone to your PC without limitation.
Make the phone and PC synchronize without any lag.
Record the phone screen with your computer with high quality.
Screen mirror multiple mobile devices to PC safely and smoothly.
Here are the steps to screen mirror your phone when you cannot cast to Roku:
Step 1.After launching the software, there will be a window to let you choose your phone system. choose-your-device-type.jpg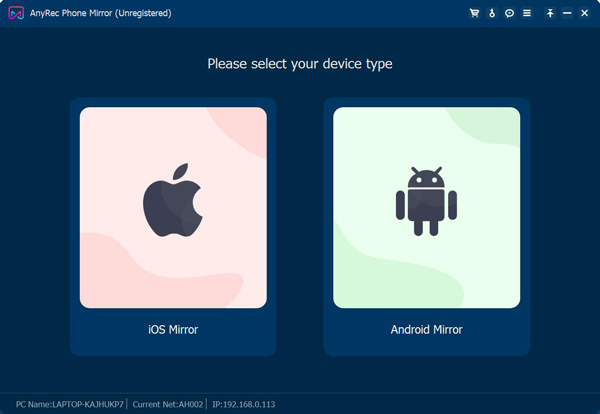 Step 2.If you choose the Android system, there are two ways to connect your phone to the computer. If you use the Wi−Fi connection, you have to download FoneLab Mirror on your phone. Make sure your computer and phone are the same Wi−Fi connection, then tap Detect on your phone to find your computer to start casting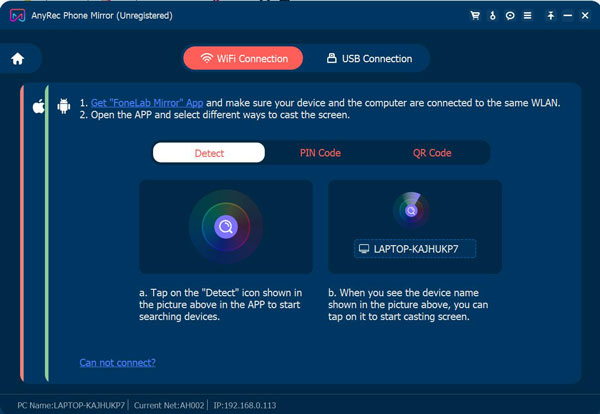 You can also enter a pin code on FoneLab Mirror to input the pin code displayed on your computer.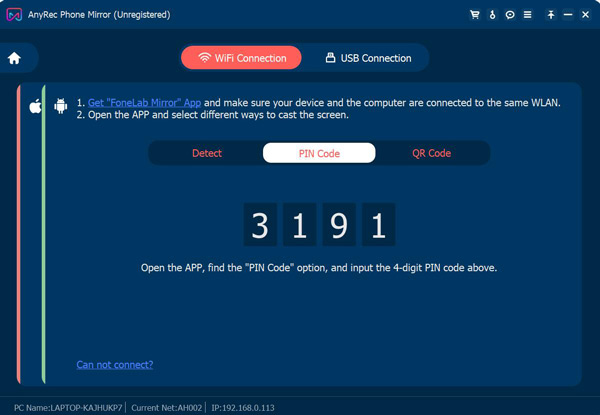 And the last way in the Wi−Fi connection is to scan the QR code, and it's also the easiest way. Open FoneLab Mirror to scan the QR code on the computer to start casting.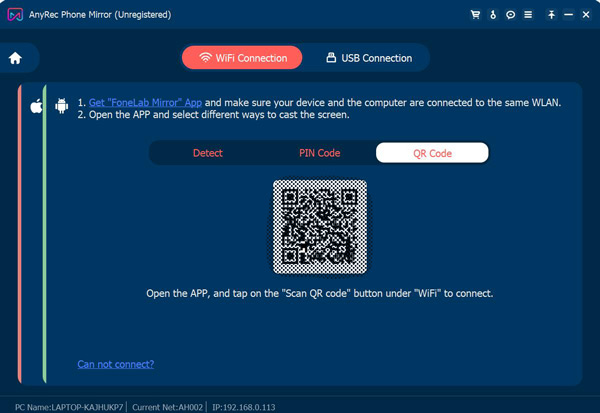 And another connection way is the USB Connection. A USB wire can connect your phone and computer to start recording your phone.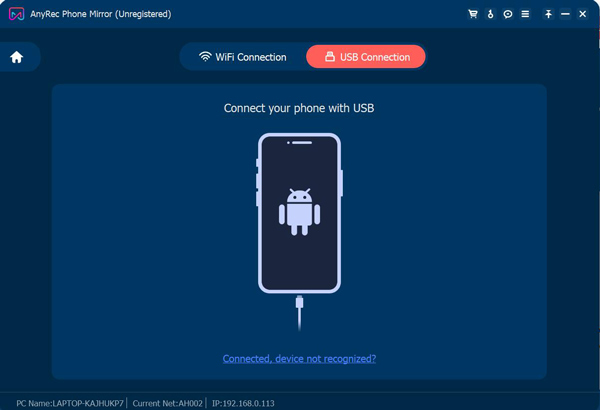 Step 3.Using iOS doesn't require any third-party software to record your phone. And you can choose to record video or just audio on your phone. If you choose to screen mirror on your phone, all you have to do is tap Screen Mirror on your iPhone and find AnyRec Phone Mirror to start the screen mirror. If you choose audio mirror, tap AirDrop in the top-right corner to expand the music playback menu.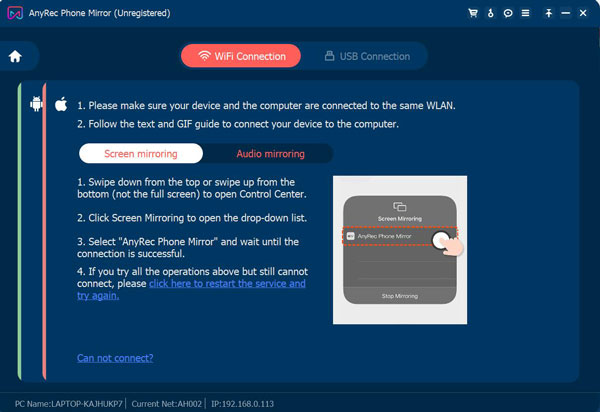 Part 3: FAQs about Casting to Roku
Can I share my personal photos and videos using the Roku mobile app?

Yes. Another way to share your personal photos and videos, or songs stored on your mobile device is with the Play on Roku feature on the Roku mobile app. The Roku mobile app is a free application for iOS and Android devices.

Do I need to enable screen mirroring on my compatible Roku device?

No. If your Roku device supports screen mirroring and is running Roku OS 7.7 or later, the feature is enabled automatically. There is no action required to enable it.

Does my Roku device support a screen mirror?

Yes. Screen mirroring is supported on models 3960, 3930, 3931, 3910, and 3900, but not on models 3700 and 3710. Besides, on model 3910, screen mirroring is only supported on the HDMI output, and not on the composite, or A/V output.
Conclusion
You must know how to cast to Roku with your phone. Now you can enjoy the phone content on your Roku's big screen. But if you want to see something incompatible with your Roku, you can use AnyRec Phone Mirror to screen mirror your phone to your computer. There is no limitation on the content your screen mirror and no limitation on which model your phone or your computer is.
Related Articles