Record VR Gameplay – How to Capture 360-Degree-Videos from VR Devices
Video's van VR-apparaten Is het mogelijk om? een VR-gameplay opnemen, inclusief 360-graden video? U kunt genieten van de VR-games op verschillende apparaten, zoals Oculus Rift, HTC Vive en computer. Of je nu de hoogwaardige VR-games wilt vastleggen of de bestanden verder wilt bewerken, je kunt de VR-headset beter spiegelen naar je computer om op te nemen. Leer meer over de 3 beste methoden om 360-graden video's of VR-gameplaybestanden vast te leggen.
How to Record VR Gameplay Videos from a VR Headset
Wanneer u VR-gameplayvideo's op een computer moet opnemen, AnyRec Screen Recorder is een veelzijdige schermrecorder met 7 verschillende opnamemodi, waaronder Game Recorder, Video Recorder, Phone Recorder en meer. Of je nu Nvidia-grafische kaarten of M1-grafische kaarten gebruikt, je kunt altijd met enkele klikken hoogwaardige VR-gameplay of 360-gradenvideo's vastleggen.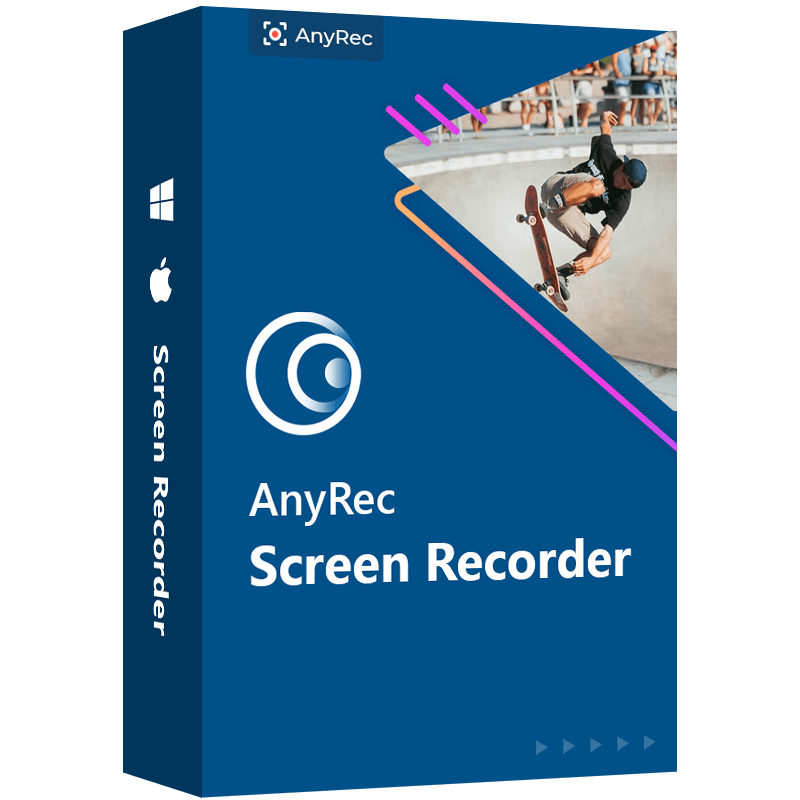 AnyRec Screen Recorder
Leg gameplay-video's, systeemaudio, microfoonstem en meer vast.
Tweak de framesnelheid, videocodec, audiocodec, fotoformaten, enz.
Bied geplande opnames om automatisch 360-graden video's vast te leggen.
Geavanceerde bewerkingsfuncties om het gewenste deel bij te snijden en het geluid te verbeteren.
Stap 1.Whether you are using Oculus Rift or HTC Vive, you can mirror the content from the device to your computer. Launch the "Oculus Rift" app from the "Start" menu. In the "Oculus" menu, choose the "Sharing" tab and click the "Cast" button to start casting the VR gameplay video.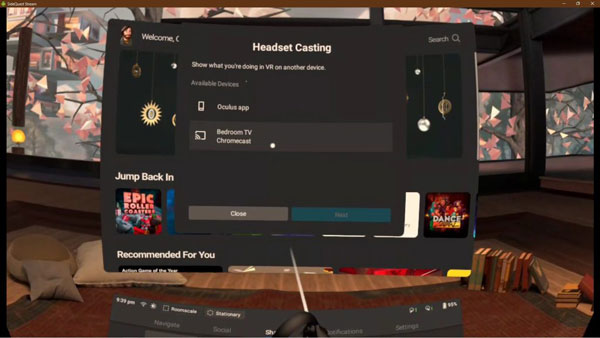 Stap 2.Launch AnyRec Screen Recorder after installation, you can click the "Game Recorder" menu and click the arrow above the "Select the game" option to choose the mirrored Oculus Rift headset with the VR gameplay or 360 degree video.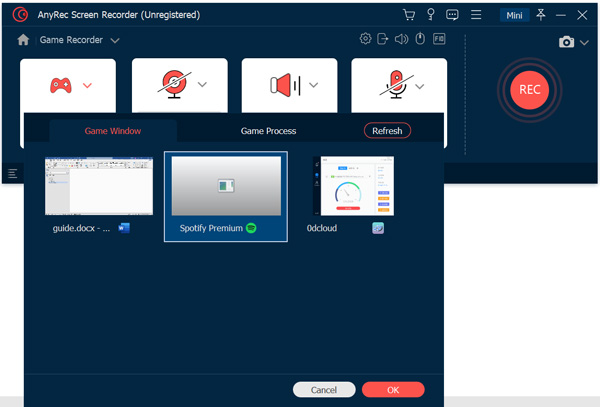 Stap 3.To capture VR gameplay sound effects, music, and dialogue, you need to enable the "System Sound" and the "Microphone" options to record VR gameplay videos with audio files. Click the "REC" button to capture the desired files within one click.

Stap 4.When you captured the gameplay video, you can click on the "Stop" button to save the recording. You can preview and edit the recorded video before clicking the "Save" button. After that, you can save the video to your computer to share with social media websites.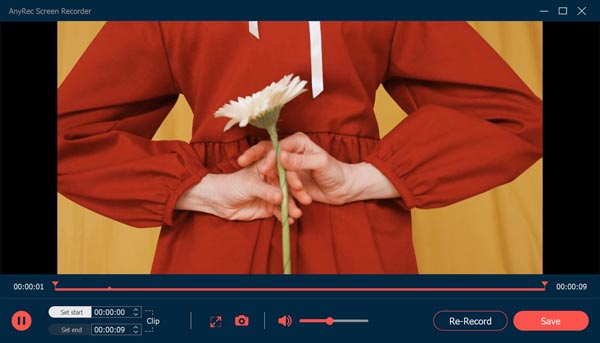 Opmerking
Als je moet leg Wii-gameplayvideo vast, kunt u de vergelijkbare methode ook gebruiken om de inhoud naar uw computer te spiegelen en de video's op te nemen met de spelmodus.
How to Capture VR Gameplay with OBS from HTC Vive
OBS is een andere populaire en open source schermrecorder om 360-graden videobestanden vast te leggen van VR-headsets, waaronder HTC Vive. Maar het proces is veel gecompliceerder dan bij andere schermrecorders.
Stap 1. Once you have launched the program, right click the "Scene" window and click the "Add" button to create a new scene. You can name the scene as Vive recording before clicking the "Enter" button.
Stap 2.Click the "Add" button in the "Sources" window. Scroll down to choose the "Display Capture" option in the sources to capture from the screen. It also enables you to add the microphone to the video.
Stap 3. You can also choose the quality and frame rate of your recording in the settings before recording. After that, you can click the "Start Recording" button to record VR gameplay files on your computer.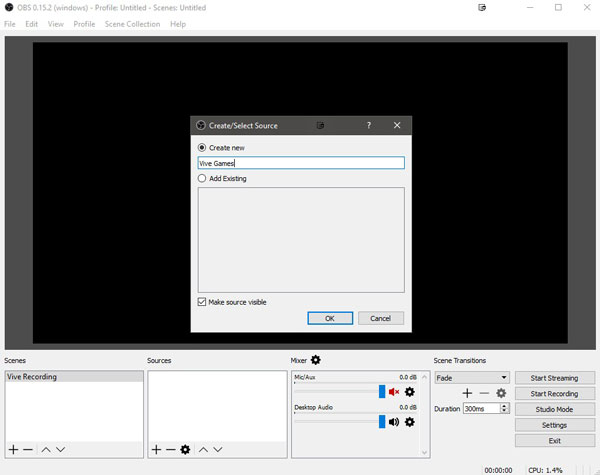 How to Record VR Game via Shadowplay from Oculus Rift
Wanneer u Nvidia grafische kaart gebruikt, kunt u altijd de ingebouwde Nvidia Geforce-ervaring om de VR-gameplayvideo van uw Windows vast te leggen. Hier is het gedetailleerde proces dat u moet kennen.
Stap 1.Launch the Nvidia Geforce Experience and turn the "Shadowplay" on. Once it is turned on, set up your button layout to activate recording, and check the "Allow Desktop Capture" box.
Stap 2.Sluit je Oculus Rift-headset aan op je pc, start de Oculus-app en start de VR-game die je wilt opnemen. Daarna kunt u het Geforce Experience-venster minimaliseren om VR-gameplay vast te leggen.
Stap 3.Click the "Full Screen" button in the top right of the window to capture full screen. You can also adjust the shadow time, quality, and audio file before you click the "Start recording" button.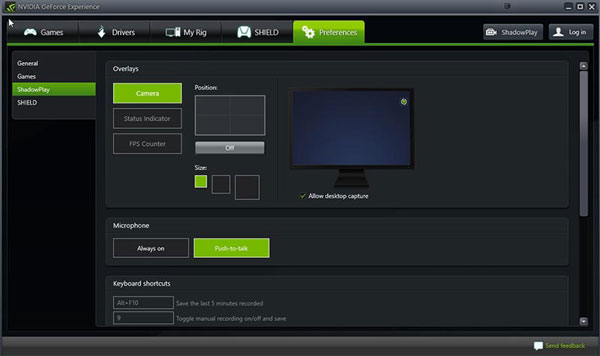 FAQs about How to Recording VR Gameplay
Waarom kun je VR-gameplay niet naar pc spiegelen voor opname?

Zorg ervoor dat de headset en pc zich in hetzelfde wifi-netwerk bevinden. Als je het audiobestand bij de 360-graden video's of gameplay niet kunt vinden, moet je een andere methode bedenken om geluid toe te voegen voordat je VR-gameplay vanaf de headset via je computer opneemt.

Is het mogelijk om VR-gameplay te casten en op te nemen via een smartphone?

Ja. De Oculus Go cast uw headsetweergave naar de mobiele Oculus-app. Zodra je de app al op je iPhone of Android-telefoon hebt geïnstalleerd, kun je de VR-gameplaybestanden of 360-gradenvideo's spiegelen en vervolgens de schermrecorder starten om VR-gameplayvideo's vast te leggen.

Hoe 360-graden VR-gameplayvideo's opnemen op PS4?

PS4 has a built-in screen recorder to capture VR gameplay videos. Press the Share button on the PS4 controller and select the "Sharing and Broadcasts Settings" option. After that, you can double click the "Share" button to capture the desired files automatically.
Conclusie
Als je 360-graden VR-gameplayvideo's wilt opnemen vanaf een VR-headset, zoals: Fortnite Replay opnemen, kunt u meer te weten komen over de 3 werkbare methoden uit het artikel. Zowel OBS als Nvidia Geforce Experience zijn de gratis schermrecorders om de gewenste bestanden vast te leggen. AnyRec Screen Recorder is het alles-in-één programma om de VR-gameplayvideo's met de originele kwaliteit op te nemen.
Gerelateerd artikel: