Is AnimeDao Shut Down? 12 Best AnimeDao Alternatives for You
AnimeDao is one of the most popular anime websites you can watch your favorite anime series online. It provides you with the complete episodes of long-run anime such as One Piece, Dragon Ball, Naruto, and many more. However, there is terrible news circulating the internet that AnimeDao has been shut down. Is this true? Find out the answer for this in this article. And you can also learn the best 12 AnimeDao alternatives here.
Part 1: AnimeDao Shutdown? Check This AnimeDao Review
Unfortunately the answer is Yes. AnimeDao is shutdown now. Many people know AnimeDao as it provides good quality anime movies with English subtitles. AnimeDao offers a clean interface that allows you to navigate the website easily. It is enjoyable to watch with the faster loading speed and high-quality resolution in AnimeDao. Moreover, you can download any anime series you like with the download options you can choose from AnimeDao.
The AnimeDao app is not available in the App Store and Google Play Store. If you really want to download AnimeDao on your phone, you can download AnimeDao apk from APK Profit, APK Guy, APKShelf, and more. By downloading the AnimeDao apk, you can watch anime on Android directly. What about iPhone users? Is there an AnimeDao app for iPhone. Currently, the answer is No. To watch anime on iPhone, you need to visit animedao to, animedao tv, animedao li, and other verisons.
Although it is frustrating that the famous anime website AnimeDao is shut down, you can still watch your favorite anime movies in English subtitles with other AnimeDao alternatives. Read further to know the best AnimeDao alternative websites to watch high-quality anime online.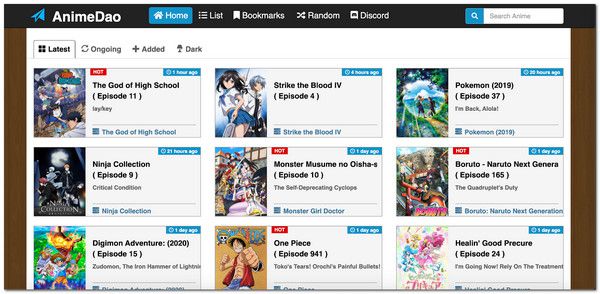 No matter you want to download anime from AnimeDao io and its alternatives, AnyRec Screen Recorder is always your first choice. You can download RAW anime video for offline watching by recording easily.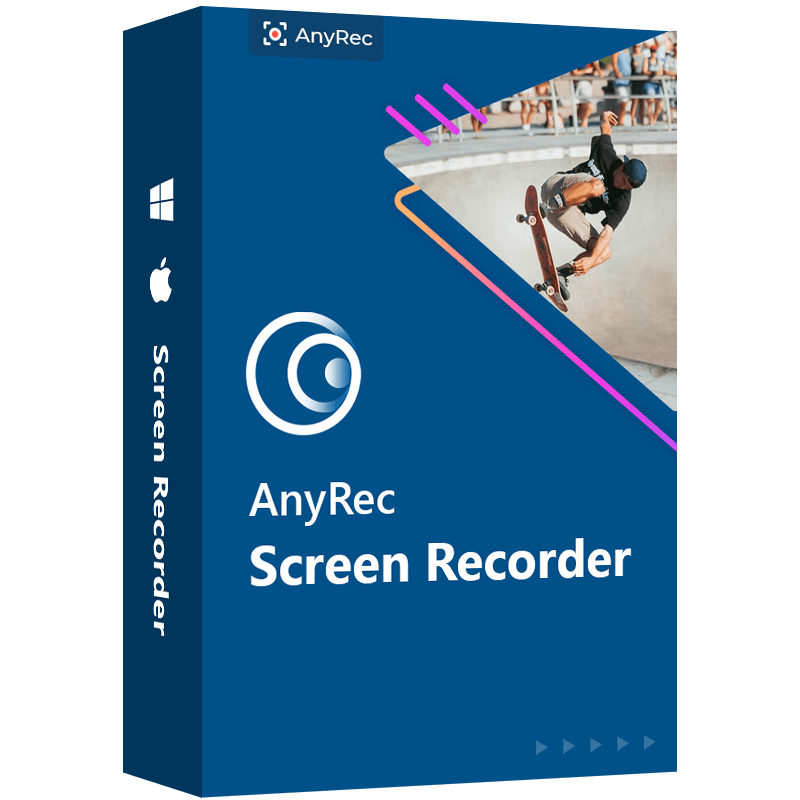 AnyRec Screen Recorder
Download anime video and audio to MP4 and other popular formats.
Set schedule tasks and custom recording length to auto record anime streams.
Use hotkeys to control anime recording and screenshots.
Trim unwanted anime video clips before export.
Part 2: Top 12 Best AnimeDao Alternative Sites to Watch Anime Online
1. Crunchyroll
Crunchyroll is a AnimeDao alternative streaming service that offers over 30,000 episodes of anime. It is ad-free, but Crunchyroll offers three ad-free membership tiers in the premium subscription service. Across devices and platforms, this amazing anime streaming website is available on Android, iOS, Chromecast, PlayStation 4, Roku, and many more. Moreover, it is up to date with all the newly released episodes of popular anime like Attack on Titan, One Piece, Boruto, and more.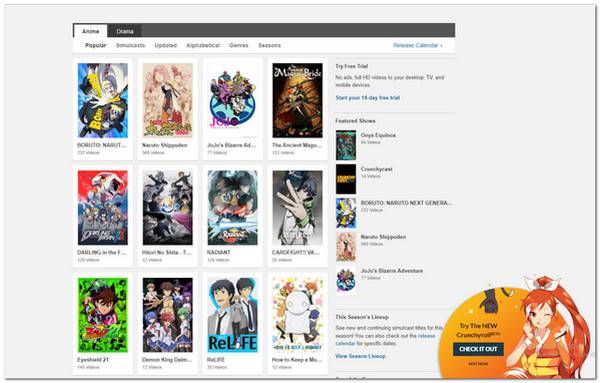 2. GoGoAnime
If you want to have more freedom in choosing the video quality of the anime episode you are watching, visit GoGoAnime. It provides an intuitive interface that allows you to search for the anime you want to watch. Also, this anime streamer has many servers, so you can switch to another if a server is not working. GoGoAnime is the best AnimeDao alternative as it does not offer a subscription fee, and thankfully, it is ad-free. (In case you need GoGoAnime Down solutions.)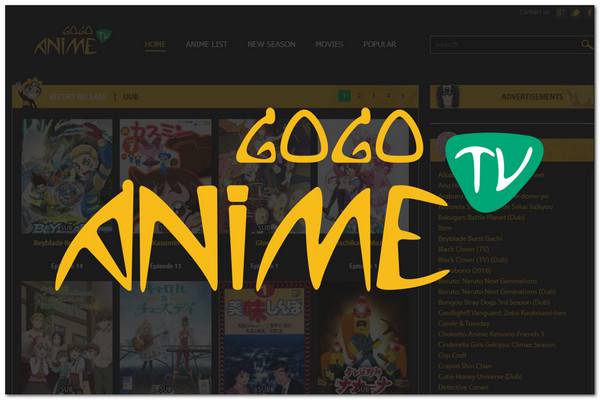 3. Anime-Planet
Anime-Planet proves to be an alternative for AnimeDao as it delivers the best anime quality for movies, shows, manga chapters, and more. The website has a straightforward interface that directs to old and new anime you can watch in subbed or dubbed. Another convenient thing about Anime-Planet is that it is organized and classified its categories based on date released and genres. What's more, this website can track the anime you've seen previously and other content on the website such as Webtoons, manga, light novels, and many more.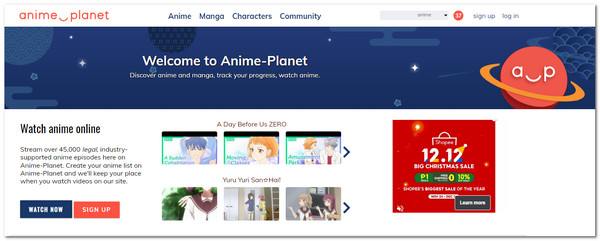 4. Chia-Anime
This post is not complete without Chia-Anime, as it is widely known for anime lovers. Through the globe, many anime watchers consider this website as one of the most effective websites to watch anime. This AnimeDao alternative has a comprehensive set anime collection; just name an anime, Chia-Anime has it. Undoubtedly, you can discover any anime you want with this anime streamer and download it on your device. Although Chia-Anime has a few advertisements between every episode, you just need to look for the outcome.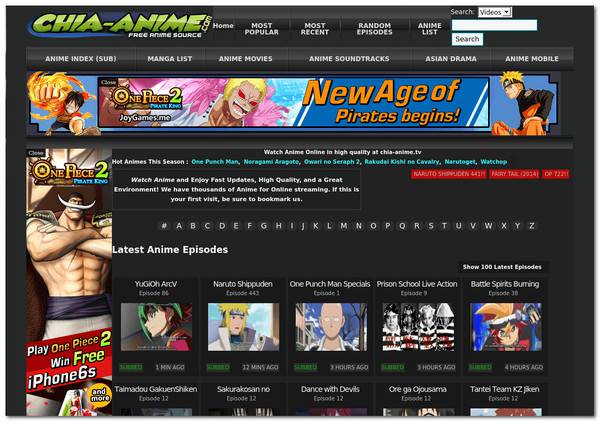 5. AnimeHeaven
If you are looking for an anime website that allows downloading HD quality videos, Animeheaven is for you. With its vast collection of anime content, you can find different anime genres such as comedy, horror, psychological, fantasy, ecchi, mecha, and so much more. Like any other anime streaming website, AnimeHeaven does not store any content on its servers. Various third-party content providers host all shows within this website.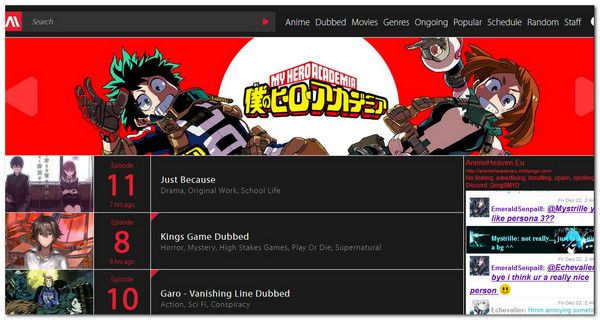 6. MasterAnime
This streaming website is an easy-to-use yet effective system full of anime series. As an alternative to AnimeDao, you can access the website on any device you have and even more in any part of the world. MasterAnime has a schedule option on its interface to see the newest release of your favorite anime. If you don't know the anime title you are looking for; this website will help you filter the result for easier searching.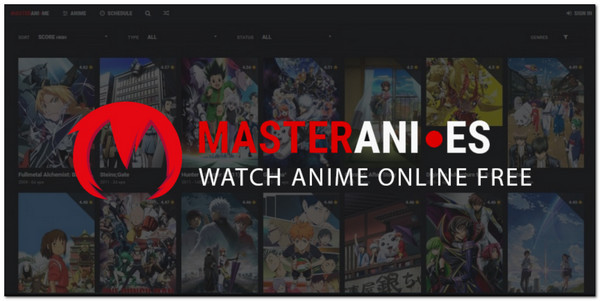 7. AnimeFreak
Compared to the current programs, AnimeFreak is a haven for any anime fan. As the website suggested, you can do everything you want on this site if you are an anime fanatic. For your convenience, this AnimeDao alternative contains a lot of anime movies and shows that are free to watch and does not require you to register on the system. AnimeFreak allows you to enjoy watching your favorite movie and reminds you of the newly released anime you would love.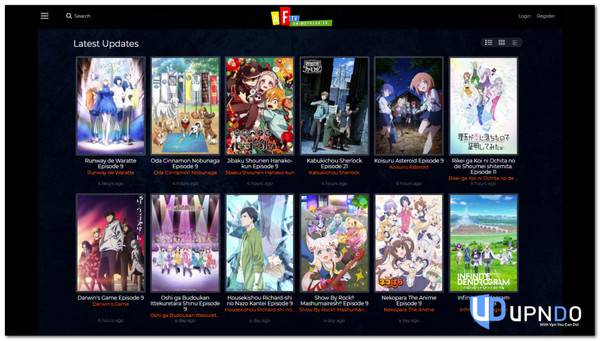 8. 9anime
Another functional anime streaming website and an excellent alternative to AnimeDao is 9anime. Indeed, it is bursting with HD videos and streaming almost all the popular anime movies in this generation. Like AnimeFreak, it does not require you to register on the website to access all English subtitles anime. Watch Jujutsu Kaisen, Ousama Ranking, AoT, SAO, and other famous animes on 9anime. Immerse yourself with binge-watching in 9anime.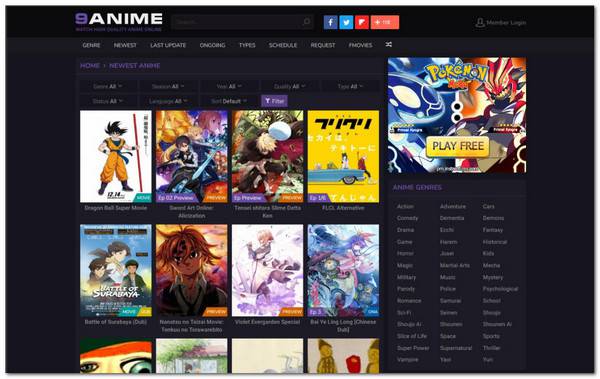 9. Anime Kaizoku
With over 114,775 visitors per day, Anime Kaizoku is one of the popular AnimeDao alternative websites to download any anime series. It has frequent updates and maintenance, so you don't need to worry if the website will take a break. Moreover, you can have fun with binge-watching as Anime Kaizoku does not have any advertisements. The website gives you a chance to voice or comment on your recently watched anime over the Comment Section.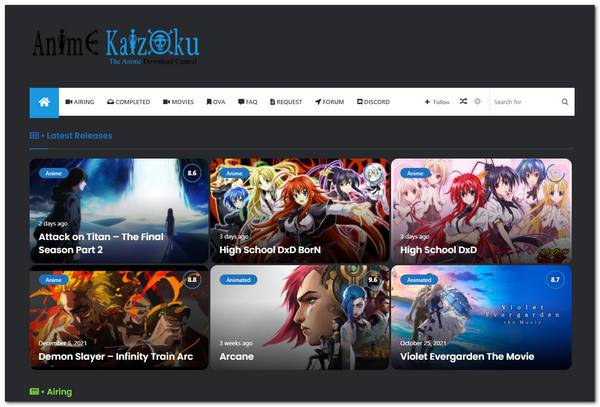 10. Soul Anime
Despite being a simple anime website, Soul Anime has the best lineup of anime collections. It has a reputation amongst anime lovers as an alternative to AnimeDao. There are no hidden charges, and this anime website gives you free access to anime movies and series. All videos are high quality, and you can find 4K anime easily in Soul Anime. The list of genres is chronological, so you don't get lost when looking for a specific anime.
11. Anime Lab
Anime Lab is a 100% free AnimeDao alternative website to watch all your favorite anime videos, from old to new ones. This anime streamer assures you that it is fun and safe to watch your favorite movies, and you can download its app on Android and iOS. Although Anime Lab is primarily focused on New Zealand and Australian users, you can still access the site with the app it provides.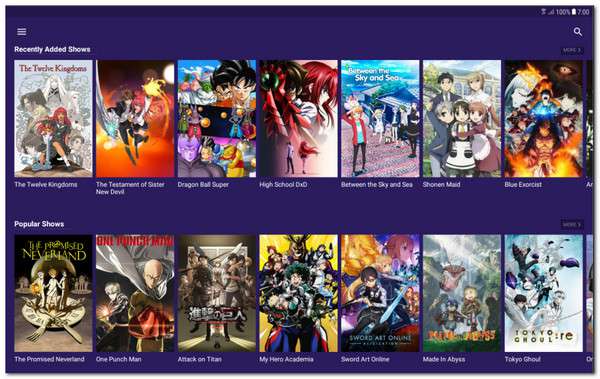 12. AnimeLand
AnimeLand is popularized with its massive amount of dubbed anime. It lets you choose the best quality you want for your anime watching, like 480p, 720p, or 1080p quality. Visit the anime website and indulge in various anime shows, including Black Clover, My Hero Academia, Naruto, or the most extensive anime in history like Fairy Tail and One Piece. You don't need to register to watch anime on AnimeLand.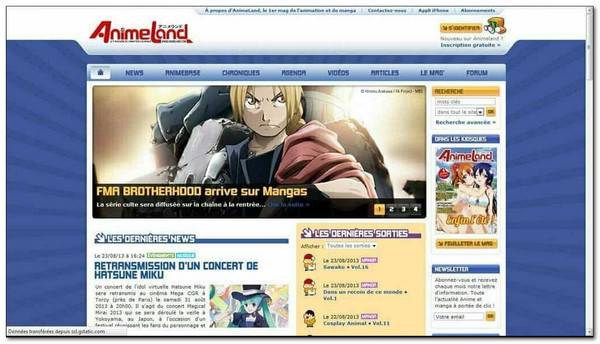 You can get higher download success rate and better visual experience by recording anime with AnyRec Screen Recorder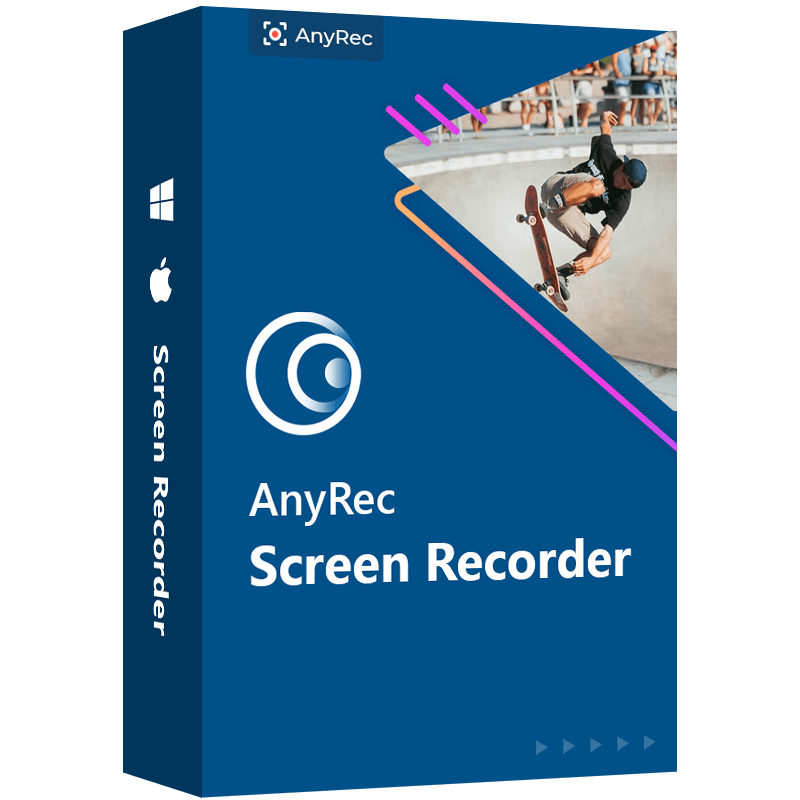 AnyRec Screen Recorder
Download anime video and audio to MP4 and other popular formats.
Set schedule tasks and custom recording length to auto record anime streams.
Use hotkeys to control anime recording and screenshots.
Trim unwanted anime video clips before export.
Part 3: FAQs about AnimeDao Alternatives
Is AnimeDao safe to use?

Yes. A free anime website does not always guarantee safety in using it. But as long as you do not entertain the advertisement or pop-ups that can have viruses.

How to fix AnimeDao not loading?

You can refresh Animedao website and restart your device first. If you still encounter AnimeDao not working or showing up problem, you can turn to AnimeDao alternative sites here.

How to access AnimeDao?

Unfortunately, AnimeDao is not available any more. Thus, you can go for the mentioned anime websites alternative to AnimeDao to keep watching anime.
Conclusion
Although AnimeDao is shutdown, you have learn the best 12 alternatives to AnimeDao to watch anime and keep track of the news in the anime industry. Thus, you can get rid of AnimeDao not playing/working/responding and 404 not found error. To download anime movies and episodes for offline watching, you can start the free trial with AnyRec Screen Recorder. It is your best anime MP4 recorder.
Related Articles