How to Screenshot on an HP Laptop with the Desired Region
How to take screenshots on HP laptops? Like many other Windows laptops, you can use its built-in recording function to capture your HP screen when you want to share some interesting or important messages. Keep reading the default methods to take screenshots on HP with the detailed steps. Moreover, this guide will show you how to take a screenshot on an HP laptop in full screen or custom screen size. Let's get into it.
Part 1: The Ultimate Way to Take a Screenshot on HP Computers
Not everyone likes the default way to take a screenshot on an HP laptop. If you are one of them, AnyRec Screen Recorder is your best solution. Its Snapshot function is one of the best features, guaranteeing to give you the highest image quality. Additionally, you can also use the Snapshot feature even if you are using the Video and Game Recorder of this software. It has an intuitive interface, so taking a screenshot on your HP laptop is easy.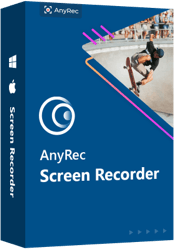 AnyRec Screen Recorder
Quickly take a screenshot on an HP laptop without customizable hotkeys for easier access.
Provide drawing effects to edit and apply for text, numbers, and paint to the image before savin.
Save images to different output formats such as BMP, TIFF, GIF, PNG, and JPG.
Offer other services, including video, audio, game, phone, and webcam recorder.
How to take a screenshot on an HP laptop using AnyRec Screen Recorder:
Step 1.Download AnyRec Screen Recorder from the official website. Once you have installed it on your device, launch the software to start taking a screenshot on your HP laptop. Click the Snapshot button on the main interface to start.

Step 2.Your cursor will automatically change to a grid line. Select the desired screen region you want to capture by moving your mouse. Then, right-click to confirm taking a screenshot. Then you can edit the image.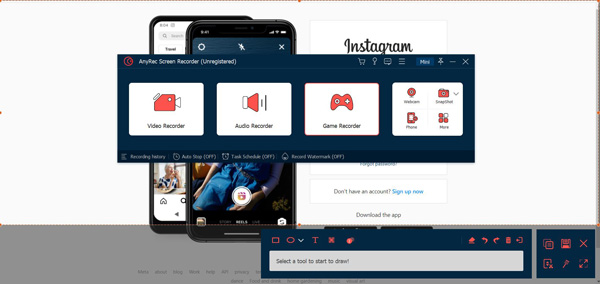 Step 3.With the widget menu, you can insert numbers and text and apply drawing effects. You can also edit a HP screenshot with the Pin to Screen, Copy, and Delete buttons. Once you are done editing, click the Save button.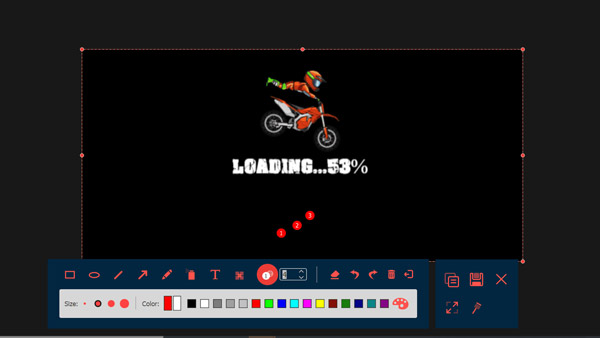 Part 2: How to Take Screenshots on HP with the Built-in Tools
If you want to share something with your groupmates or coworkers, taking a screenshot on your HP laptop is an excellent way to do it when you are on a video call and want to save fun moments with pictures. As one of the leading computers, HP strides for better features for convenience. In this part, you are about to know how to take a screenshot on an HP laptop in three different ways. You can also learn about where are the screenshots saved on your Windows.
1. How to Take the Full-screen Screenshots on HP
All HP laptops run Chrome and Windows operating systems, giving you quick access to the screenshot function. You can use the HP Print Screen key, abbreviated as Prt SC or PrtScn. Once you click the key, it will automatically capture the whole screen. The captured photo is not automatically saved but only copied on the computer's clipboard. You can use the instruction below to enable the screengrab to an actual image file:
Step 1.Press the Windows logo key and the Prt Sc key simultaneously to take a full-screen screenshot on your HP laptop.
Step 2.The screen will dim for a moment; it indicates that the screenshot is successful. Open an image editor. You can use Paint, Photoshop, or GIMP.
Step 3.On the blank page of the image editor, press CTRL + V keys on your keyboard to paste the screenshot. Click the Save button to save the image as a PNG or JPG and place it in a file folder.

2. How to Take A Screenshot on HP with a Partial Screen
If you only need a window or page to take a screenshot on your HP laptop, the following method is suitable for your task. Windows 10 first introduced a default screenshot feature in October 2018, allowing users to grab portions to capture without needing a third-party app. Using Snip & Sketch, you can take a screenshot on an HP laptop with a selective screen region.
Step 1.Press Windows + Shift + S keys to open the program. Your screen will dim, and a small widget menu will appear at the top part of your screen. Also, your cursor will turn into a crosshair cursor.
Step 2.Right-click and move your mouse to the desired portion where you want to take screenshot on HP. Once you release your finger, the screenshot will be automatically saved to the tool. Click the thumbnail on the right bottom part to edit and save the image.
Step 3.You can also open another image editor and press CTRL + V keys to paste the captured photo. Save the image to a JPG or PNG file.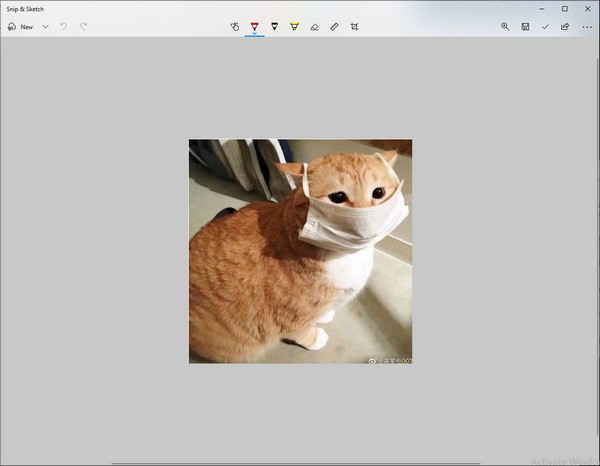 3. How to Take A Screenshot on HP through Snipping Tool
A snipping tool is also an alternative way to take a screenshot on an HP laptop. It is provided for Windows 7, 8, 10, and Vista, allowing you to select any portion of your screen for a quick screenshot. Since most of the desktops have the snipping tool, you can grab it from the Start menu. Later, you can do as the following paragraphs show.
Step 1.Search for the Snipping Tool on the Start menu. A small window will appear on your screen. Click the New button or use CTRL + N keys to take a screenshot on your HP laptop.
Step 2.Move the cursor and select the page you want to capture. Or, if you're capturing a smaller portion, click the Mode drop-down menu and select the Free Form Snip option.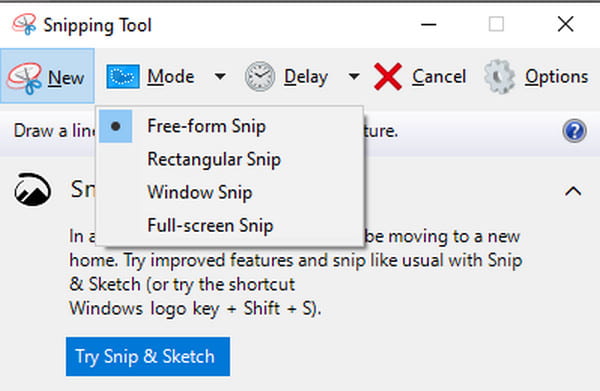 Step 3.After capturing the desired photo, another window will appear. You can apply drawing effects and save the image to your device.
The above ways are all to screenshot your HP laptop, If you are interested, you can follow steps to screenshot your Lenovo laptop here too.
Part 3: Where are Screenshots Saved on HP Computers
As there are many methods to take a screenshot on your HP laptop, you might get confused knowing where the screenshots are stored on your device. You might waste time looking for them, and this may cause frustration if you are in an urgent situation. What's gotten to be a problem is if you use different methods of taking a screenshot, they will be saved to different folders.
If you haven't set the designated folder for the screenshots, there is an easy way to find photos when you are in an emergency. Since screenshots are stored according to the date and time they were taken, the images are named according to these two matters. Besides, screenshots are generally set to begin from the oldest photos to the most recent ones.
Users have the power to sort out the screenshots to their preferred setup. You can sort the captured photos after taking screenshots on the HP laptop via Name, Date, Type, Status, Tags, Date, and Size. You can easily find the right screenshot from the Screenshot folder by going to the View tab. Click on the Sort button by drop-down list and select the desired filter.
Another easy way to find the screenshot is to use the Ascending and Descending options. When you choose the Ascending option, the screenshots will start from the oldest images to the newest ones, while the Descending option will do vice versa. If you want more alternatives to sort the screenshots folder, try the Group By, tick the box for File Name Extensions, and more.
Part 4: FAQs about How to Take a Screenshot on HP
Why is the Prt Sc key not working for screenshots?

The possible cause of a disabled Prt Sc is an old keyboard driver or an outdated operating system. But you can check the keys for taking a screenshot on your device's settings. If enabled, you might need to update the operating system and keyboard drive so you can use the hotkeys for functions like the screenshot feature.

How to activate the Pr Sc key to take a screenshot on an HP laptop?

Go to the Setting menu, and click the Ease of Access. From the left pane, locate the Keyboard option. Scroll down and find the Print Screen shortcut section to enable the Pr Sc key to take a screenshot on your HP laptop.

How to take a screenshot on an HP tablet?

The HP tablet was dropped from the market in 2011, but if you still have one and you want to take a screenshot on an HP tablet, press the Power and Down Volume simultaneously. The screenshots are located in the Photos app.
Conclusion
Taking screenshots is considered a necessity for a smooth workflow and cooperation. After learning how to take a screenshot on your HP laptop and find the captured photos, your task will be three times easier. But you can have a more efficient job with AnyRec Screen Recorder. Try the free trial and its other tools for recording video, audio, and phone with high quality.
Related Articles