8K VS. 4K: Which Offers a Superior Watching Experience
The best thing to happen is that you have downloaded a movie with a good resolution. Although the majority are thankful to have 1080p or 720p on their favorite video, the resolution standard starts at 4K and 8K for newer technology. Still, 8K is being introduced as the best upgrade for TV resolution. But what do you need to know about 4K vs. 8K? This post has detailed information you must learn for video resolutions.
Part 1: Definition of 4K and 8K Resolution
This part shows the difference between 4K and 8K and how they enhance videos. Since they are both the best resolution, it is hard to distinguish their worth on newer technology and specific requirements. Let's take a look at the basic definition of 8K and 4K.
What Is 4K?
4K is the definition of horizontal display resolution with 4,000 pixels. There are various 4K resolutions that you can use for cinematography and digital television. For example, some movie projections use 4096 x 2160, also known as DCI 4K. Mostly, consumer media uses the dominant 4K standard, which is 3840 x 2160 or the 4K UHD. The term for this resolution is also known for still photographs for high resolution. Some popular TV brands have 4K TVs, including Samsung, Sony, LG, Hisense, and so on.
What Is 8K?
8K is the successor for the 4K resolution. It has pixels four times the first resolution, giving sharper looks for videos. With its resolution of 7680 x 4320, 8K can bring clarity and excellent details to images of your TV. Using 8K depends on the size of your device to give you the best details as far as being realistic than 4K can do. If the TV has the improved HDR, 8K will stream more natural-looking images, unlike what you've seen before.
Part 2: Which is Better: 4K or 8K
Even for the latest resolution and release of 4K TVs, there are chances that you encounter some terrible occurrences. Especially for 8K, things can be bad when you don't meet its requirements. Moreover, these high-quality resolutions have their natural disadvantages that you must be prepared to deal with. The question you might ask is, which one is better for TVs? To give you the simple answers, here is the list of pros and cons for 4K and 8K.
4K
Plussat

Better than HDTVs because of more realistic-looking images with smooth and sharp edges.
Engaging experience with its cinematic displays on Netflix, Hulu, and YouTube.
Haittoja

Use more power than regular TVs like 1080p.
Expensive with almost the same features as HDTVs.
8K
Plussat

More colors are available, which makes images more appealing and natural.
Enhance audio for a more rich and clear sound.
Support 120-degree viewing angle.
Haittoja

Inaccessible of 8K content.
Too expensive than 4K.
Part 3: How to Upgrade 4K to 8K
Thankfully, you can upgrade videos from 4K to 8K with AnyRec Video Enhancer. This desktop tool surpasses most video editors as it can upscale the video resolution in a few clicks. It also has a simple interface for navigation, yet it shows excellent results because of the latest AI technology. Users can upload multiple videos for batch conversions, such as MP4, AVI, MKV, WMV, WebM, and MOV. Create the best 8K video with AnyRec Video Enhancer on Windows and macOS.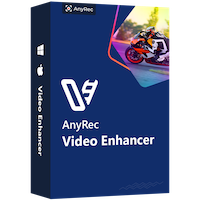 AnyRec Video Enhancer
Have advanced output settings to edit the format, encoder, and resolution.
Upload large file sizes while supporting all video formats with different codecs.
Provide upscale resolution, reduce noise, and optimize brightness.
Preview the enhanced output with 50x speed for a fast-speed process.
Vaihe 1.Visit the official website of AnyRec and click the ladata button for the Video Enhancer. Click the Lisää tiedosto button to upload the video file.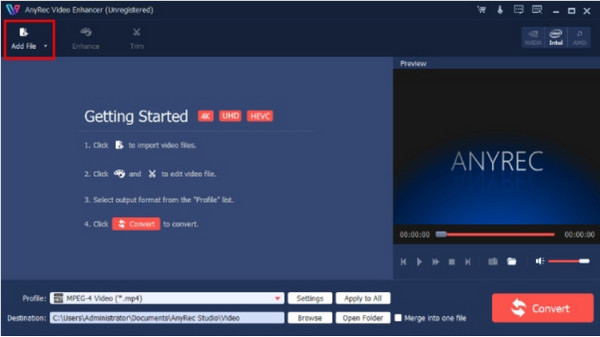 Vaihe 2.Siirry kohtaan Muoto menu and select the desired resolution for the video. Other features can be seen from the Parantaa ja Trimmata valikosta. Klikkaa Käytä -painiketta tallentaaksesi muutokset.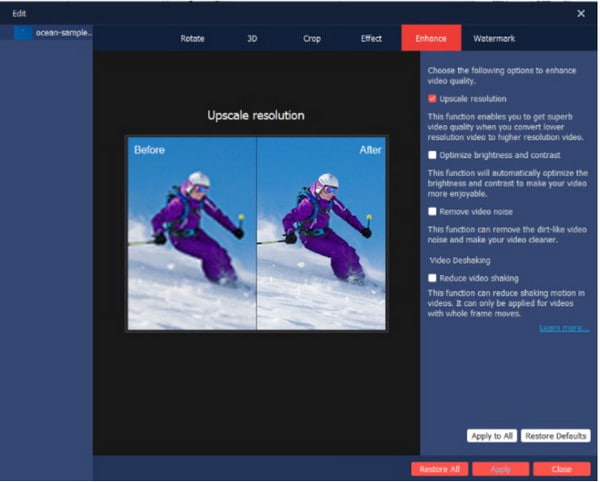 Vaihe 3.Klikkaa asetukset button to edit the output settings. Configure the video by editing the bitrate, aspect ratio, resolution, encoder, and audio settings. Click the OK -painiketta jatkaaksesi.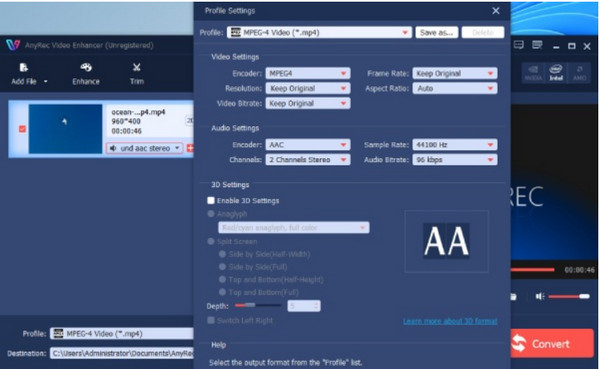 Vaihe 4.You can change the destination anytime by clicking the Selaa -painiketta Kohde menu. At last, click the Muuntaa button to start the process.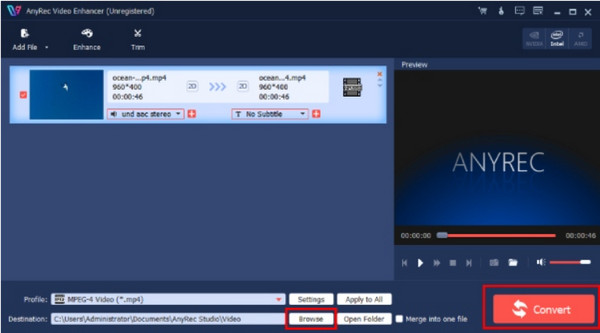 Part 4: FAQs about 4K vs. 8K
1. How far should I distance from an 8K TV?

You must distance yourself about 2 feet from the 8K television when watching. For 4K, it must be 4.3 ft. These are only the ideal viewing distance not to miss the details while watching.

2. Is 8K better for filming?

Yes. If you are a filmmaker and want to try new, then you can shoot 8K footage for a 4K production. Since the latest resolution provides double the number of 4K, it is possible to crop the video without losing the resolution required for 4K output.

3. Is 4K and 8K available on smartphones?

Yes. Since the release of 8K, many mobile unit brands upgraded their camera app with the resolution. Of course, 4K is available for most of the latest smartphones. Samsung Galaxy Z Fold 4, Galaxy S23, Galaxy Note 20, LG V60 ThinQ, OnePlus 10 Pro, Xiaomi Mi 10 Ultra, and Vivo X Fold.
Johtopäätös
4K and 8K are the best resolutions to pick for TV and movies. But since the general public has just accepted 4K, 8K has a long way to go before it is adapted by many. Comparing the two resolutions, there are a couple of advantages and disadvantages you might need to look out for before purchasing a brand-new TV to katsoa 4K elokuvia. But it will not be a problem to enhance a video to 4K and 8K because AnyRec Video Enhancer is capable of doing it in less than a minute! Try the free trial and see the outstanding 8K or 4K in 60FPS details!
Aiheeseen liittyvät artikkelit: