Instruktioner
AnyRec telefonspejl er et alsidigt castingværktøj til skærmspejling af både din iPhone og Android til din Windows-computer. I mellemtiden tilbyder den både konventionelle måder til USB-forbindelse til spejling samt trådløs forbindelse til skærmcasting. Desuden kan du også få flere funktioner som at optage eller tage et snapshot, mens du caster telefonskærme.
Installer og start
Hent AnyRec telefonspejl on your computer for free via the button at the top. You can double-click the package to install it after the download finishes. Then, choose a preferred language and installation path. Click the "Install" button to begin. After it finishes, click the Start knappen for at starte programmet på din computer.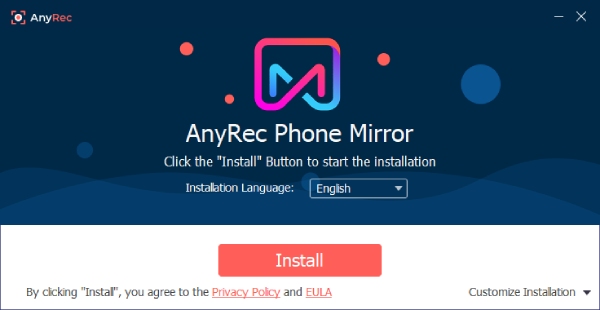 Køb
Efter købet kan du få adgang til alle funktionerne i AnyRec telefonspejl. Simply click the "Purchase" button on the upper right side after launching the program to purchase it online. Next, on the following webpage, choose a plan, and fill in your email address, which is used for receiving the registration code later.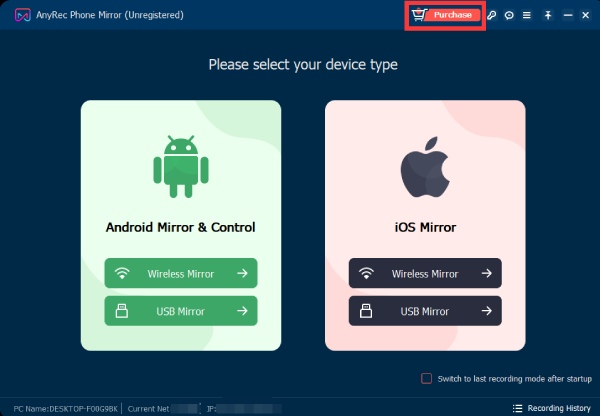 Tilmeld
Når du har købt produktet, kan du tjekke din e-mail og kopiere den registreringskode, du modtager. Klik derefter på i Phone Mirror-appen Tilmeld knap med et nøgleikon ovenfor for at indtaste denne kode og den e-mailadresse, du brugte til købet. Klik til sidst på Aktiver knappen for at låse al funktionalitet op.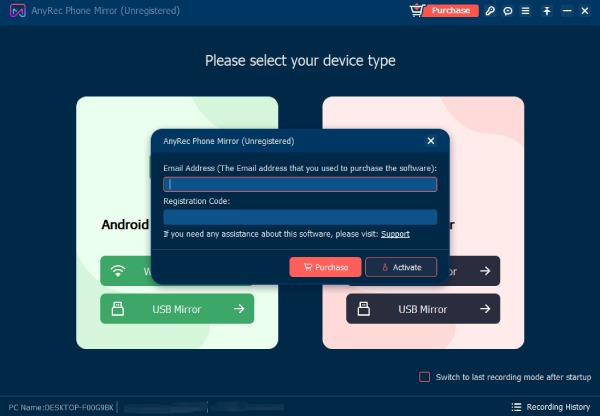 Opdatering
There are two ways to update the program: manual update and auto-update. You can manually update it by clicking the "Menu" button with the three-line icon. Then, click the "Check Update" button to check for a new version. Besides, you can also go to the "Preferences" window and "More" tab. Next, tick the "Automatically check for updates" option to enable the auto-update.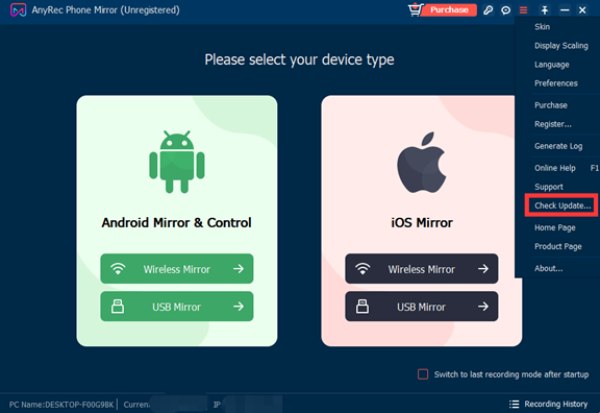 Præferencer
In the Preferences window, you can freely tweak more settings like output settings and hotkeys. You just need to click the "Menu" button with the three-line icon to activate a small menu. Then, click the "Preferences" button to move on.
Produktion
I den Produktion section from "Preferences", you can adjust settings for video, screenshot, audio, and directory. To change the destination folder of your output files or screenshots, click the three-dot icon under "Directory Settings" to select a new folder. Additionally, you can click the "Screenshot format" dropdown option to choose a different format from PNG, JPG/JPEG, BMP, GIF, and TIFF. Then, for Video and Audio Settings sections, you can adjust video and audio format, video and audio quality, video codec, and frame rate.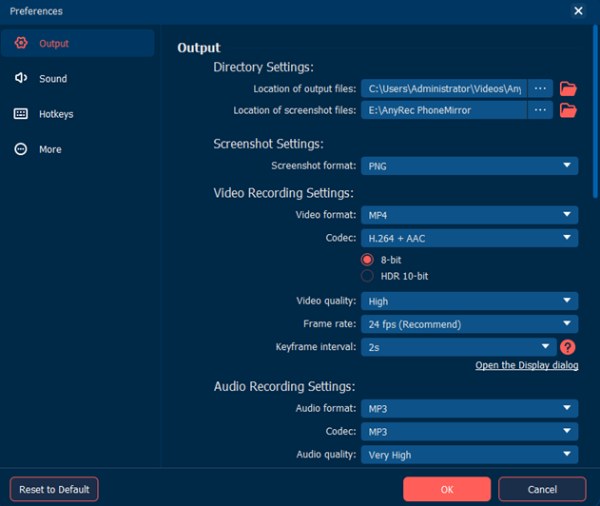 Lyd
Here you can adjust the volume of the system sound and microphone. Click the "Sound Settings" button to open a pop-up window. Moreover, you can choose the default devices for "System sound" and "Microphone". "Volume" is also adjustable by dragging the slider. Also, the program provides "Delay" feature by adjusting the slider. You may also enhance the microphone performance by clicking the "Microphone noise cancellation" button and the "Microphone enhancement" button. If you want to test your recording equipment, just click the button for devices and click the "Recording test" button.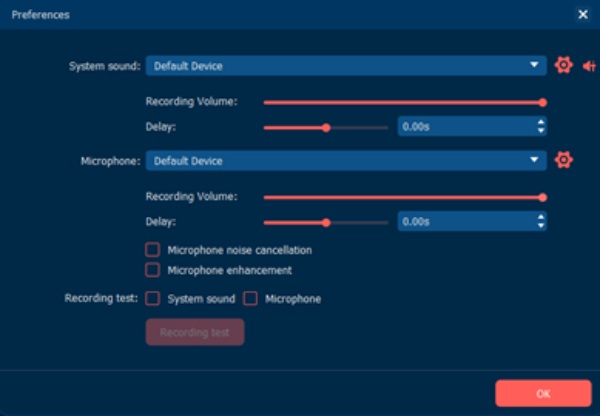 Genvejstaster
From the "Hotkeys" section, you can see all the default shortcut keys, their usage, and whether it is occupied. You can click one of them and to change the key combination, you press the corresponding keys you want on your keyboard to set it up. If you want to withdraw your changes, click the "Restore Hotkeys" button to back to the default ones.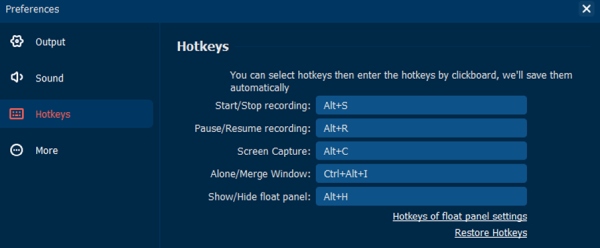 Mere
You can enable or disable "Hardware Acceleration" and "Automatically check for update" options by clicking the buttons. Moreover, you can tick to "Update automatically" while exiting the program. Or decide whether to launch the program automatically every time you boot the computer. Besides, there are two actions available for closing the main panel. Whatever changes you have made in these sections, you need to click the "OK" button to save them.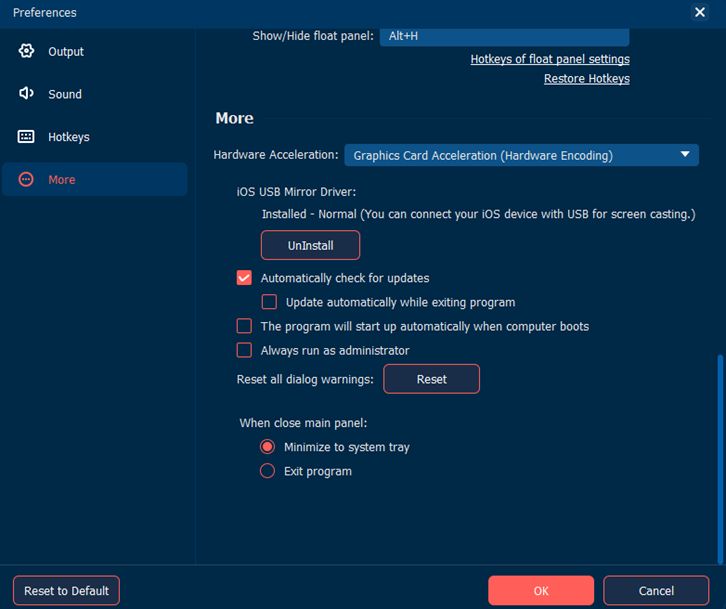 iOS-skærm og lydspejl
Der er to tilstande til at caste iOS-skærmen til computeren: USB-forbindelse og Wi-Fi-forbindelse. Desuden kan du kun skærmspejle lyden fra din iOS-enhed til computeren. Her er de detaljerede trin for de to tilstande.
Wi-Fi-forbindelse
Trin 1: Start først programmet og klik iOS spejl på hovedgrænsefladen. På den nye popup vil du se to spejlingsstile under Wi-Fi-forbindelsen og vælge Screen Mirroring. I mellemtiden vil du også se en GIF, der viser, hvordan du aktiverer skærmspejlingen på din iPhone.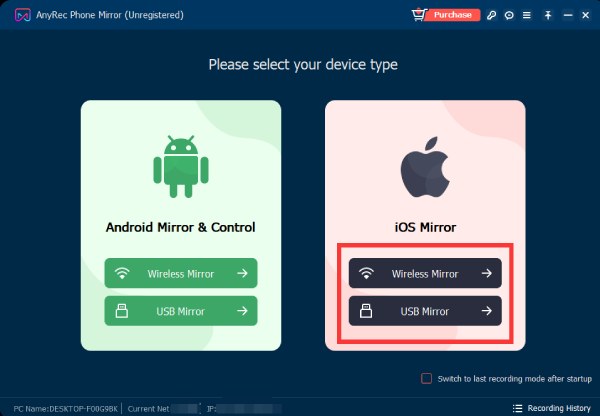 Trin 2: Tag nu din iPhone ud, og åbn Kontrolcenter. Tryk derefter på Skærmspejling. Det vil automatisk søge efter brugbare enheder. Tryk derefter på AnyRec telefonspejl for at caste din iPhone-skærm til computeren.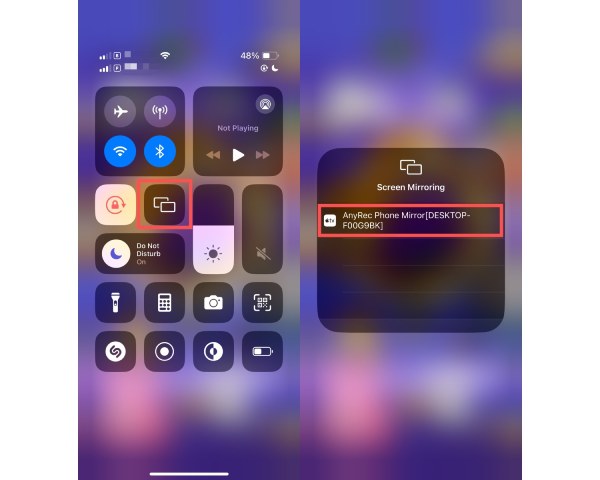 USB-forbindelse
Trin 1 Når du har valgt iOS-spejlet, skal du klikke Lydspejling i det nye pop op-vindue. Dette giver dig mulighed for at caste den lyd, du spiller på iPhone, til computeren. Lås derefter din iPhone op og stryg ned fra toppen eller stryg op fra bunden for at gå til Kontrolcenter.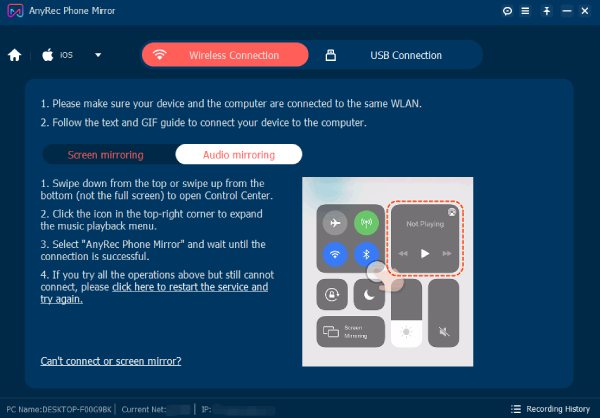 Trin 2 I højre hjørne skal du trykke på den lyd, du afspiller, for at få adgang til musikafspilningsmenuen. Derefter vil din iPhone vise dig Højttalere & TV du kan bruge til spejling. Tryk derefter på AnyRec telefonspejl, og din musik eller lyd afspilles på computeren.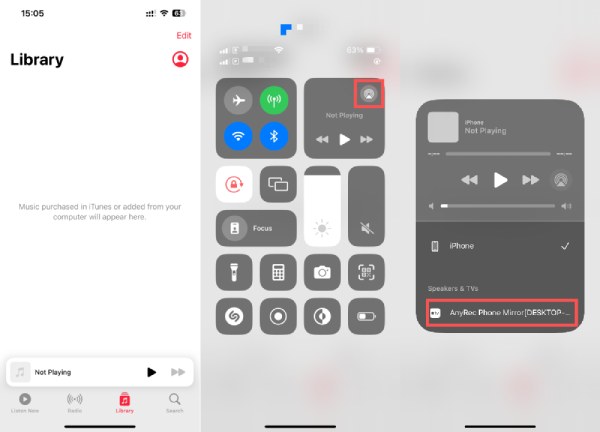 Android-skærm og lydspejl
Når du spejler din Android-skærm eller lyd til computeren, kan du enten gøre det via en trådløs forbindelse eller tilslutte din Android-enhed til computeren med et USB-kabel. Førstnævnte kræver en specifik app installeret på din Android-telefon. Derefter kan du følge nedenstående trin.
Wi-Fi-forbindelse
Trin 1 Opdage
Tap the "Detect" button in the "FoneLab" app on your phone and it will start searching devices. Tap your computer to cast once its name shows up.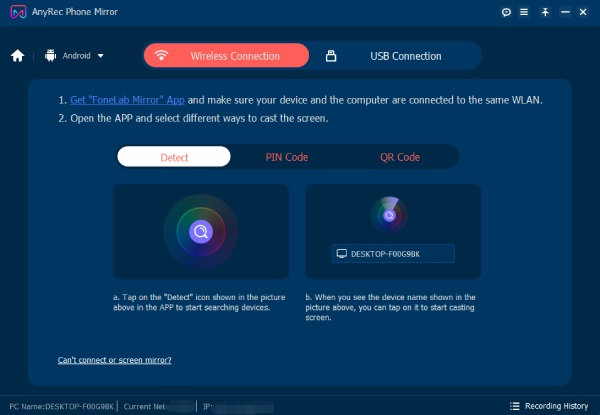 Trin 2 Pinkode
Meanwhile, you can also click the "PIN Code" button and enter the code in the app on your phone.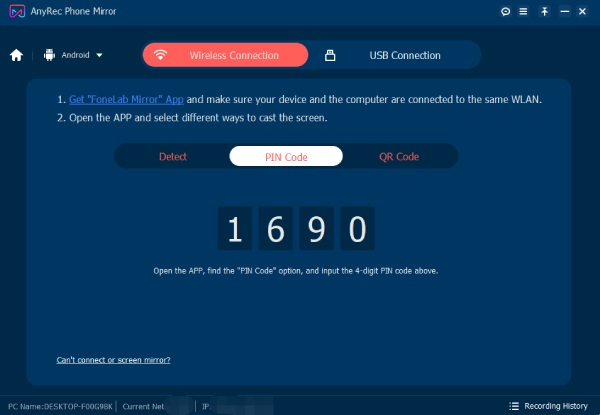 Trin 3 QR kode
Or you can also click the "QR Code" button to get a QR code for you to scan with the "FoneLab Mirror" app so that your phone screen will be shown on the computer.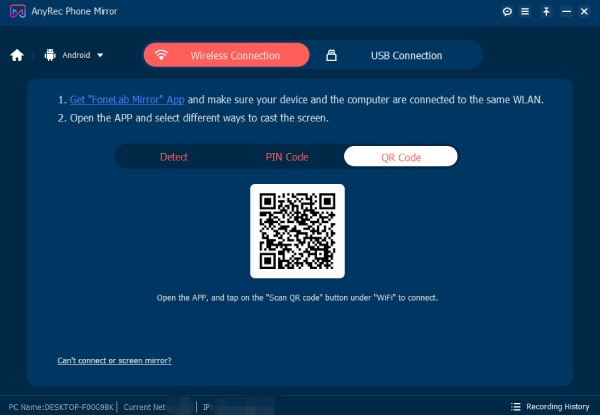 USB-forbindelse
Trin 1 Once you launch the program, click the "USB Connection" button in the "Android Mirror & Control" tab. You need to connect your Android phone to the computer with a USB cable.
Trin 2Go to "Settings" on your phone. Next, find "System & Updates" and tap the "Developer" button. Then, tap the "USB debugging" button to enable it. Go back to your computer screen and click the "Complete" button.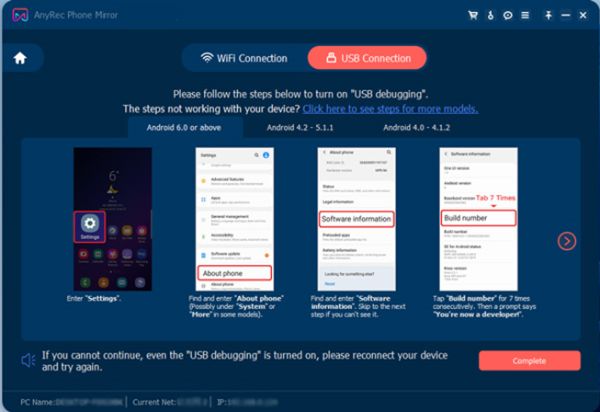 Flere funktioner
AnyRec telefonspejl tilbyder mere end blot skærmspejling. Når du spejler din iPhone- eller Android-skærm, kan du også fange telefonskærmen på din computer via Snapshot eller optage på computeren, hvad din telefonskærm viser.
Optage
When the phone screen is cast on your computer screen, you can click the "Record" to start recording. Or you can press the "Ctrl", "Alt", and "R" keys to record iPhone and Android screen as well. Before start recording, you can also click the "Video" button to adjust record settings like output video "Resolution" or "Screen Mirroring Display". Once you finish recording, click the "Stop" button or use the key combination again to stop. Or you can set a specific duration in the "Auto Stop" tab. After that, you can play, cut, rename, or share the recorded video.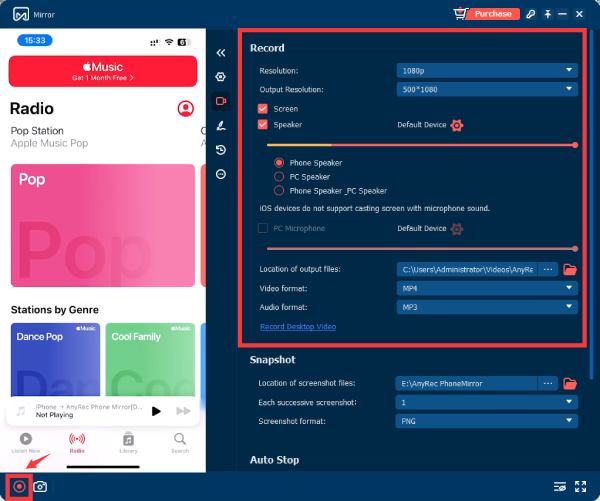 Snapshot
To capture a certain moment when screen mirroring your phone, you just need to click the "Snapshot" button or use the "Ctrl", "Alt", and "C" key combinations. You can take several screenshots successively by setting up the number behind Each successive screenshot. Additionally, if you do not want the toolbar to show up in your snapshot, simply click the "Hide" button below. Furthermore, you can also click the "Full-Screen" button to make the window bigger.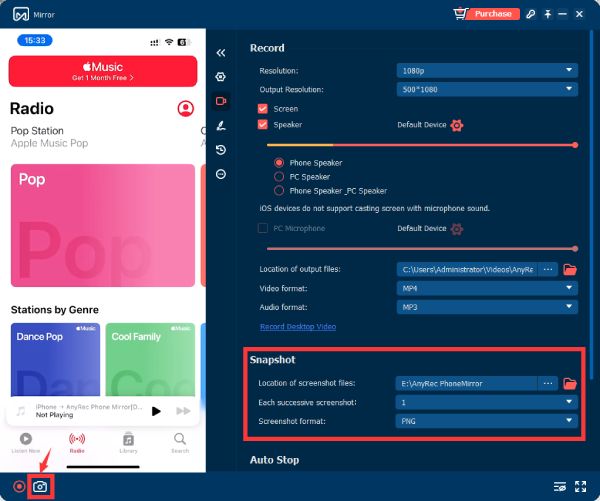 Børste
To highlight a specific region of your content, you can click the "Brush" button. Here, you can choose different kinds of shapes to draw on your screen. Also, you may use tools like "Airbrush", "Text", "Callout" or "Images" to decorate your screen. If you make a mistake by accident, click the "Eraser" button to remove the wrong trace.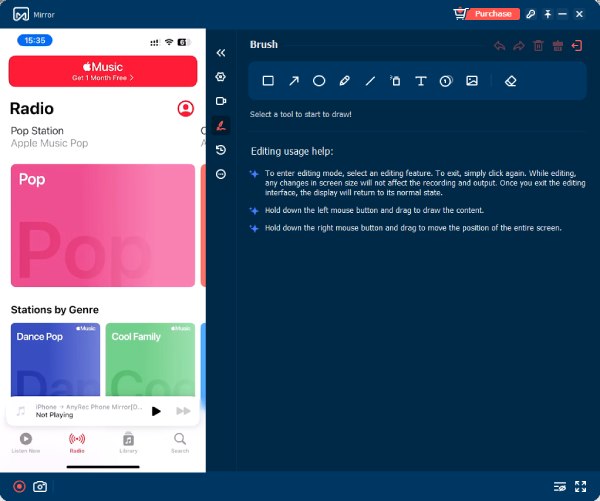 Optagelseshistorie
By clicking the "Recording History" button, you can see all the videos you just recorded. You can click the "Play" button to preview the recordings. Also, you can click the "Cut" button to further edit them. You can find out where the file is stored in the local folder by clicking the "Open Folder "button. Or you can just click the "Share" button to upload your recordings directly to different social platforms such as YouTube, X, Facebook, etc. Finally, you can click the "Import" button to save your recordings.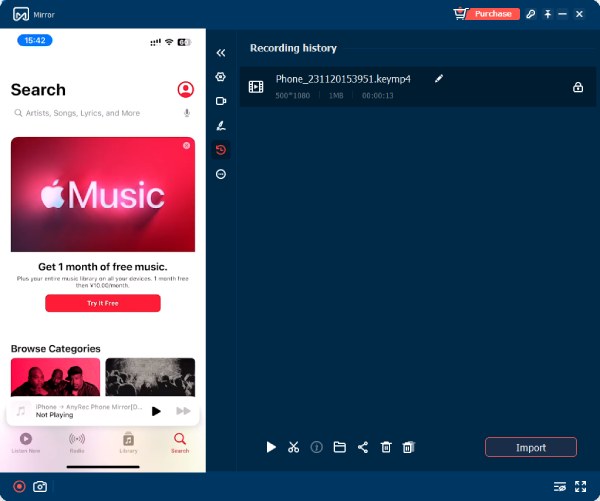 Har du brug for mere hjælp?
Du er velkommen til at kontakte os, hvis du har spørgsmål vedr AnyRec telefonspejl.
Kontakt os