Capturi de ecran Firefox: capturați fiecare detaliu în orice dimensiune a ecranului
Mozilla Firefox is one of the most widely known browsers globally. Why would you need to learn to take a screenshot in Firefox? You should share information in the form of a picture, and taking a screenshot of your screen or a portion of it can go a long way in explaining a problem. It is much easier to resolve everything with a picture. To make this happen, keep reading to understand how to take a screenshot in Firefox on mobile and computer.
Part 1: 2 Ways to Screenshot in Firefox Web Browser [Windows/Mac]
Mozilla Firefox provides you with different ways to take screenshots of different areas. You can capture the parts of the page, select a region, or capture the entire page while still being in Mozilla Firefox. Here's how to take a screenshot in Firefox on Windows and Mac directly from the menu and your toolbar.
1. Use the Firefox Menu
Pasul 1.Open Mozilla Firefox on your computer. Then, for Windows, right-click to call up the Firefox menu. Meanwhile, for Mac users, a two-finger tap opens the menu.
Pasul 2.Navigate to the Take Screenshot option in the menu. Drag your mouse around the web browser you wish to capture.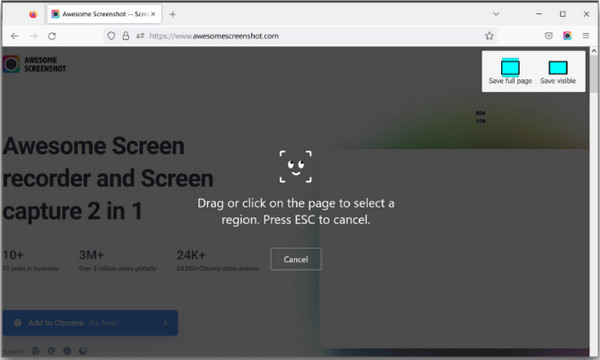 Pasul 3.Apoi, faceți clic pe Copie button, then paste it on email, chat, a program like Paint, etc.; you can press Ctrl + V chei.
2. Add the Screenshot feature to Firefox Toolbar
Pasul 1.Pe Mozilla Firefox, apasă pe Main Menu button in the upper-right corner. Then, click the Mai multe unelte butoane.
Pasul 2.Apasă pe Customize Toolbar button and find the Captură de ecran shortcut. Grab it with your mouse and drag and drop it into the Bara de instrumente. And click the Terminat buton.
Pasul 3.You can easily see the Screenshot shortcut wherever you go. And now, you can quickly take screenshots in Firefox.
Part 2: How to Screenshot in Firefox on Mobile [Android/iPhone]
Taking screenshots on mobile devices is super easy, and you can complete both within a couple of steps. For both Android and iPhone, they both have specific ways to take screenshots; if ready to know them, here's how:
Take a Screenshot in Firefox on Android.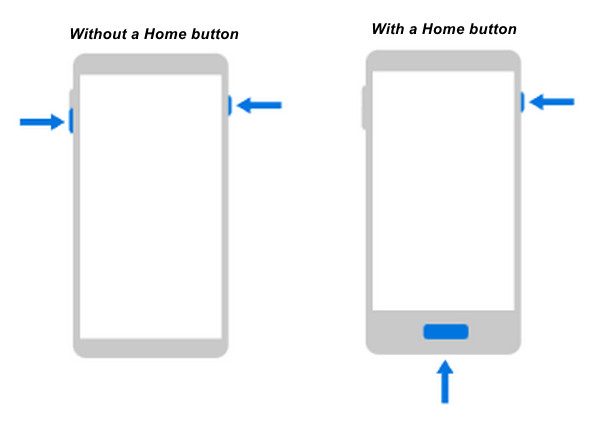 For Android devices with a Home button:
Țineți apăsat butonul Putere și Acasă buttons simultaneously and see if your screen flashes. And then, the screenshots will be saved on your album.
For Android devices without a Home button:
Țineți apăsat butonul Putere si Volum down buttons simultaneously and see if the screen flashes. When it does, you have successfully taken the screenshot.
Take a Screenshot in Firefox on your iPhone.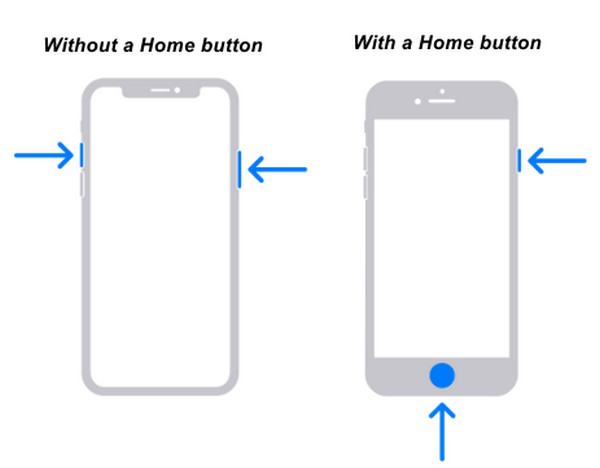 For iPhones with a Home button:
Țineți apăsat butonul Putere si Acasă buttons at the same time. After your screen flashes, you will see a thumbnail of your screenshot in the bottom left-hand corner.
For iPhone without a Home button:
Țineți apăsat butonul Latură si Crește volumul buttons simultaneously. A thumbnail of your captured screen will appear in the bottom-left corner of your screen.
Part 3: How to Screenshot Firefox on All Devices With High Quality
Taking a screenshot in Firefox on all devices with no limits is what AnyRec Screen Recorder offers. This program lets you record everything happening on your screen and take screenshots while recording. With no watermarks, you can quickly capture an active window, a scrolling screenshot, or a part of your screen in one click with the SnapShot tool.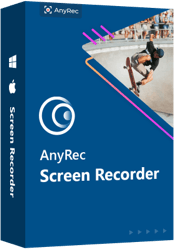 AnyRec Screen Recorder
Capture the entire screen, a window, or a scrolling screenshot in Firefox.
Have custom hotkeys to screenshot Firefox quickly while recording.
Output the Firefox screenshot to various image formats to share.
Edit the screenshot with draws, watermarks, arrows, and other effects.
Pasul 1.Go to its main page to get AnyRec Screen Recorder and click the Descărcare gratuită button. Ensure the Mozilla Firefox window is open. You can now click the Instantaneu butonul de pe interfața principală.

Pasul 2.Your mouse will then be in a cursor move. Move it to your desired area on the Firefox window you want to capture; clic stânga to confirm. Note that you can pull the borderlines to change the size.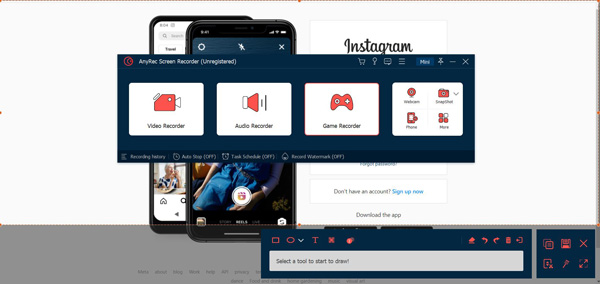 Pasul 3.When done capturing the Firefox window, a new window will open wherein you can make additional edits to the screenshot image. After editing the image, you can click the Salvați buton.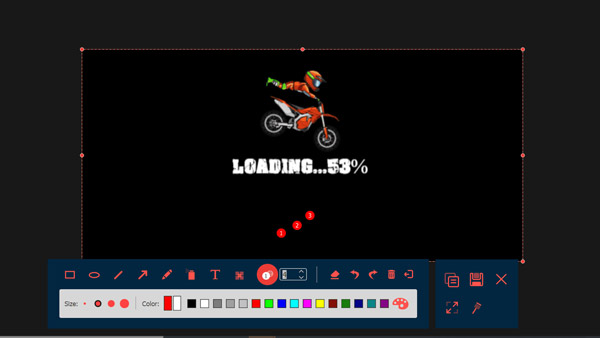 Part 4: FAQs about Screenshot in Firefox
Where is my screenshot in Firefox saved?

Since Firefox doesn't give the option to save the screenshot, a copy of that will be in the Windows memory. However, after taking a screenshot, you can paste it to Paint or any other image viewer program.

Why can't I see the Screenshot features in Firefox?

Make sure the Screenshot feature is enabled. You can check these preferences by typing about: config in the address bar, then ensure they are default. Hit the Accept the Risk and Continue buttons.

How to screenshot Firefox using a keyboard shortcut?

If you don't prefer using the Captură de ecran feature in Firefox, you can always use the combination Ctrl + Shift + S keys. Alternatively, you can use the Windows + PrtScn keys. Or, instead of the Windows key, you can use Alt + PrtScn.
Concluzie
To sum it all up, this post has shared how to use the screenshot feature offered by the Mozilla Firefox web browser. You can use them to screenshot the entire webpage or a part of it. But you don't have to remember any shortcuts to screenshot in Firefox if you have software to assist. You can use AnyRec Screen Recorder as a Firefox screen and audio recorder. It has a built-in SnapShot tool that lets you capture any activities on screen, whether in different screen sizes to take screenshots in Firefox. Get it now!
Articole similare: