Revisión de captura de pantalla de Nimbus y alternativa para compartir mejor
Many Nimbus Screenshot review says it made on-screen capturing quick to do. Whatever your purpose is, either for presentation or documentation, you can easily capture any on-screen activities through its easy-to-use features. However, is Nimbus the best tool to do the job? This post will help you answer that question by reviewing its features, pros, cons, etc. Additionally, it also collected the 10 best Nimbus Screenshot tool alternatives! Explore them now!
Part 1: Nimbus Screenshot Review
Before discovering the Nimbus Screenshot tool's overall review, let us briefly define this tool and its main functionality. This tool is one of the easy-to-use and most straightforward screenshot Chrome/Firefox/Opera Explorer extension tools available on the market. It can capture any screen area on your computer, particularly an entire webpage and selected area. Moreover, it is infused with basic photo editing features that enable you to redefine the output according to your needs. Furthermore, it supports the most popular image formats, such as BMP, PNG, and JPG, which allows you to choose the format you want to export your output. These great points are just a glimpse of what Nimbus Capture could offer. If you want to know more, read its excellent features below.
Features of Nimbus Screenshot Tool
Offer annotating and editing features to highlight or blur important information.
Have image editing features such as cropping and adding text, shapes, and arrows.
Integrated with various platforms to share and quickly upload your screenshots.
Pros

It offers multiple options to capture your computer's screen.
It is rich with screenshot features that you can use easily.
It supports platform options for sharing.
Contras

It is linked with issues regarding capturing selected screen areas.
Some features are locked out behind a paywall.
Upgrade messages keep pop-ups that will disturb the screenshot process.
User Review:
Nimbus Screenshot has already built its name on the market and is known for being a user-friendly tool with rich features and a lifesaver for screen-capturing needs based on the user's review. However, this tool might go well for other users. Still, some clients of Nimbus report that this tool is not fit for a purpose because of recording and screen capturing failures. Additionally, capturing the entire webpage is not free, and the tool suddenly stops during the screen-capturing process. These things are only based on other users' experiences while or after using the tool. You can find it on your own after downloading it from its official website and utilizing its features. During or after using the tool, assess if it can achieve the need to screenshot your computer screen.
Part 2: Top 10 Best Nimbus Screenshot Alternatives
After reading the Nimbus Capture overall reviews, if you are considering alternative tools that could also capture on-screen activities on your computer, you need to see the lineup of the best tools with the screenshot feature below! Explore them now!
1. Grabador de pantalla AnyRec (Windows/Mac)
The first tool for this lineup of best Nimbus Screenshot alternatives is the AnyRec Screen Recorder tool. This lightweight yet powerful screen recorder tool has a built-in Captura de pantalla feature. This tool supports the ability to capture the entire screen of your computer, a specific area of your screen, a window, or whole lengthy web pages. Besides that, this tool can also capture your screen with high quality and without a watermark embedded in it. Additionally, it is infused with a Real-Time drawing feature that lets you apply texts, shapes, arrows, callouts, etc. So if you need a professional tool to capture the screen, this Nimbus Capture alternative is the best choice.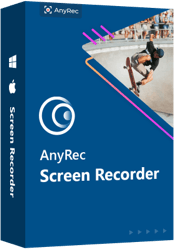 AnyRec Screen Recorder
Have different screenshot methods to capture the whole screen or a particular area.
Equipped with a Scrolling Screenshot feature to capture lengthy web pages easily.
Modify the key combination to start screenshots or record your screen in seconds.
Support various image formats to export as PNG, JPG/JPEG, GIF, TIFF, and BMP.
2. LightShot (Windows/Mac)
Another Nimbus Capture tool you can use as your alternative is the Disparo de luz. It supports capturing any area of your screen and taking a screenshot of it within just two button clicks. Furthermore, you can share your screenshot immediately by uploading it to the tool's server and using the generated link. However, this tool has no capture modes. It will inconveniently require you to manually arrange its borderlines to the area you wish to take a screenshot.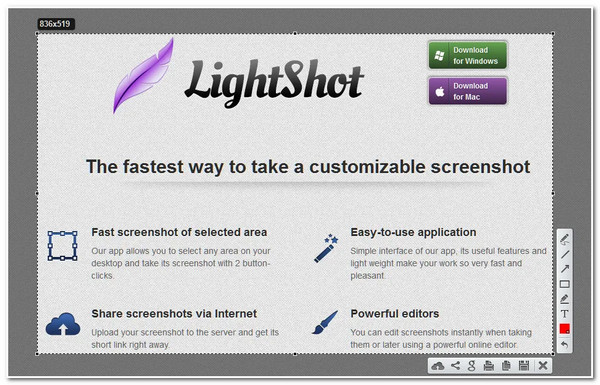 3. Greenshot (Windows/Mac)
Next on the line of the Nimbus Screenshot alternatives is the tiro verde. It supports capturing selected screen regions, an active window, lengthy pages, and a full screen. Moreover, it is also equipped with editing features that are well-composed for easy screenshot annotation. Furthermore, it also offers various formats to export your screenshot file, including PNG, JPEG, BMP, and GIF. But remember that you can only use its scrolling screenshot feature to capture lengthy web pages on Internet Explorer.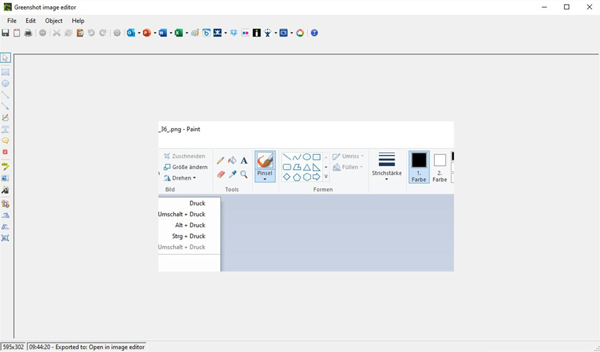 4. Snagit (Windows/Mac)
After reading many Snagit reviews, you may consider Snagit as your Nimbus Capture alternative. The same goes with other advanced screenshot tools available today; Snagit can also capture your computer's entire desktop screen, a region, an open window, and a scrolling screen. In addition, it offers various pre-made styles for image annotations, or you can create your own. However, this tool's price might get you overwhelmed, for it is expensive.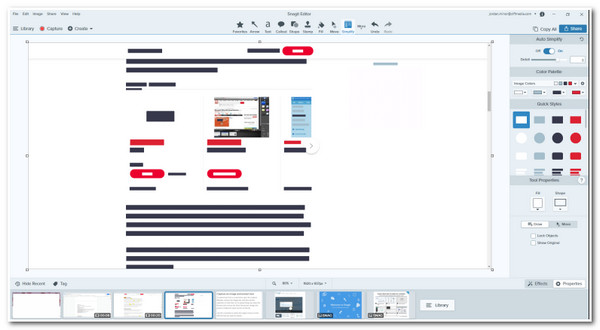 5. PicPick (Windows)
If you wish to be creative with your screenshot output, the PicPick tool would be the best alternative for Nimbus Screenshot. This tool is equipped with graphical accessories to apply to your screenshots. It includes Color Picker, Pixel Ruler, and Color Palettes, which you can use to unleash your creativity toward your screenshot. Despite having those innovative features, this tool is linked with various issues, such as failures of the screenshot scrolling feature.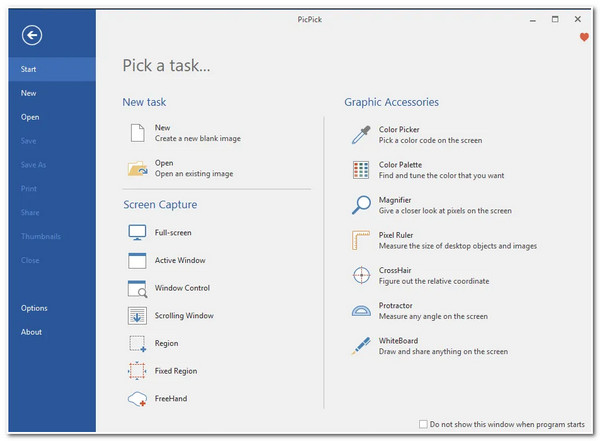 6. ShareX (Windows)
Otherwise, if you are looking for a free tool to use as an alternative to Nimbus Capture, CompartirX is what you are searching for. This tool captures any area of your screen and shares it immediately with other platforms within a few clicks. In line with that, it is also integrated with various hosting services to upload your screenshot; it includes Google Drive, Imgur, FTP, Dropbox, Mega, and Pastebin.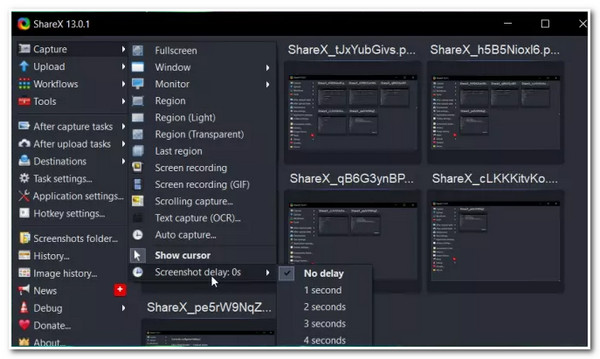 7. Screenpresso (Windows)
Next on the line is the Screenpresso, one of the best alternatives to Nimbus Screenshot. This user-friendly tool can capture the entire screen, a specific portion, and an active window. Moreover, this tool makes it interesting because it can automatically remove black edges or areas from your screenshots. But, despite having those great points, this tool's output file is too large. You might also notice that this tool lacks image editing features.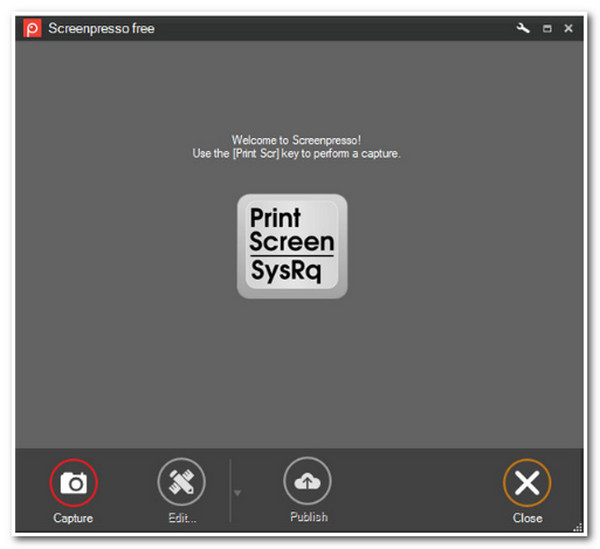 8. Jing (Windows/Mac)
Another Nimbus Capture alternative tool is the jing. This tool is designed to accommodate beginners for easy on-screen capturing. Moreover, it is also equipped with features that you can use to highlight essential points in your screenshots. It includes text boxes, arrows, and picture captions. Furthermore, you can also share your screenshots with other platforms or social media if you want to.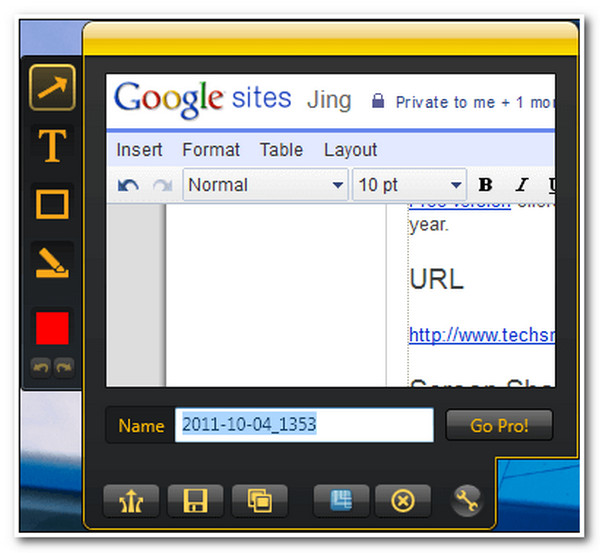 9. Flameshot (Windows/Mac)
The second to the last tool for this lineup of Nimbus Screenshot alternatives is the Lanzallamas. It comprises screenshot editing features that you can use to highlight any critical points on your screenshot. Moreover, it is also infused with configuration settings that enable you to modify the size of your screenshot.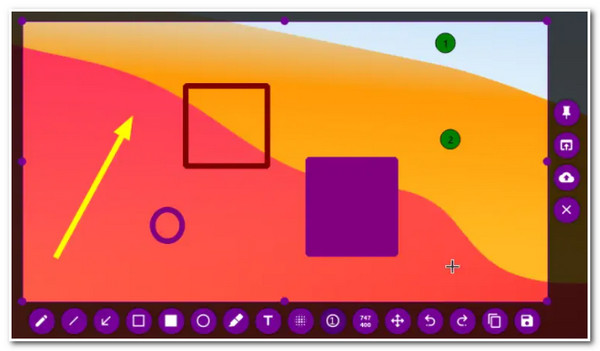 10. Snipping Tool (Windows)
Last but not least, this lineup of Nimbus Capture alternative tools is the Herramienta de recorte en Windows. This simple-to-use tool supports various snip modes to capture your computer screen; it includes Free-form, Rectangular, Window, and Full-screen snips. Additionally, you can quickly take a screenshot of your computer screen, annotate it and then save or share it to other platforms.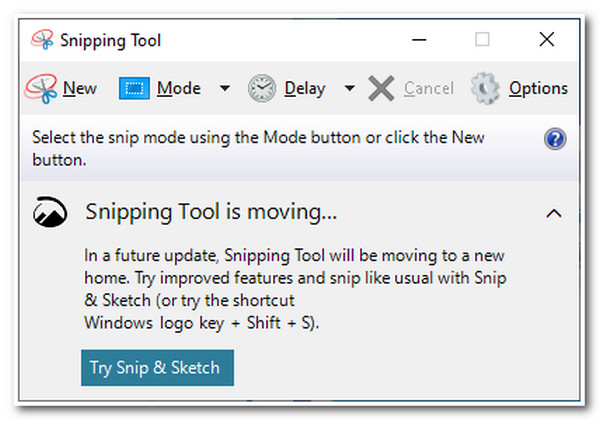 Part 3: FAQs about Nimbus Screenshot
Can I use Nimbus Screenshot Tool as an app for the Windows platform?

Yes, you can! The Nimbus Screenshot tool is not only made available on various browsers, but you can also use it on your Windows computer as an app by downloading it from its official website.

Does Nimbus Screenshots embeds watermarks on every screenshot?

Yes, it does. It automatically embeds watermarks on your screenshot and even on your video recordings. Alternatively, you can use the AnyRec Screen Recorder's Screenshot feature to capture any on-screen activities on your Windows or Mac computer without any watermark embedded in your output.

Where does Nimbus Screenshot files go after capturing a screen?

Once you take a screenshot on Nimbus, the tool will prompt you to choose whether to download it in a WEBM format, save it on Nimbus Note, GDrive, or Dropbox, or upload it directly on YouTube.
Conclusión
There you have it! That is the overall review of the Nimbus Screenshot tool. If you want to check other aplicaciones de captura de pantalla as an alternative to Nimbus, having those lineups is enough to pick the best alternative! Now, if you are searching for a professional yet easy-to-use tool, then the AnyRec Screen Recorder tool is what you are looking for. The mentioned features of this tool are already powerful and still have a lot to offer. Visit this tool's official website to discover its other built-in powerful features. Take your first step today!
Artículos relacionados